As part of Nvidia's keynote at CES 2021, the company lifted the lid on the long-awaited RTX 3060. Shipping with 12GB GDDR6 memory – more than the RTX 3060 Ti and RTX 3070 – this GPU is expected to hit shelves (or at least, attempt to) in late February.
While we didn't get too many details during the keynote, Nvidia was clear in marketing this as the RTX GPU for the mainstream – targeting 60fps in ray tracing titles. Priced at $329 (likely £299), this is the most affordable Ampere GPU yet.
In terms of specifications, the inclusion of 12GB GDDR6 memory will raise eyebrows, as it is a higher memory capacity than even the RTX 3080, albeit slower GDDR6 instead of GDDR6X. We are not clear on the reasons behind this decision (though 6GB in 2021 on a $300+ GPU would clearly not cut it) but plan on asking Nvidia as soon as we can.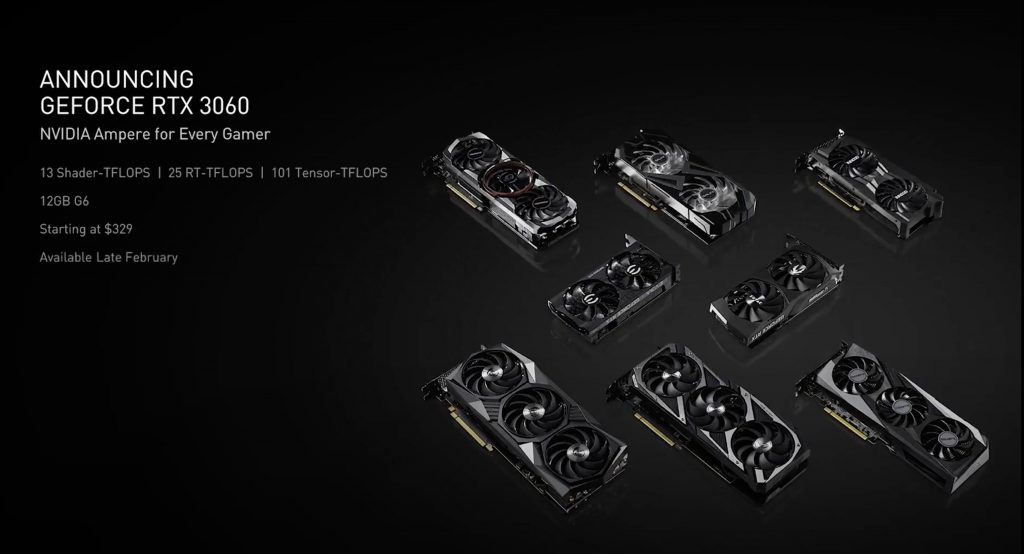 Other high level specifications were also mentioned, including 13 shader TFLOPS and 25 RT-TFLOPS, alongside 101 Tensor TFLOPS. Shortly after the keynote ended, the RTX 3060 product page went live, giving us some more details.
Core count of the RTX 3060 is listed as 3584 CUDA Cores, meaning a total of 28 SMs and therefore 28 RT Cores/112 Tensor cores. Rated boost clock is 1.78GHz, with a base clock of 1.32GHz.
Interestingly, the 12GB GDDR6 memory utilises a relatively narrow 192-bit bus, while Total Graphics Power (TGP) is listed at 170W, 30W less than RTX 3060 Ti.
Discuss on our Facebook page HERE.
KitGuru says: Ampere continues to trickle down the stack, and we won't have to wait too long to find out how RTX 3060 performs.