While the latest instalment in Tom Clancy's Ghost Recon series may have launched back in October last year, Breakpoint recently received support for the Vulkan API as part of its 2.0 update. Today we test a variety of graphics cards in the game, to see just what difference Vulkan makes versus DX11.
Ghost Recon Breakpoint is built on the AnvilNext 2.0 engine and it's a game we've been using in our GPU reviews for a few months now. There's a healthy amount of image quality options available, but for our testing we kept everything consistent by using the Very High preset – in my view, this strikes a good balance between fidelity and performance, as the Ultra preset is unreasonably demanding. We also ensured that temporal injection was turned off for these tests, so we're on a level playing field at native resolution.
For our benchmarking today, we opted to use the game's in-built benchmark purely for the sake of consistency across our testing. We don't use the in-game performance metrics, though, instead relying on OCAT to provide average and 1% low frame rate figures. We ran the benchmark three times per GPU per resolution – first using DX11, and then again with Vulkan, to isolate the difference made to performance by changing the API.
All of our testing was done with our regular GPU test bench, details of which are below:
CPU

Intel Core i7-8700K
Overclocked to 5.0GHz

Motherboard

ASUS ROG Strix Z370-F Gaming


Memory

Team Group Dark Hawk RGB
16GB (2x8GB) @ 3200MHz 16-18-18-38

Graphics Card

Varies

System Drive

Samsung 960 EVO 500GB

Games Drive
Crucial M4 512GB
Chassis
Streacom ST-BC1 Bench
CPU Cooler

OCUK TechLabs 240mm AIO


Power Supply

Corsair AX1500i 80+ Titanium PSU

Operating System

Windows 10 1903
The latest drivers at the time of testing were also used, so that's the Nvidia 445.75 public driver and AMD's Adrenalin 20.3.1 driver.
1080p benchmarks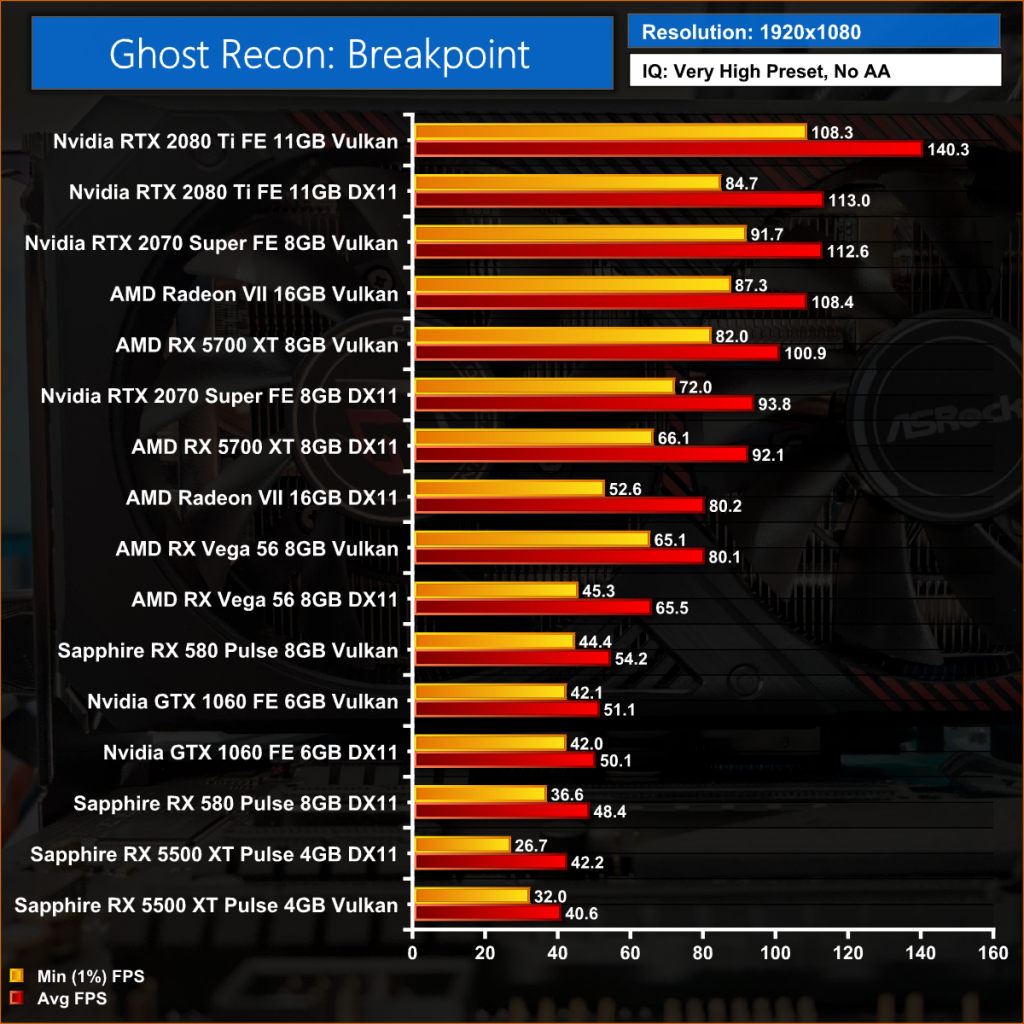 1440p benchmarks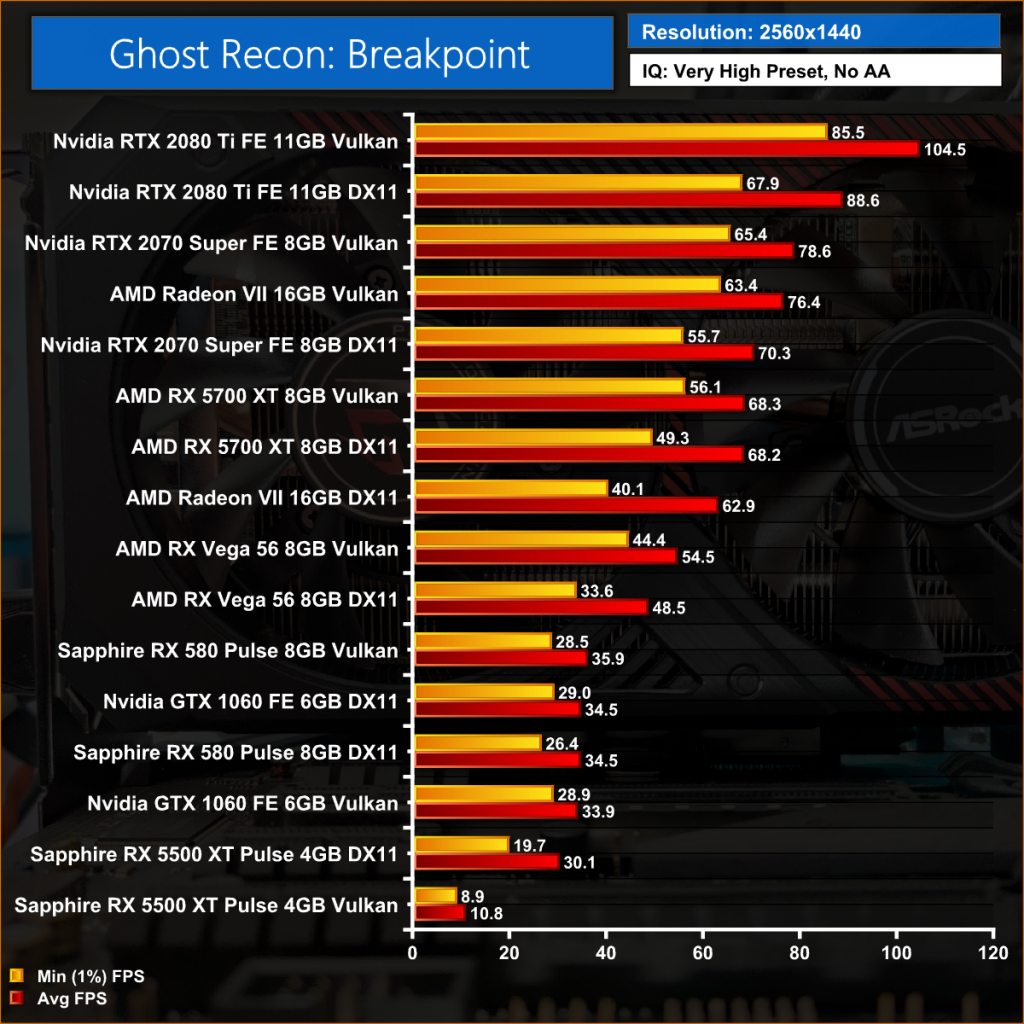 4K 2160p benchmarks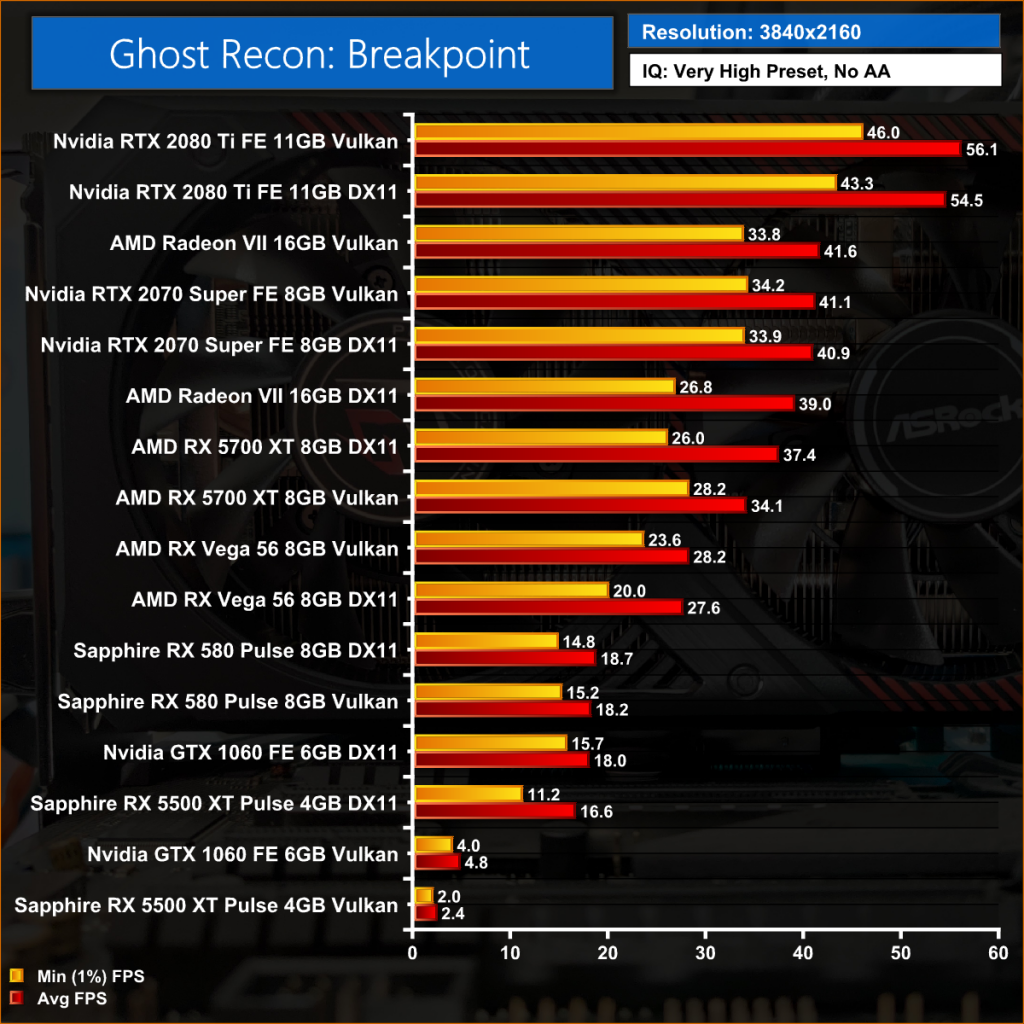 Closing Thoughts
So then, what sort of conclusions can we draw from this piece of testing? The first and perhaps most obvious point is, Vulkan can indeed offer hugely significant performance uplifts over the DX11 API. This is demonstrated particularly strongly when looking at the performance of AMD's Radeon VII and Nvidia's RTX 2080 Ti, but other cards like RX 580, Vega 56 and the RTX 2070 Super all see big uplifts at 1080p.
However, it's by no means an absolute rule that you should use Vulkan instead of DX11, or at least not in Breakpoint. One clear trend from our testing was that VRAM plays a significant part in how well the game will run when using the Vulkan API.
In fairness, Ubisoft did point this out by saying the following on its website:
'DirectX 11 drivers have an advantage at handling GPU memory oversubscription. When GPU memory oversubscription happens with Vulkan, it can trigger stuttering and potentially crashes. To address this, players are advised to keep an eye on the estimated memory consumption displayed on the graphics setting menu and try to reduce the texture quality and/or the resolution of the game.'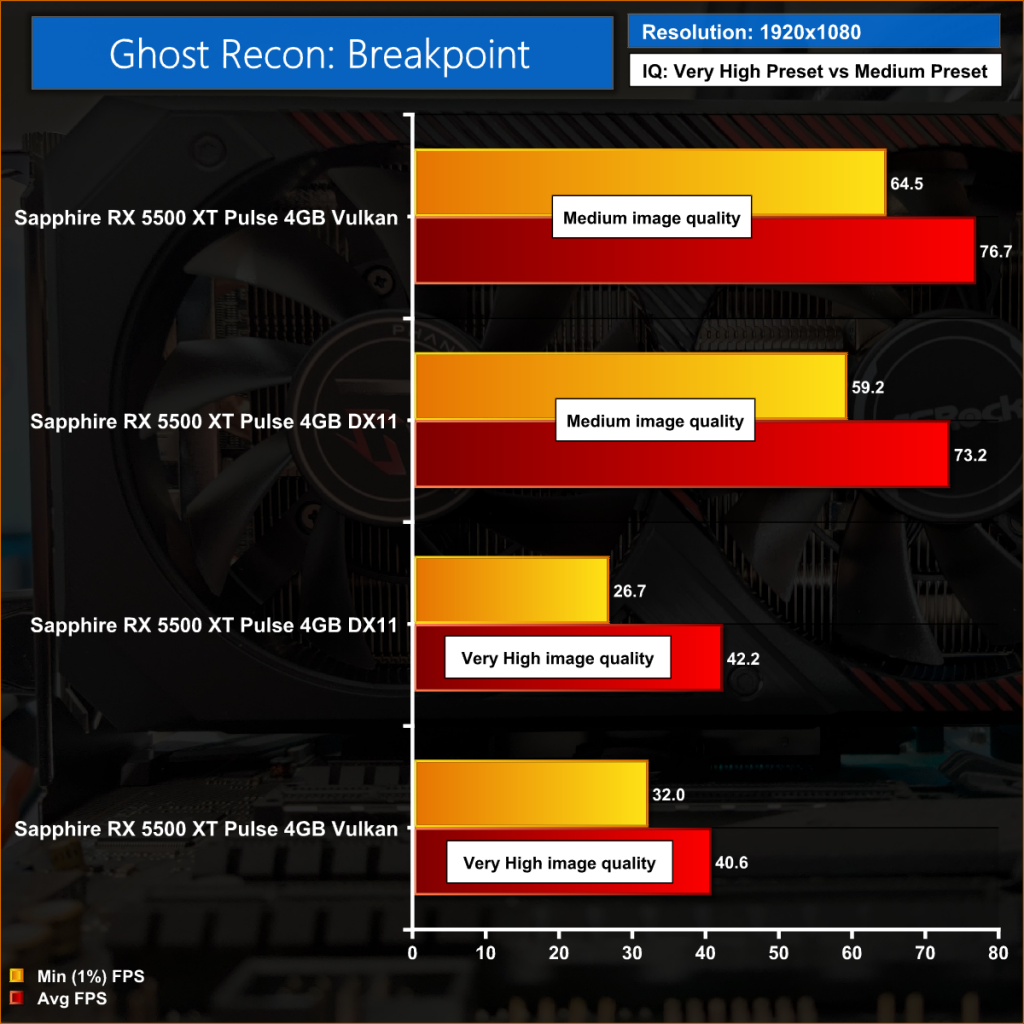 Our testing was done using the Very High image quality preset, which requests over 5GB of video memory, even at 1080p. However, we did also test the RX 5500 XT using the Medium preset at 1080p as seen above. This setting only requires just over 3GB VRAM according to the game itself, but even then, average frame rates improved by less than 5% when switching to Vulkan instead of DX11. So at least based on this testing, it seems that even if you do lower the image quality settings to take video memory out of the equation, we are still going to see Vulkan run better with cards that have more VRAM, as is certainly showcased by the Radeon VII here.
Finally, the last point to mention is 4K gaming – and if you are a 4K gamer, chances are you won't be able to tell the difference between the APIs – even with an RTX 2080 Ti or Radeon VII, where we know there is simply no chance of VRAM being an issue. I'd be keen to see if this trend is consistent across other games that also support Vulkan, but it is certainly true for Ghost Recon Breakpoint.
Discuss on our Facebook page HERE.
KitGuru says: Let us know if you have revisited Breakpoint with its new 2.0 patch, and if you do use Vulkan we'd be interested in what sort of performance gains (or otherwise) you see.