Following on from the launch of the RTX 4090 Founders Edition that we reviewed yesterday, today our attention has turned to the partner cards, specifically the Inno3D RTX 4090 X3 OC.
Starting off with gaming performance, there isn't a whole lot to say here. The X3 OC ships with a small 30MHz factory overclock compared to the Founders Edition, and as a result, runs only fractionally faster in our benchmarks – oftentimes with less than a 1% difference between the two models. Some cards will achieve more, but at the end of the day this RTX 4090 performs like an RTX 4090, so it's going to be incredibly fast.
Instead of raw frequency and FPS, the focus for the X3 OC is very much on cool and quiet operation. Out of the box, we saw it run 5C cooler and 2dBa quieter than Nvidia's Founders Edition, while its noise-normalised performance is better still. This is only our first partner card so we don't yet know how this will compare to a wider range of custom boards, but it's certainly an impressive design that I would be very happy to use in my own gaming rig.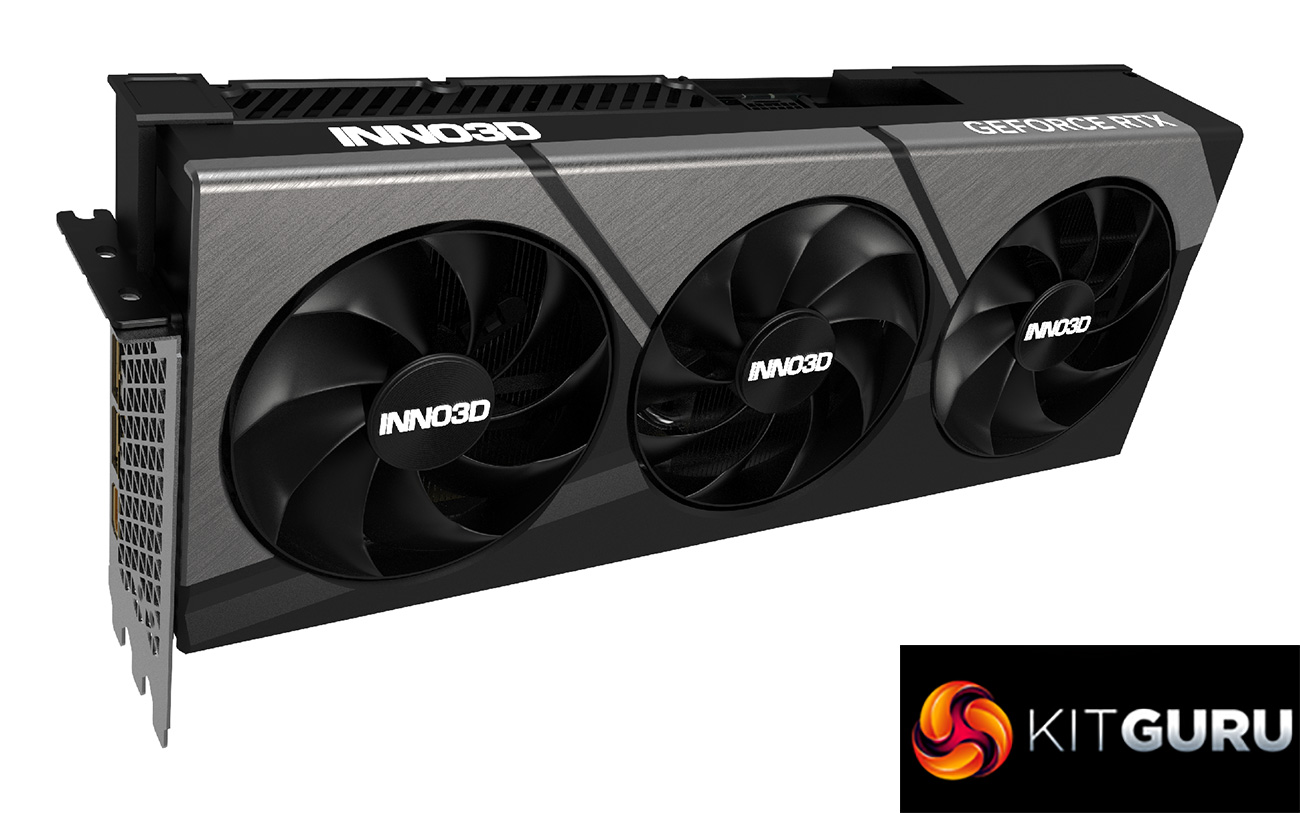 Inno3D has made a couple of interesting decisions that need further discussion. The first is the lack of dual-BIOS, something I personally feel should be a staple on high-end graphics cards – certainly ones that cost this much! Dual-BIOS can offer users a choice of running high clocks, or prioritising lower noise levels, while also offering added peace of mind that your card will still be usable if one BIOS bricks or becomes corrupted.
Secondly, the power limit of this graphics card is locked at 450W and cannot be raised. This explains the inclusion of a 3x 8-pin power adapter, compared to the 4x 8-pin adapter that ships with the Founders Edition. This has no consequence for out of the box performance, but it does mean that overclocking headroom is limited due to the locked power limit. Accordingly, we saw the Founders Edition run about 75MHz faster when overclocked compared to the X3 OC.
The upshot of those decisions is that Inno3D is confident of hitting Nvidia's MSRP, set at $1599 or £1699 for UK buyers. At the very least, it will be among the cheapest RTX 4090s on the market, and while that still represents a vast amount of money for a single graphics card, it's good to know you won't have to stump up even more money for a card that runs as cool and quiet as this.
In short, the Inno3D RTX 4090 X3 OC is an impressive partner card that does the basics very well. It isn't particularly flashy, but the focus is on its cool and quiet operation. That does mean it won't be for everyone, as overclockers and more hardcore enthusiasts will likely be put off by the lack of dual-BIOS and the locked power limit. For a 'plug and play' card, however, you could do a lot worse.
The RTX 4090 X3 OC will be available from Overclockers UK HERE.
Discuss on our Facebook page HERE.
Pros
Effective cooling performance, running 5C cooler than the Founders.
Relative quiet, or 2dB quieter than Founders.
Simple visual styling.
Expected to hit MSRP.
Cons
No dual-BIOS.
Locked power limit holds back overclocking headroom.
Shroud is made from plastic.
KitGuru says: As AIB cards go, the Inno3D X3 OC is impressive, particularly in terms of its strong cooling performance. Its lack of certain features will limit its appeal to enthusiast overclockers, but it's still worth buying if you're after a 'no frills' experience.
Be sure to check out our sponsors store EKWB here