Today we are taking a step back in time to revisit the mid-2019 battle between AMD's RX 5700 and RX 5700 XT, and Nvidia's RTX 2060 Super and RTX 2070 Super. When AMD released its RX 5700-series GPUs, they debuted with the company's first new graphics architecture in years. The RTX Super series, however, was a mere refresh of the Turing line-up that had launched only months prior. We put all four GPUs head-to-head today, to see which cards have aged the best almost two and a half years on.
I was first inspired to do this testing after seeing a Reddit post asking which of the RX 5700 XT or RTX 2070 Super had aged the best. 'That's a good question', I thought to myself, and began testing both GPUs across more than 25 modern games to find out the answer.
About halfway through this testing, I came to the realisation that comparing just those two cards wouldn't be telling the whole story. After all, the RTX 2070 Super launched at £475, compared to the £379 MSRP of the RX 5700 XT, and even though we saw very competitive performance from Team Red back in our launch day review, the RX 5700 XT was never really positioned to go head-to-head with the RTX 2070 Super.
It still made sense to keep the RTX 2070 Super as part of the testing, but we also decided to include the RTX 2060 Super, itself arriving with a £379 MSRP as well. And at that point, we figured we may as well go all in and add the RX 5700 to the comparison as well. All four GPUs were launched within days of each other in July 2019, so it's only right that we brought them all back for this testing today.
So, to find out exactly how all four of these GPUs perform today, across a total of 27 games, over 20 game engines and three different APIs – please read on! I do also want to make it clear that we are testing both 1080p and 1440p resolutions, but not 4K. While some games will be playable at 4K with these graphics cards, the majority won't, and these cards were never intended to be 4K gaming GPUs to begin with. Adding in 4K resolution testing, then, would have taken significantly more time, while only being of limited practical use.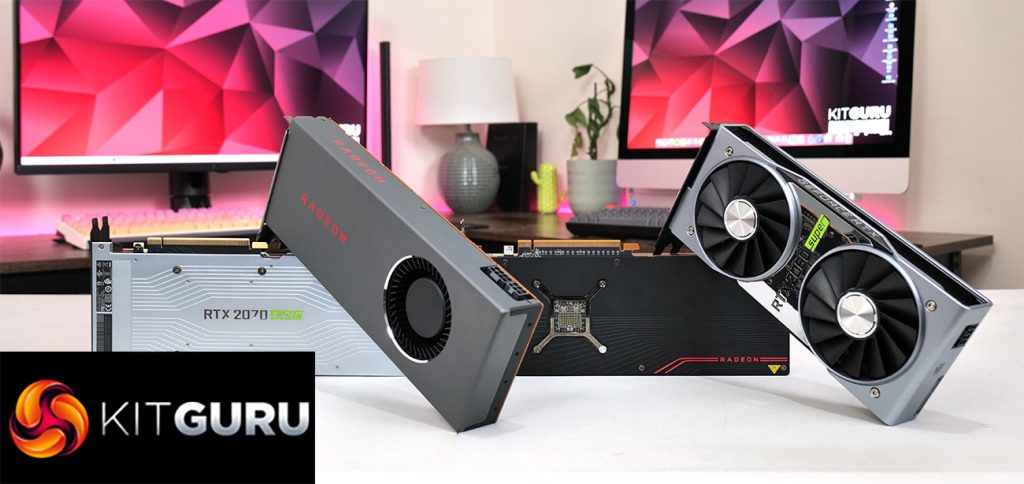 Driver Notes
AMD GPUs were benchmarked with the 21.12.1 driver.
Nvidia GPUs were benchmarked with the 497.09 driver.
Test System
We test using a custom built system from PCSpecialist, based on Intel's Comet Lake-S platform. You can read more about it over HERE, and configure your own system from PCSpecialist HERE.
CPU

Intel Core i9-10900K
Overclocked to 5.1GHz on all cores

Motherboard

 ASUS ROG Maximus XII Hero Wi-Fi

Memory

 Corsair Vengeance DDR4 3600MHz (4 X 8GB)

CL 18-22-22-42

Graphics Card

Varies

System Drive

  500GB Samsung 970 Evo Plus M.2

Games Drive
2TB Samsung 860 QVO 2.5″ SSD
Chassis
Fractal Meshify S2 Blackout Tempered Glass
CPU Cooler

 Corsair H115i RGB Platinum Hydro Series

Power Supply

 Corsair 1200W HX Series Modular 80 Plus Platinum

Operating System

Windows 10 21H2
Game list:
Assassin's Creed Valhalla (DX12)
Borderlands 3 (DX12)
Control (DX12)
Crysis 3 Remastered (DX11)
Cyberpunk 2077 (DX12)
Days Gone (DX11)
Death Stranding (DX12)
Deathloop (DX12)
Dirt 5 (DX12)
The Division 2 (DX12)
Doom Eternal (Vulkan)
F1 2021 (DX12)
Far Cry 6 (DX12)
Forza Horizon 5 (DX12)
Gears 5 (DX12)
Hitman 3 (DX12)
Horizon Zero Dawn (DX12)
Kena: Bridge of Spirits (DX12)
Marvel's Guardians of the Galaxy (DX12)
Metro Exodus (DX12)
Red Dead Redemption 2 (Vulkan)
Resident Evil Village (DX12)
Shadow of the Tomb Raider (DX12)
Star Wars Jedi: Fallen Order (DX11)
Total War Saga: Troy (DX11)
Watch Dogs: Legion (DX12)
Wolfenstein Youngblood (Vulkan)