Over the last few days, we have seen a plethora of GTX 1660 Super graphics card releases after Nvidia officially announced the GTX 1660 Super exists. Asus has added to its GTX 16 series line-up with a number of new Super versions.
Additions to the Nvidia GTX 16 series range of from Asus will include a total of seven new graphics cards aimed at the savvy budget-oriented gamer. Four versions will carry the GTX 1660 Super mark while a further three new models will be added sporting the GTX 1650 Super name.
Flagship models of the GTX 1660 Super and 1650 Super will come from the Asus ROG Strix range, along with a GTX 1660 Super and GTX 1650 Super carrying the Asus TUF branding. Additionally, an Asus Dual GeForce GTX 1660 Super Evo will feature a dual-fan cooling solution with IP5X dust resistance and there are GTX 1660 Super and 1650 Super cards available from the smaller, Asus Pheonix range.
According to Asus, the ROG Strix 1660 and 1650 Super cards will be aimed at the competitive gamers who demand peak performance. The ROG Strix cards will feature powerful cooling solutions via a DirectCU II cooling system with copper heat pipes and two Axial-tech fans, designed to deliver high static pressure and lower noise, along with Auto-Extreme technology and a protective backplate to enhance durability.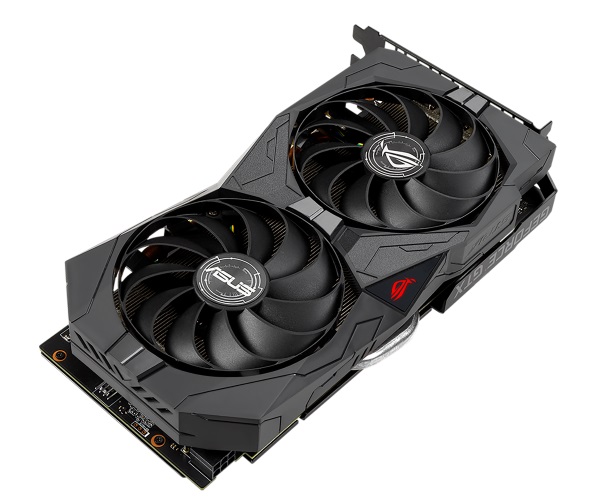 The new additions to the Asus TUF lineup will also be built using Auto-Extreme technology and include a rigid backplate to reduce PCB flex. The Dual GTX 1660 Super and both the Pheonix cards are designed for non-stop gaming. The Dual range will feature two Axial-tech fans with IP5X dust resistance to provide powerful and consistent performance, while the Pheonix is a smaller package with a single fan, perfect when space is an issue.
The ROG Strix, ASUS TUF Gaming, Dual EVO, and Phoenix GeForce GTX 1660 SUPER graphics cards will be available worldwide on 29th October with the ROG Strix, ASUS TUF Gaming, and Phoenix GeForce GTX 1650 SUPER following a little later on 22nd November.
KitGuru says: With the GTX 1660 Super and 1650 Super graphics cards just recently announced from Nvidia, we have seen many custom cards launched soon after. Asus is offering a large range to choose from, so consumers will be spoilt for choice in this price range.