With a rise in popularity of streaming platforms like Twitch and so many people turning to YouTube to broadcast their skills, products aimed at content creation is becoming a large and lucrative market for hardware manufacturers.
Gigabyte has a whole host of products available for the growing community of content creators and is eager to show off what it has to offer. Gigabyte's comprehensive lineup of premium hardware including motherboards and graphics cards is ideal for content creators. The company offers brand new HEDT motherboards for Intel X299X platforms along with new AMD TRX40 motherboards and the latest external GPU solution, the Aorus RTX 2080 Ti Gaming Box.
Both the X299X series from Intel and the new TRX40 platform from AMD offer a great base for building a professional-grade high-performance workstation – ideal to help speed up the workflows of content creators and design professionals. Both platforms offer support for high core count CPUs and high memory capacities, up to 256GB, meaning they will easily handle multitasking and memory-intensive workloads.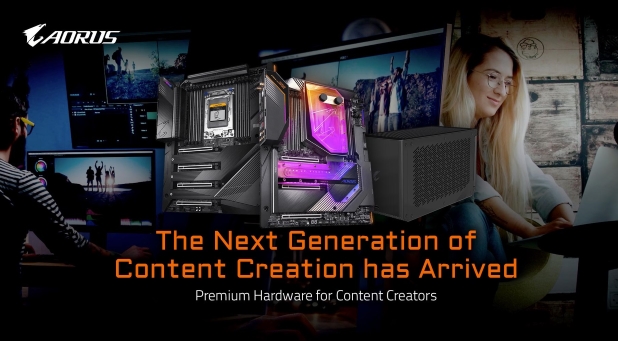 If Intel is your preferred platform then Gigabyte has a bunch of motherboards including the X299X Designare 10G, the X299 Aorus Xtreme Waterforce and the X299X Aorus Master. All these motherboards are certified by Intel for content creation. For those of you looking for native Gen4 PCIe support, Gigabyte has your back with its range of brand-new AMD TRX40 motherboards with the TRX40 AORUS XTREME, the TRX40 Aorus Master, the TRX40 PRO WIFI and the TRX40 Designare.
Additionally, Gigabyte can keep creators up to speed in producing live streaming with its Z390 and X570 platforms that support the latest generations of desktop CPUs and offer Aorus Memory Boost in the BIOS which allows users to boost read/write performance by 4%. For creators on the move, the Gigabyte Aorus 2080 Ti Gaming Box provides a portable solution for gaming and rendering 3D models on the go with its ultra-high-performance GPU.
Discuss on our Facebook page HERE.
KitGuru says: Gigabyte has content creation covered with its range of premium motherboards and high-end GPUs. Any of you guys getting into the business of content creation and thinking of investing in Gigabyte products?