New specifications of the next generation of AMD Navi GPUs and APUs have leaked, giving us a glimpse of what clock speeds we might expect from the final product. The stream processors and CU count of the Navi 23 have also leaked, alongside the first specifications of the Navi 31 GPU.
Redditor u/stblr has found more about the Navi 23 GPU, also known as Dimgrey Cavefish. Besides the details found about the Navi 23 GPU, the redditor also took more information about the rest of the Navi 2x GPUs, the Navi 31 GPU, and the AMD's upcoming APUs from the macOS 11 beta, which already has the firmware for the 'AMDRadeonX6000' series.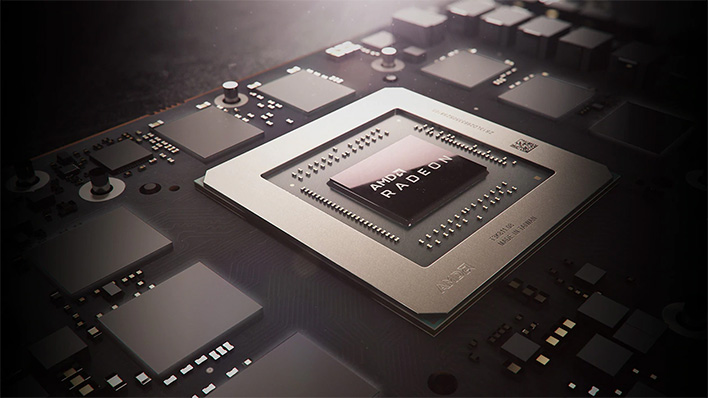 Regarding the Navi 23 GPU, it will come with 32 CUs (2048 stream processors) and a 128-bit memory interface. The Navi 21 will have two variants: the Navi 21a with a boost clock of 2050MHz, and the Navi 21b with a boost clock of 2200MHz. The Navi 22 will boast a 2500MHz boost clock. The Navi GPU mentioned in the firmware is the Navi 31, which is expected to debut in Radeon RX 7000 series and it will be similar to the Navi 21 GPU, featuring 80CUs (5120 stream processors).
AMD APUs were also found in the firmware. The Zen3 based Cezanne will allegedly come with same "the same GPU configuration as Renoir", which uses a Vega GPU with up to 8CUs. Van Gogh will be the first APU with a Navi GPU, featuring up to 8 CUs. The Rembrandt architecture seems to shake things up a bit, with a Navi GPU featuring up to 12CUs.
Discuss on our Facebook page, HERE.
KitGuru says: What are your thoughts on AMD's next generation of graphics cards? Are you interested in getting one?