As the expected date for the RTX 3080 Ti launch comes closer, the first benchmark results have started to appear. Besides the results, there's also confirmation on most of the specifications of the new GPU thanks to GPU-Z validation.
The GPU-Z validation of RTX 3080 Ti has finally come out confirming the latest rumours about the specifications of the GPU. The RTX 3080 Ti will feature 10,240 CUDA cores with a base clock set at 1365MHz, and the boost clock at 1665MHz. The validation also confirms that the GPU comes with 12GB of GDDR6X memory clocked at 19GHz across a 384-bit memory bus, resulting in a maximum bandwidth of 912.4GB/s.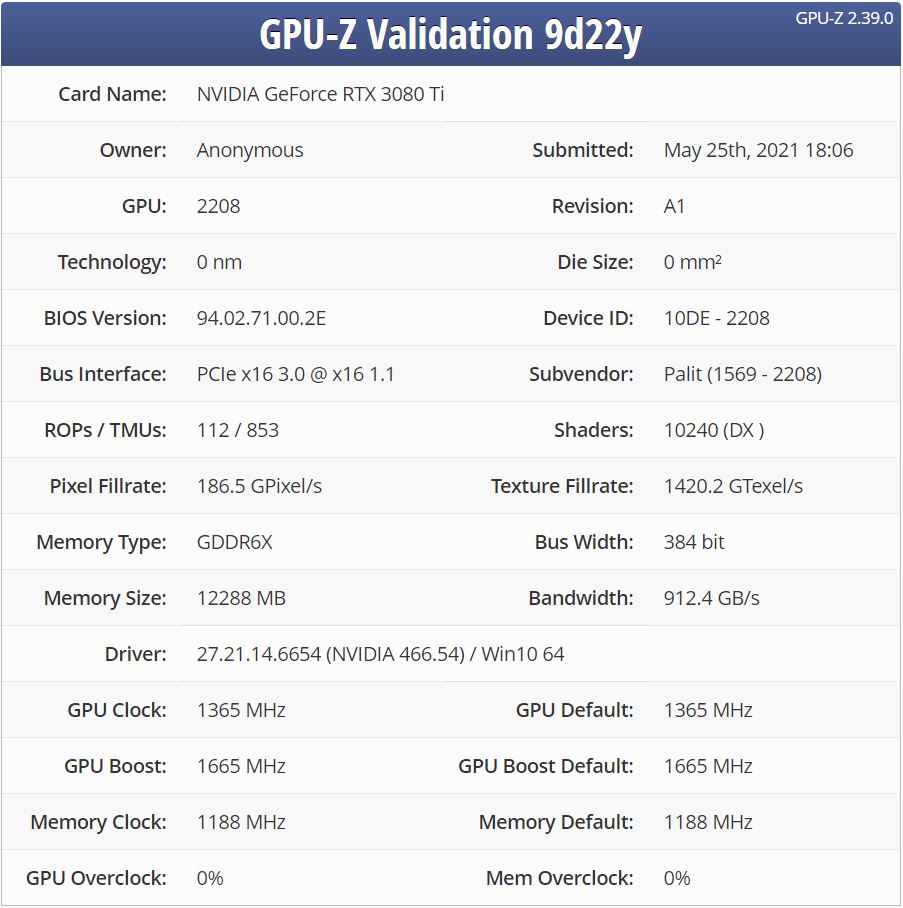 The RTX 3080 Ti has been tested on Geekbench 5 (via @BenchLeaks) scoring a similar result to the RTX 3090 (238603 vs 237972). As per the entry, the card was operating at 1.67GHz and the 12GB of memory at 19Gbps. The rest of the system consisted of an Intel Core i9-11900K clocked at 5.3GHz on an ASUS ROG Maximus XIII Hero motherboard featuring 32GB of DDR4-3600 memory.
A different user also tested the RTX 3080 Ti on Ashes of the Singularity in a system equipped with an AMD Ryzen 9 3900X and 16GB of memory. A fair comparison of scores in AoTS is hard due to the lack of system details. Nonetheless, putting the RTX 3080 Ti side-by-side with similar PCs using the same API and game version, the RTX 3080 Ti seems to offer about the same level of performance as the Radeon RX 6800 series GPUs and RX 6900 XT.
Discuss on our Facebook page, HERE.
KitGuru says: These are early benchmarks but it is a nice preview of what's to come. We should start to see full reviews with more detailed performance analysis next week.