ARM Technologies is looking to become the mobile hardware provider for future VR-centric smartphones, with the announcement of a brand new processor and graphics processor at this year's Computex event. They are said to offer much higher performance and improved efficiency over current-gen models, but won't be available until 2017.
"In 2017, we will see devices with the Cortex-A73 and Mali-G71 processors that stand out thanks to their impressive and sustained performance, and even more stunning visuals," said executive VP of product groups at ARM, Pete Hutton. "This technology can make engaging with 4K video, virtual reality and augmented reality an everyday experience on a mobile device."
The Cortex-A73 is built on a new 10nm FinFET process, making it the smallest, most powerful ARM chip created yet. Utilising the ARMv8-A core, it is capable of sustaining 30 per cent higher performance than the Cortex-A72. Although its efficiency has also improved, it can be combined on a single chip with a smaller ARM core to provide a much more capable system on a chip.
Despite the hardware not being expected until sometime in 2017, ARM has already licensed the new Cortex chip to partners like HiSilicon, Marvell and Mediatek.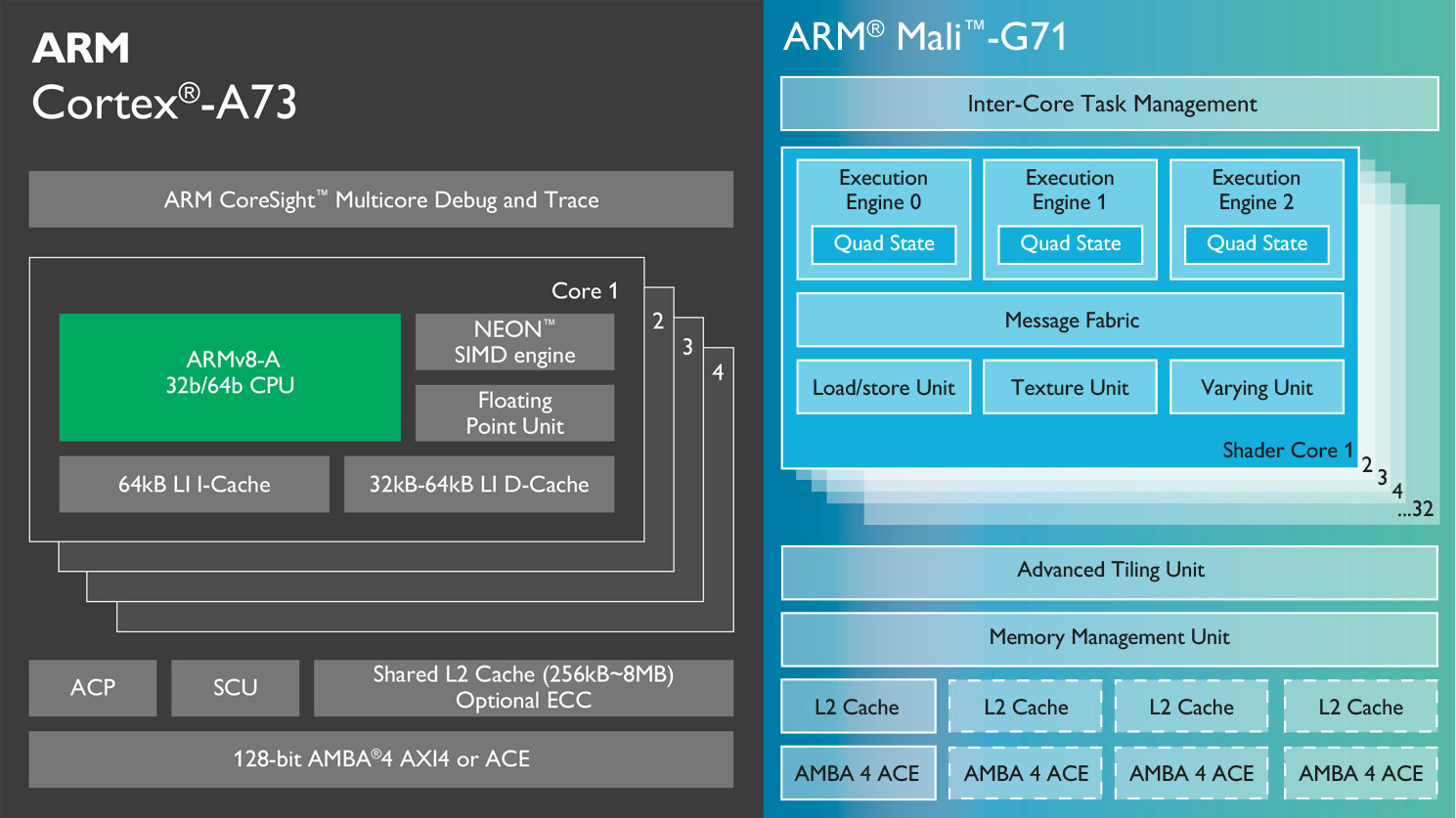 The Mali-G71 graphics processor could be the real gem in ARM's crown though. It's much smaller than previous generations and yet is 20 per cent more efficient, while delivering a 50 per cent improvement in graphical performance. With 32 shader cores, it's performance is beginning to eclipse some entry-level dedicated graphics cards, making it a real contender for low-end and augmented reality experiences.
Better yet, it supports the Vulkan API, so developers can really leverage it to generate some impressive performance numbers, even in visually complex scenes.
Why dedicate so much effort to making VR viable on smartphones? ARM believes that with more than double the number of PCs in the world, smartphones offer the easiest entry point for people into virtual reality.
"ARM is making smart investments that move the mobile VR and AR ecosystems forward. By creating more efficient and powerful technology solutions for mobile they are helping push the boundaries of what is possible in the virtual world and everyone will benefit," it said in a statement.
Discuss on our Facebook page, HERE.
KitGuru Says: If these performance gains are accurate, the next-generation of smartphones could be set to be impressively powerful. We aren't going to switch over from our gaming PCs any time soon, but the idea of using one as your work PC with attached keyboard and monitor isn't such a bizarre idea any more.