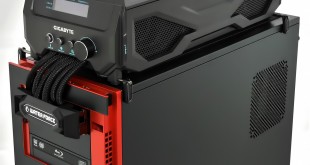 Every single aspect of the Gigabyte WaterForce graphics system is epic. Inside the wheeled suitcase (yes, really) you'll find three water cooled GTX 980 graphics cards, an aluminium casing that sits on top of your PC case to accommodate the three radiators and a handful of accessories. The idea behind WaterForce is that 4K gaming requires multiple high end graphics cards, however installing a cluster of GTX 980s will give you problems with heat build-up. After all, the 600W+ of power has to go somewhere and the middle graphics card is packed in tightly while the upper graphics card suffers from the physics that says 'heat rises.'
The solution is to liquid cool your graphics cards, however that is neither cheap nor easy. Running a loop between multiple graphics isn't a task for the faint-hearted and plenty of us would be nervous about removing the stock cooler from their new and expensive graphics card to replace it with a water block. The idea of a coolant leak that kills your graphics cards is the sort of thing that would bring most gamers out in a cold sweat.
With WaterForce, Gigabyte supplies all the hardware you need to install three liquid cooled GTX 980s without the hassle of plumbing any hoses or risking a coolant leak.

Watch via our VIMEO Channel (Below) or over on YOUTUBE

HERE
As you'll see in our video each graphics card is installed in the usual way and the individual 120mm radiators and their hoses are fed out through a 5.25-inch optical drive bay to the housing that sits on top of your case. The housing, or WaterBox, contains the cooling fans and has a set of controls on the front along with an LCD display.
Once the radiators are in place and you have connected power and USB the control system takes over and you are guaranteed epic graphics power with the minimum of heat and the maximum level of control.
Processor: 3.0GHz Intel Core i7-5960X
Motherboard: Gigabyte X99-UD4
CPU cooler: Corsair H100i
Memory: Corsair Vengeance LPX DDR4-2800MHz
Graphics cards: Gigabyte WaterForce (3x GTX 980 4GB)
3x Nvidia reference GTX980
Power supply: Seasonic Platinum 1200W
Storage drive: SanDisk Extreme Pro SSD
OS: Windows 8.1 Professional 64-bit.
The key thing about our testing is that we used a 4K screen resolution (3,840×2,160) as triple GTX 980 would be complete overkill on a 1080p set-up with frame rates that would be north of 100fps at all times.
The main message from our comparison of triple air cooled GTX 980 and WaterForce is that the extra clock speed of WaterForce does indeed deliver some extra frames however that is only part of the story. Take Tomb Raider as an example where the average frame rate jumps from 80.0fps to 102.1fps.
We have had mixed results with Tri-SLI over the years and were relieved to see the three reference cards and WaterForce behaved themselves impeccably in our tests.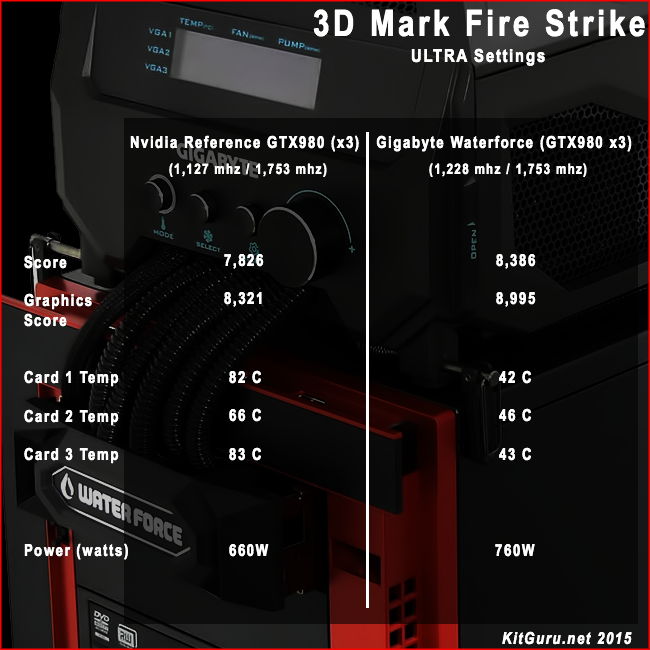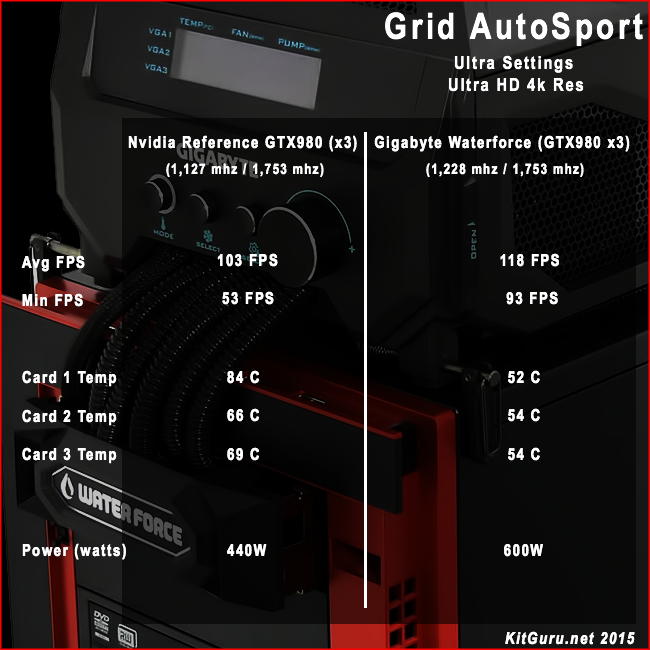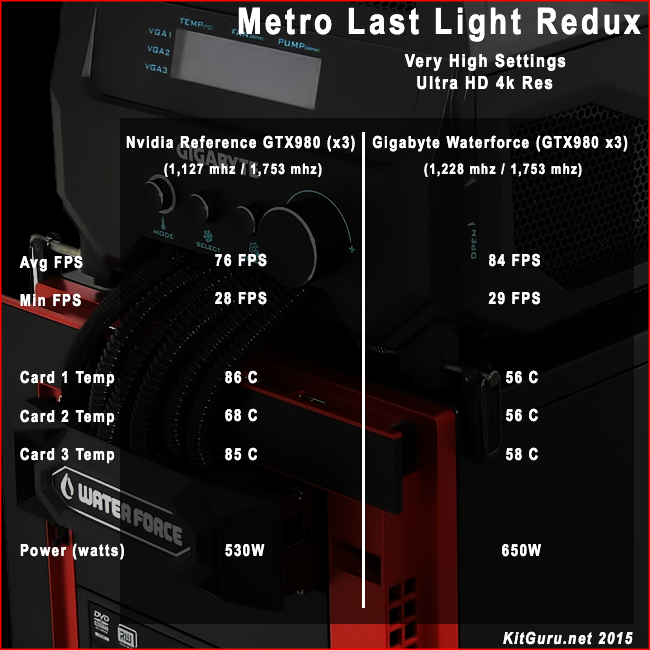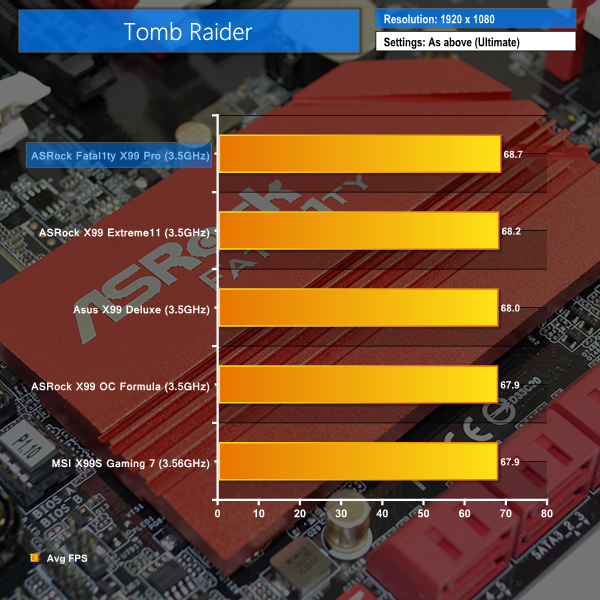 Thermal Performance
Cooling takes us to the heart of WaterForce. Naturally we expected to see lower GPU temperatures with individual liquid cooling on each graphics card but never in our wildest dreams did we think we would see temperature drop by 30 degrees Celsius. We have no doubt these low temperatures explain the high performance of WaterForce as the GPUs will perform at maximum when they run below 60 degrees.
It is noteworthy that 3D Mark Fire Strike only drives the GPUs at 35-39 degrees while Fire Strike Ultra pushes them to 42-46 degrees, thus showing the extra load quite clearly.
With the air cooled cards the upper card was consistently the hottest of the three while WaterForce ran the three liquid cooled graphics cards at very similar temperatures and often had the lowest card as the coolest.
Acoustics Performance
Noise levels depend on the case you use and the settings you employ in the WaterForce controls. The thing here is that GTX 980 isn't very noisy in the first place. When the three air cooled cards were heavily loaded the fans could be clearly heard however they were not intrusive. With WaterForce, once the OC Guru II software was running the noise level from the three fans in the control system was slightly louder than the air cooled GTX 980s however they never got any louder. No matter how hard the system ran the cooling simply worked in a cool, calm and collected manner.
Our video above has a real world section. We use ambient microphones – to give you (as close as possible) a real world experience of noise levels between 3x reference GTX980's and the Waterforce cards.
Closing Thoughts
WaterForce works superbly well. The cosmetics aren't all that appealing and fall far short of a decent home brewed liquid cooled set-up, but if you want to install three liquid cooled graphics cards in less than an hour this is the only game in town.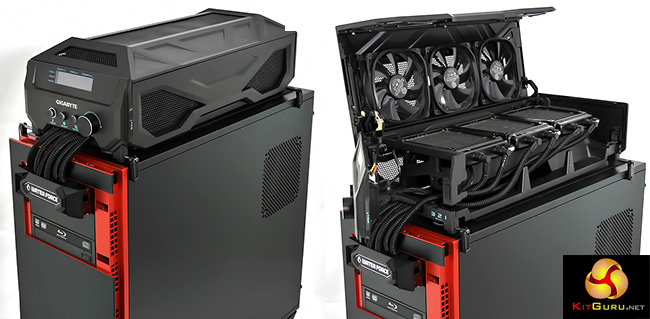 There are some downsides and perhaps the biggest is the control system. Well clearly the price is very high, however that is understandable. The control system suffers because Gigabyte has tried to be a bit too clever.


On front of the WaterBox there are three control buttons and a large rotary control so you can set a target GPU temperature using the left column of figures on the LCD panel. This allows the system to adjust fan and pump speed for each graphics card. Alternatively you can manually control fan and pump speeds using the centre and right columns of figures and here you have a choice of working with the graphics cards individually or collectively.
The system works well and can give you hours of fun (or annoyance) however it all seems rather unnecessary. Surely what we want is for the system to start, the fans to remain quiet and the graphics cards to operate at a low temperature. Is the sort of person who wants to install a pre-built liquid cooling set-up really going to be fussed about whether their graphics cards operate at 40, 45 or 50 degrees Celsius?
Putting that to one side, WaterForce does a fine job. The three graphics cards are the equivalent of GTX 980 G1 Gaming which cost £510 a pop and when you add in three radiators and GPU water blocks and the WaterBox housing you have a serious amount of hardware. Plus some luggage. So the cost of £2,500 is certainly high however it is understandable. The results that WaterForce delivers are extraordinary and deeply impressive.
Discuss on our Facebook page, over HERE.
Pros:
Massive graphics performance.
Very low GPU temperatures.
Installation is very quick.
LCD display shows temp, fan speed and pump speed for each card.
You have the ability to adjust fan and pump speeds to any level you desire.
Cons:
The styling leaves something to be desired.
Gigabyte OC Guru II software is frustrating and doesn't offer an on-line check for later versions before you install.
OC Guru II does not run at start-up so the fans race away and the LCD displays n/a.
Only available in black (well grey really) so not much good with a white case.
The price.
KitGuru says: WaterForce proves that water cooling a multiple SLI set-up works superbly, however it is a very expensive luxury.