Nvidia has launched their new GTX 1050 and GTX 1050 Ti graphics cards today. The GP107 GPU aims to form the foundation for a graphics card that offers 1080p 60 FPS gameplay, even in AAA titles, without significant cost outlay.

The GP107 Pascal GPU used in both the GTX 1050 and GTX 1050 Ti is built on a 14nm process by Samsung. The GTX 1050 Ti features 768 CUDA Cores and 48 Texture Units, while the GTX 1050 slices a sixth off those numbers – down to 640 and 40, respectively. All in, transistor count sits at 3.3 Billion.
Focussing on clock speed, the GTX 1050 Ti is rated at 1290MHz base with a 1392MHz Boost. The GTX 1050 increases those numbers to 1354MHz and 1455MHz respectively, thanks to its fewer GPU components allowing for the faster operating frequencies. But many partner boards will be operating at higher speeds out-of-the-box. And thermally-induced throttling is unlikely thanks to the cards' 75W TDPs. 4GB of GDDR5 VRAM clocked at 7GHz effective is used on the GTX 1050 Ti, while the GTX 1050 has to make do with 2GB of equivalently fast GDDR5.
Unfortunately a number of shipping issues and sample delays meant that we were unable to secure a GTX 1050 Ti for launch, despite having a full database of comparison results from 11 AMD and Nvidia cards. We will, however, have a full review up in the coming days once we receive our sample, gather performance results, and validate the test data.
In the mean time, we unboxed and took a quick first look at the ASUS GTX 1050 Ti Expedition graphics card. The Expedition SKU is, according to ASUS product marketing, "built for non-stop action". It sits below the factory-overclocked ROG Strix model in ASUS' line-up.
Nvidia is not selling a Founder's Edition reference board with the GTX 1050 or GTX 1050 Ti. As such, the stock-clocked ASUS Expedition model gives us a good indication of raw GTX 1050 Ti GPU performance.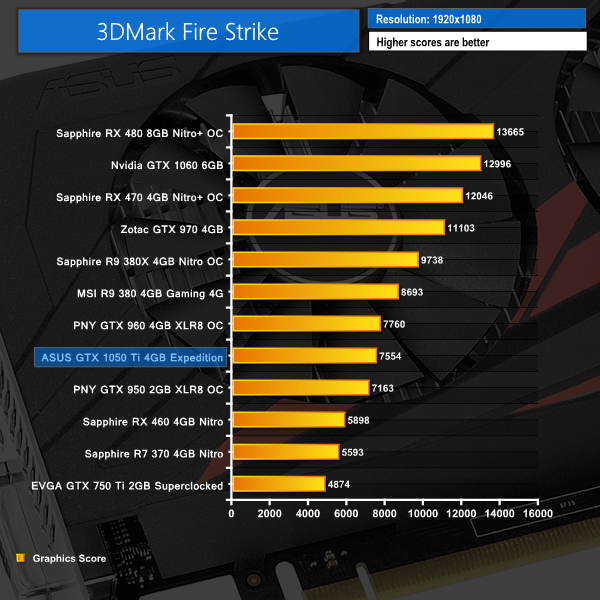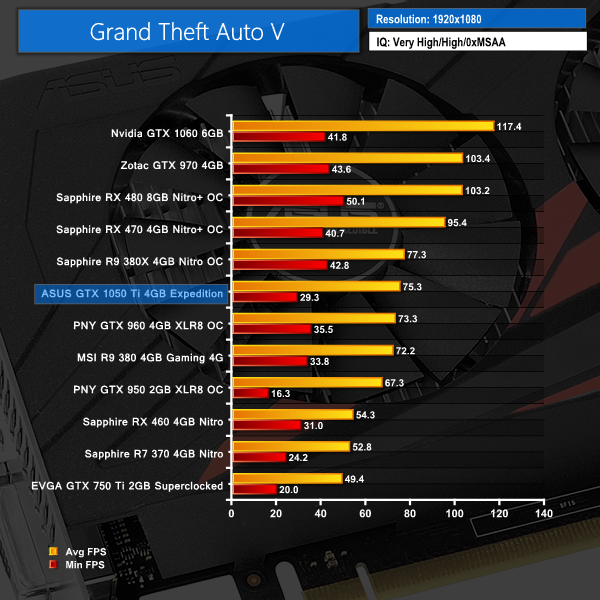 Performance-wise, 3DMark Fire Strike shows that the stock-clocked GTX 1050 Ti sits very closely to the GTX 960 4GB of last generation (depending on the Maxwell card's level of factory overclock).
When it comes to gaming frame rates, the GTX 960 4GB again looks to be the closest comparison for a stock GTX 1050 Ti. Making a comparison to Team Red, the R9 380 4GB of yesteryear looks to be at a similar performance level, depending upon the game engine's preference for Nvidia or AMD hardware. Compared to the current generation AMD line-up, GTX 1050 Ti looks to be significantly faster than the cheaper RX 460 4GB and significantly slower than the more expensive RX 470 4GB.
A very early, and brief, look at stock-clocked GTX 1050 Ti performance using the ASUS Expedition model shows the GPU to be capable of 1080p 60FPS+ using a mixture of High and Very High settings in demanding games such as GTA V. But our upcoming full, in-depth review of the GTX 1050 Ti will better analyse how the GPU performs across a variety of titles and how it compares to AMD's current offerings in terms of performance, power draw, and value.
Discuss on our Facebook page HERE.
KitGuru says: Stay tuned for our upcoming full review of the GTX 1050 Ti graphics card, where we compare it to 11 AMD and Nvidia competitors from this year's offerings and from previous generations.