At its press conference in Taipei, AMD has announced that the RX Vega consumer GPU will launch at SIGGRAPH 2017 which starts on July 30th. Also confirmed was the summer 2017 launch date for Threadripper and the X399 high-end platform, with further details being given.
Vega:
AMD will launch the Frontier Edition intended for professional usage in the coming weeks. However, AMD showed working Vega consumer silicon running Prey and confirmed that the GPU will launch at the end of July 2017 at SIGGRAPH 2017 in Los Angeles.
"Where is Vega?" Well, finally there seems to be a clear answer for that question and the answer is that it's around 2 months away from launch.
Threadripper and X399:
Due for launch in Summer 2017, AMD showed off its 16 core, 32 thread Threadripper CPU powering through a Blender workload as well as running demanding workloads alongside four Vega GPUs.
Yes, those points are correct; Threadripper will have up to 16 cores and 32 threads (as we already knew) but AMD has confirmed that the CPU will offer 64 PCIe 3.0 lanes and quad-channel DDR4 memory support. This will allow for true PCIe 3.0 x16 bandwidth to four high-performance GPUs which is something that Intel's competing HEDT consumer platform will not be able to offer thanks to its 44 PCIe lane maximum capacity.
While four GPUs is not something that many consumers may care about currently, it has the benefit of giving motherboard vendors opportunities to add new technologies that would otherwise steal valuable and scarce PCIe lanes. We have seen ASUS' Zenith Extreme X399 motherboard showing off 10Gb Ethernet capabilities and it is expected that many motherboards will offer multiple connectivity options with high-speed PCIe storage.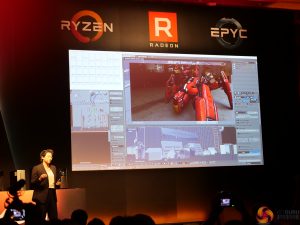 There was no pricing suggested for Threadripper and no date more precise than "summer 2017".
Ryzen Mobile:
Also shown off was Ryzen Mobile which is due in the second half of 2017. The APU versions will allow for sub-15mm thickness notebooks with 4C8T CPU sections and Vega graphics on-chip, according to AMD. Quoted performance improvements over 7th Generation APUs were in the region of +50% for CPU performance, +40% for GPU performance, and 50% less power consumption.
AMD-powered Products on Display:
Multiple X399 motherboards were shown and we saw some upcoming mini-ITX AM4 offerings.
ASUS was showing off its GL702ZC laptop which features a Ryzen 7 1700 8-core CPU and RX 580 GPU, in addition to a Freesync 2.0 display.
According to ASUS, this laptop's CPU broke the Cinebench laptop performance record (1410 points which is roughly equivalent to an 8C16T Core i7-5960X desktop CPU) with a result significantly higher than competing laptop processors.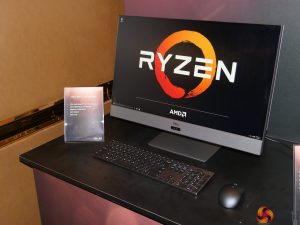 Dell was showing off an All-In-One PC which it claims is the world's first with an 8-core Ryzen CPU. This solution can be paired with an RX 580 GPU that is up to 110W, according to Dell (which would imply power tuning by throttling clocks or a speech mistake that should reference RX 500 series support, not RX 580 specifically). Dell's Infinity Edge display is used for this AIO which the company claims is VR ready.
Discuss on our Facebook page HERE.
KitGuru Says: Celebrating its 30th anniversary for operations in Taiwan, AMD was keen to highlight the company's focus for high-performance computing in the market segments that include consumer. Threadripper looks promising and RX Vega for consumers will launch at the end of July 2017.