Update (06/12/17): AMD has released a brief statement regarding the recent RX 560 mix up. Earlier this week it came to light that an updated version of the RX 560 had hit the market with fewer Compute Units and Stream Processors. There was no clear separation of the two versions at retail or on partner sites. According to AMD, this was a mix up.
In a statement given to Gamers Nexus, an AMD spokesperson said:
"It's correct that 14 Compute Unit (896 stream processors) and 16 Compute Unit (1024 stream processor) versions of the Radeon RX 560 are available. We introduced the 14CU version this summer to provide AIBs and the market with more RX 500 series options. It's come to our attention that on certain AIB and etail websites there's no clear delineation between the two variants. We're taking immediate steps to remedy this: we're working with all AIB and channel partners to make sure the product descriptions and names clarify the CU count, so that gamers and consumers know exactly what they're buying. We apologize for the confusion this may have caused."
Original Story (05/12/17): It looks like choosing a budget-friendly graphics card just got a bit more confusing on the AMD side of things. This week, AMD and some board partners began quietly selling a new SKU of the RX 560, which unfortunately comes with fewer compute units and stream processors compared to the original.
These newer RX 560s aren't specifically marked on the box and there has been no name change. With that in mind, there is no way of telling them apart if you are buying off the shelf and if you are buying online, you will have to hope that the retailer has listed the correct specs for the model you are buying.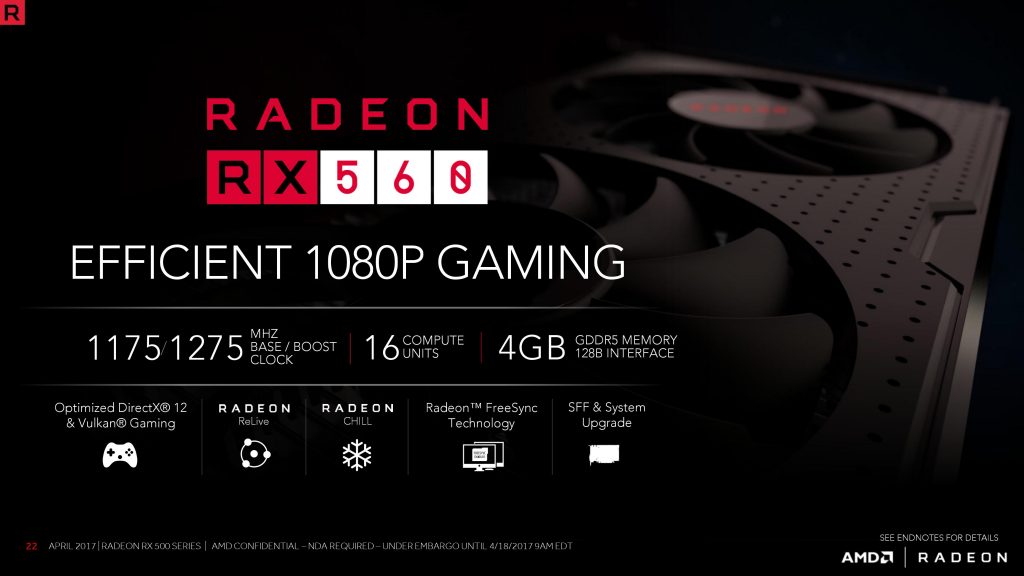 When AMD launched the RX 560 earlier this year, it packed 16 Compute Units (CU) and 1024 Stream Processors (SP). This was a notable bump from the RX 460, which came with 14 Compute Units and 896 Stream Processors.
Now, the new RX 560 SKU features the same specs as the RX 460, meaning you could end up with a 14CU/1024SP RX 560. AMD's product page for the RX 560 has been changed to address the fact that lower spec models are in circulation but outside of that, the company has not notified customers, or sent out a press release explaining the situation.
The big kicker is that these cut down versions of the RX 560 aren't necessarily cheaper than their higher spec'd counterparts. If you are shopping around for an RX 560, be vigilant and make sure you are getting the most for your cash.
KitGuru Says: We don't know for sure why AMD chose to do this, but either way it is disappointing news for consumers. Perhaps AMD and some board partners still had some old RX 460 stock that they wanted to shift, leading to this change, though that is speculation on my part. We'll update this post should AMD choose to respond to this news.