Gigabyte has managed to make the world's first Mini-ITX GTX 970 graphics card, powered by a single 8 pin power connector, cooled by a single fan and running at a clock speed of 1076 MHz, which is actually slightly higher than the 1051 MHz base clock speed found on the reference 970.
The card can boost up to 1216 MHz under the right conditions and my be able to overclock further, many full sized , custom cooled Maxwell based GPUs have been managing to hit between 1300 and 1500 MHz clock speeds. Gigabyte's full size GTX 970 G1 Gaming card utilities two 6 pin power connectors and the Windforce 3 fan cooling design so being able to pack so much power in such a small form factor for the mini ITX version is nothing short of impressive.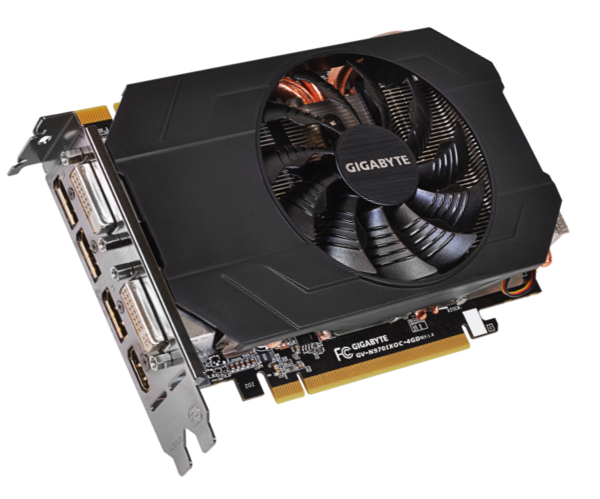 According to Gigabyte's own tests, the single fan cooler found on the Mini-ITX GTX 970 was able to keep the card sitting at around 62 degrees Celsius while running Metro Last Light, whereas the blower style reference cooler would hit around 76 degrees. We would need to perform our own tests to verify this but from the sounds of it, this is shaping up to be one seriously impressive card.
The tiny GPU will be priced at $329.99 in the US, the same price as a reference 970. Since this card is so small, you aren't going to get quite the same overclocking or cooling performance as you would with a full sized card with a custom cooler. However, this should still prove more than powerful enough for many small system owners, in-fact, I can see this card being very popular amongst builders.
UK pricing has yet to be confirmed although we have been told to expect it to sit somewhere between £279 and £289. Stock is expected to hit around mid November.
Discuss on our Facebook page, HERE.
KitGuru Says: That's a seriously powerful card considering the size. How many of you guys own a Mini-ITX system? Would you build one with this tiny GTX 970?  I'm a bit tempted myself.