This week, Intel began rolling out a new graphics driver for its Arc GPUs. The driver launched earlier this morning, but it is only now that we can talk about the big improvements this driver brings. Since Arc's launch, Intel's engineers have been hard at work to polish up performance, particularly in DX9 titles. With this new driver, Intel has delivered up to 43 percent better performance in DX9 with smoother frame times too.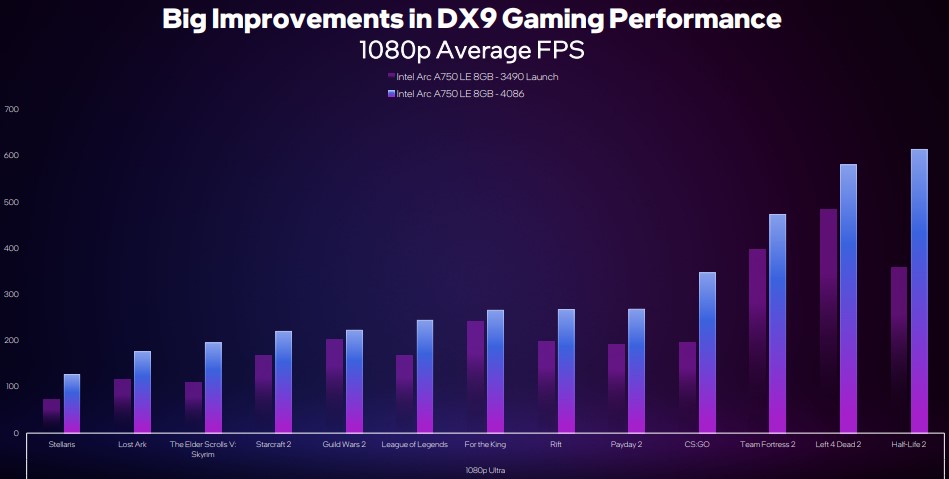 The new Intel 4091 graphics driver brings the performance improvements we've been waiting for. Using an Arc A750 GPU, Intel claims its new driver delivers up to 43 percent higher performance in DX9 titles. CS:GO is a particularly good example here, with a big performance improvement at 1080p. In the slide above, you'll see even more comparisons, with performance bumps across the board.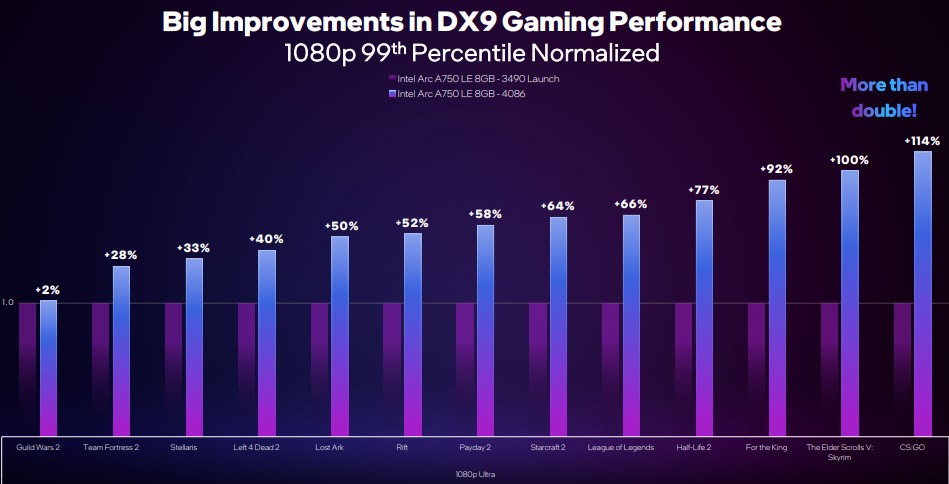 Another slide shows frame time improvements too, reducing latency and smoothing out the overall experience, particularly in Counter-Strike: Global Offensive. Other titles, like Skyrim, League of Legends, Lost Ark and others also see big frame time improvements, with some games receiving a 2x improvement.
In the above slides, you'll see additional frame rate and frame time improvements with the new driver while gaming at 1440p too. Overall versus the launch driver, the Arc A750 appears to be in a much better position for mainstream gaming.
To cap off Intel's big performance improvements, the company is also dropping the price tag of the Arc A750 graphics card. These GPUs will now start at $249, versus the $279 launch price tag, creating a better value product overall.
Discuss on our Facebook page, HERE.
KitGuru Says: Intel's first-generation Arc graphics cards have been available for a little while now but this driver seems to address a lot of the performance concerns with older titles. It will be interesting to see further results as users begin to test out the driver in a wider range of games.