The Mafia series has had a positive history on the PC platform. However, this year, a new team has picked up the series to deliver Mafia 3. Things didn't get off to a great start last Friday when the game's PC version launched with a hard 30 frames per second cap, but with that now patched out, we can finally take a look at how the game runs.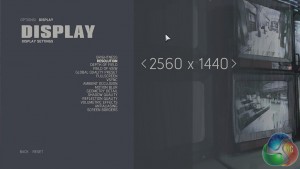 Click images to enlarge.
The graphics options menu is usually the first place you will notice cracks in the PC version of any game and unfortunately, that rings true here. Mafia 3 isn't necessarily missing key features, you can adjust things like Geometry Detail, Field of View and Volumetric Effects alongside standard things like Shadow Quality, Anti-Alisasing and Motion Blur. However, there isn't a lot of detail here. You only get low, medium and high options for each setting and it doesn't tell you what form of Ambient Occlusion or Anti-Aliasing is being used.
Limited graphics options might be easier to look past if the game actually looked good but unfortunately, Mafia 3 looks very outdated. Draw distances are low and there is often a lot of flickering when looking into distances in some areas. Textures simply don't look like they belong in a 2016 game, with most surfaces looking very muddy.
The game's art direction is fantastic – the world certainly looks like it belongs in the 1960s, but it is a shame that the design couldn't be backed up by higher graphical fidelity. Even at 4K, this game often looks quite hazy and ugly in areas, particularly at night. The game just doesn't really match up to what we have come to expect from big releases in the last two years.
Another thing I would like to note is that while this is technically an open-world game, it feels very empty. You won't run into much traffic on the roads, or many pedestrians in the street compared to other open-world games.
Hangar 13 is a very young studio. In fact, its formation was only announced in December 2014 and this is their first game. With this in mind, it looks like the technical side of the game has suffered to hit deadlines.
Click thumbnails for 1440p screenshots.
For our performance tests today I will be running Mafia 3 on the following system:
CPU: Intel Core i7 6700K with 4.2GHz boost clock.
Motherboard: Asus Maximus VIII Hero.
RAM: G.Skill 16GB 3200MHz DDR4.
Storage: 1TB Samsung 850 Evo SSD.
OS: Windows 10: Anniversary Update.
For graphics cards, we will be running the following:
MSI GTX 1080 Gaming X.
Asus GTX 1060 Strix.
MSI GTX 970 Gaming 4G.
AMD R9 Fury X.
XFX R9 390x Ghost Edition.
Sapphire R9 290 Vapor-X.
Sapphire RX 480 Nitro+.
Sapphire RX 470 Nitro.
All of the graphics cards included in this test were run with the latest drivers installed. In Nvidia's case that would be Driver Version 373.06 and on the AMD side we are using Radeon Software 16.10.1. Both of these drivers were released with optimisations for Gears of War 4. Our results were obtained using the in-game benchmarking tool and verified through campaign play.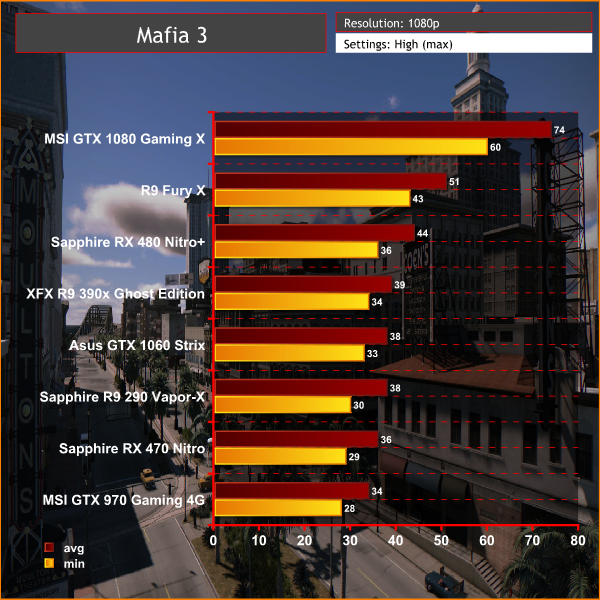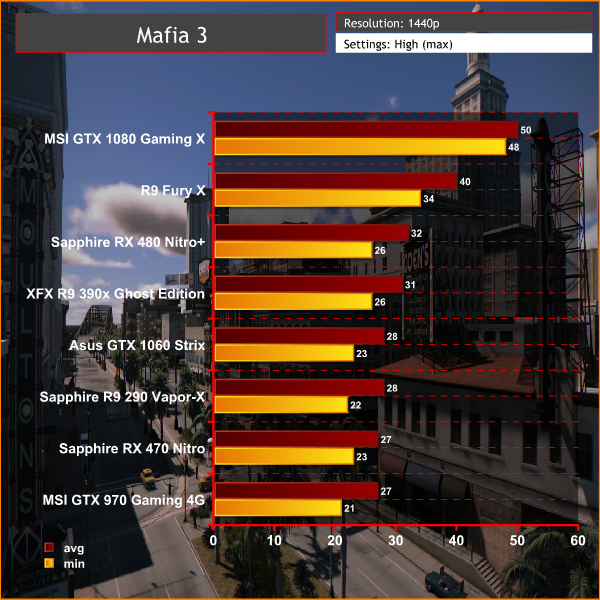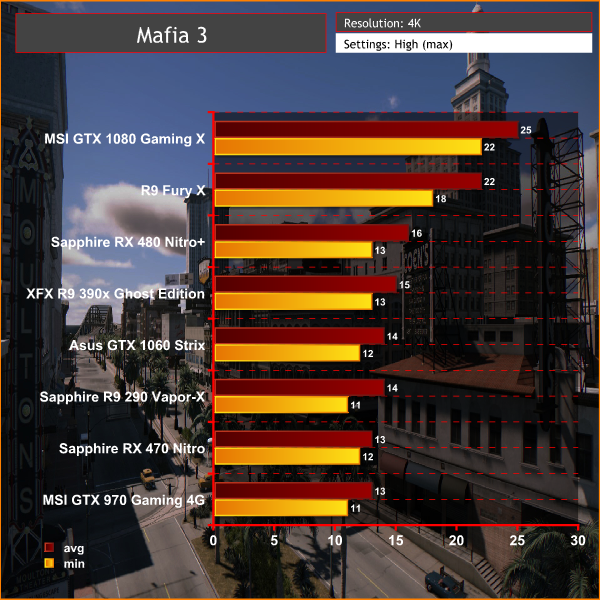 Mafia 3 launched with a 30 frames per second cap and while that has since been patched out, the game still doesn't run well on any GPU. The GTX 1080 is the only card that can drive this game above 60 frames per second at 1080p. The Fury X only just manages to break 50 frames per second on average. Both of these cards are considered to be excellent options for 1440p gaming, so the fact that they are under performing at 1080p says a lot about the optimisation of this game.
If you step up to a higher resolution, none of the cards in our stack do particularly well. The GTX 1080 can't seem to average 60 frames per second at 1440p and it is all downhill from there for our other GPUs. Given the game's visuals, the performance trade-off here just doesn't make a lot of sense. Even at 4K, the game doesn't stand out graphically.
Honestly, Mafia 3 is a bit of a disappointment all around when it comes to the PC version. There are some random physics bugs, lighting and skyboxes can mess up in some parts of the map, the game has crashed on me multiple times, textures are far from impressive and the same can be said for view distances. It is clear to me that this game was rushed out and could have done with more time in development.
To be fair, the game's story does seem interesting and satisfying enough, so the game might be worth playing for that, particularly if you are a long-time fan of the series. However, from a gameplay perspective, it feels like a linear game shoved into a shallow and empty open-world for the sake of being an open-world game. If Mafia 4 is ever put into development, I really hope the studio can make a clear cut choice between being an impressive open-world game like Grand Theft Auto, or being a more linear experience.
Discuss on our Facebook page HERE.
KitGuru Says: I really wanted to like Mafia 3 but I just can't get past the poor performance, hazy visuals and inconsistent quality. If you can live with the poor frame rate, then the game might be worth playing for the story but don't expect much in terms of gameplay.