Microsoft has been making much more of an effort to get on the good side of PC gamers in recent years. There were some hurdles along the way, with issues surrounding the Universal Windows App system and the Windows 10 Store but things have been changing for the better in the last year. In the latest Windows update, Microsoft is focusing on making the OS better for gamers once again with a new Variable Refresh Rate setting that enables VRR even in titles that lack native support.
Variable refresh rate support has become hugely important for PC gaming in the last few years, in large part thanks to the dominance of G-Sync and FreeSync displays. Enabling variable refresh rate support allows the GPU to control monitor refresh rate and eliminates screen tearing in the process. Not all games support VRR directly but those with the latest update for Windows 10 1903 should see a new graphics settings option to work around this.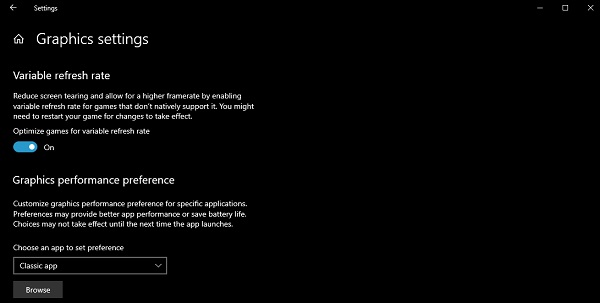 This all stems back to when Microsoft first starting rolling out Xbox exclusives on PC as UWP apps. The first batch of games, including Gears of War: Ultimate Edition and Quantum Break, did not support adaptive V-Sync and unlocked frame rates. Some Windows Store games still don't support adaptive sync and variable refresh rates even after Microsoft implemented the tools to do it with UWP.
With this new Windows setting, people will be able to force VRR support in games that don't explicitly support it. Mileage will vary from game to game but this feature should enable a smoother experience. The update isn't appearing for everyone just yet but it is rolling out and should pop up on your system soon if it hasn't already.
KitGuru Says: Now that future Xbox exclusives are also going to launch on Steam, this seems like less of a big deal. However, if you are a PC and Xbox owner and want to take advantage of 'Play Anywhere', then you may still end up playing UWP versions of games from the Windows Store in the future and in that case, this feature should continue to be helpful.