The Titan Z was notoriously known for being ridiculously expensive at launch, setting back early buyers by a hefty £2300 in the UK and $3000 in the US. However, Nvidia seems to be coming to its senses, the company has cut the regular price down to £1100 and retailers like Overclockers UK are attempting to shift stock at even lower prices.
We missed it unfortunately but earlier this morning, OCUK were selling Palit Titan Z cards for just £899, the deal sold out in just an hour. However, Andrew 'Gibbo' Gibson has told us that the retailer is attempting to source some more stock at this low price, although it's having some trouble due to low stock:
"OcUK is trying to do a deal for more units to hit £899 but unfortunately it looks very unlikely simply as stocks are so low at board partners and they don't feel the need or requirement to reduce price any further. But we won't give up as OcUK are market leaders, not followers!"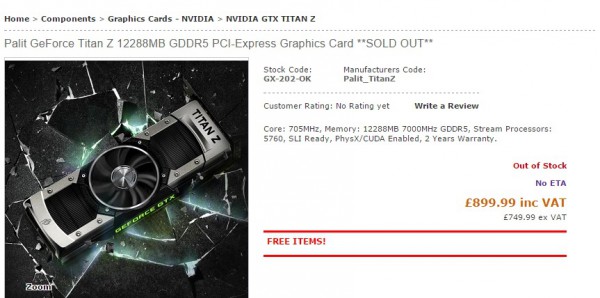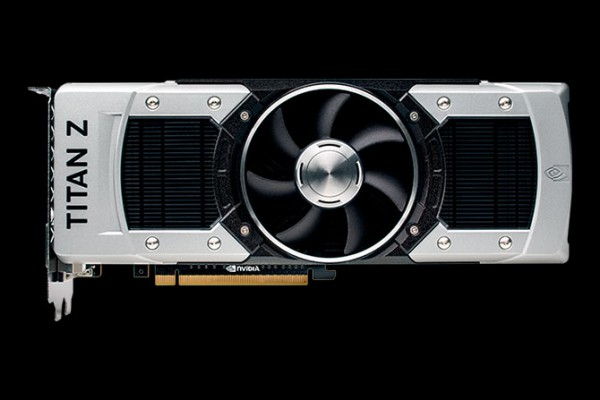 While we may not see another £899 Titan Z deal any time soon, you can pick up several models for under £1200 at OCUK. The EVGA model is currently the most expensive, coming in at £1199.99 while you can grab the Asus version for £1099.99, a big improvement from the launch price. Additionally, you can pick up a Gigabyte Titan Z for £1079.99.
As Gibbo noted, board partners are starting to run low on Titan Z stock and we don't know if any more will be made. It might not be long now before the Titan Z is completely out of stock so if you're eying one up, you might want to act fast.
You can see OCUK's Titan Z range, HERE.
Discuss on our Facebook page, HERE.
KitGuru Says: £899 for a Titan Z is a pretty crazy deal, those who did manage to pick one up at that price are pretty lucky considering we may not see the cards priced that low again. However, just under £1100 for the Gigabyte and Asus models isn't a bad price either. Have any of you guys purchased a Titan Z? Would you be more likely to consider one at the new lower price?