It looks like Nvidia is turning its attention to promoting virtual reality as today, the GPU maker announced its latest games bundle, giving Pascal GPU buyers three of the best games VR has to offer.
Starting from today, anyone buying a GeForce GTX 1080 Ti, GTX 1080, GTX 1070 or GTX 1060 graphics card, system, or laptop (as well as an Oculus Rift+Touch bundle) will receive 3 VR-titles: The Unspoken, SUPERHOT VR and Wilson's Heart. All three games are currently Oculus Store exclusive and require the Touch motion controllers.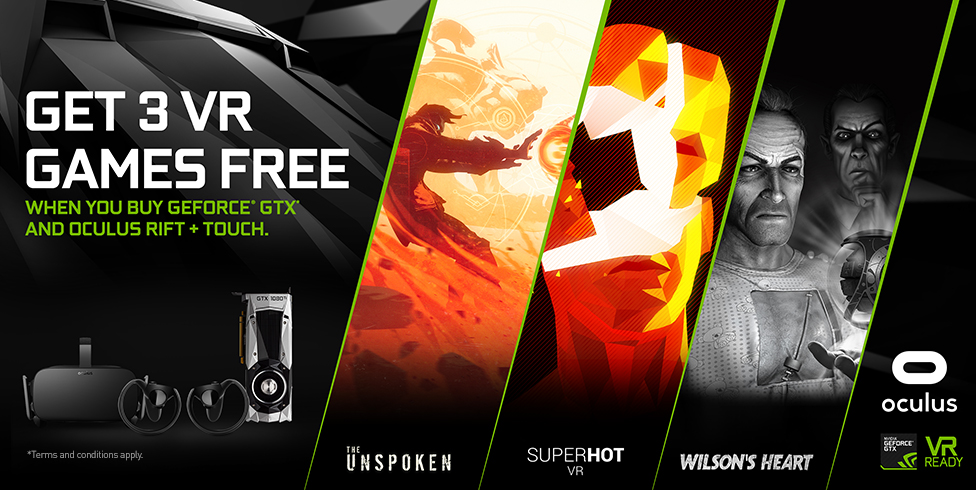 The Unspoken is a spellcasting PvP game put together by Insomniac Games. Meanwhile, SUPERHOT VR is a puzzle shooter in which time moves when you do, allowing you to plan out your moves carefully to take out enemies and make it through different levels. Wilson's Heart is a brand new VR game. It's a psychological thriller set in a 1940's hospital. It's definitely the spookiest of the bunch.
All three games are redeemable on the Oculus Store and while HTC Vive support is not baked in, owners of that particular headset may be able to get around that with Project ReVive.
KitGuru Says: I've owned an Oculus Rift for some time now and SUPERHOT VR in particular is one of my favourites by far. Are any of you planning on getting in to VR this year? Have any of you tried one of these games already?