When Nvidia first debuted the Pascal architecture, one of the big new feature announcements was Ansel, an in-depth game camera tool that could take unique, professional looking screenshots of games. A whole suite of editing tools are also included, along with the ability to take super-high resolution and 360-degree images. We have already seen Ansel added to Mirror's Edge: Catalyst but now, you can also find it within The Witcher 3: The Wild Hunt.
With Ansel, you can add filters, adjust the field of view and screen orientation or make changes to contrast, colour, vignette and more. You can take a standard screenshot, or you can take a 360-degree image, or even a super high-resolution snap, which starts off at 5K and just keeps going up. High-res images will run up the file size though, with the maximum sitting at 35GB.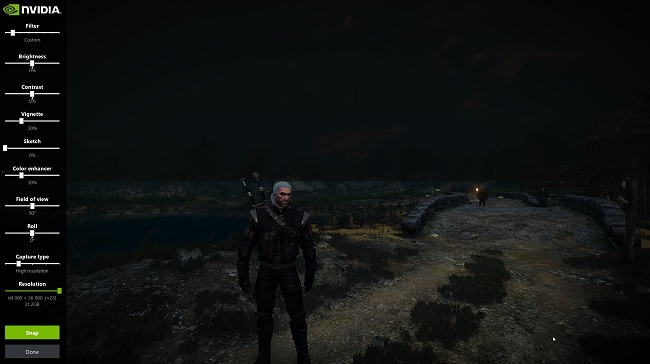 To use Ansel in The Witcher 3, you will need the latest Game Ready driver from Nvidia. From there you can open up The Witcher 3 (make sure version 1.24 is installed) and once in-game, you can press alt+F2 to open up the Ansel interface. Images will then save in your 'videos' folder on the C Drive.
Ansel will work on GPUs dating back to the GTX 600 series, so if you are a couple of generations behind, you could still take some pretty amazing in-game screenshots.
KitGuru Says: The Witcher 3 is a very detail-rich game and Ansel really helps kick things up a notch with its super high-resolution capabilities, allowing you to capture shots up to 63 times higher than 1080p. Have any of you guys played around with Ansel already? What do you think of it?