Multi-GPU users will find plenty to be pleased about with AMD's latest Radeon Software update. Version 17.9.2 will begin rolling out today and offers up some big performance gains when using a pair of RX Vega 56 or RX Vega 64 GPUs.
Using Radeon Software version 17.9.2, the folks over at AMD's performance labs measured a hefty performance improvement while running RX Vega 64 in mGPU mode, with gains as high as 80 percent. You can see the frame rates AMD is reporting in the graph below: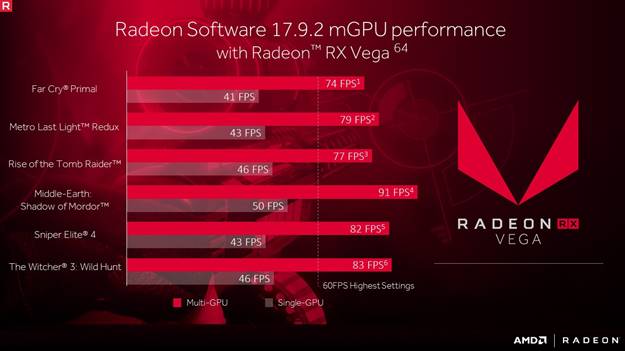 It might not be a perfect doubling of performance when adding a second GPU to the mix but an 80 percent gain is considered very good. Unfortunately, the exact resolution isn't mentioned but judging by the single-GPU results, I would guess these games are running at 4K. I have sent an email to our AMD contact for further clarification on this.
We didn't hear much about Vega running in CrossFire at launch but it seems the Radeon engineers have been working hard on getting it up to speed following launch. If you can manage to get your hands on two Vega GPUs for your rig, then it looks like for some games at least, you should be getting some decent performance improvements.
KitGuru Says: Have many of you managed to get your hands on an RX Vega GPU yet? Are you thinking about adding a second one to your system?