While gamers do have to wait a bit longer to get their hands on the upcoming Radeon RX Vega, for Radeon Vega Frontier Edition is launching before the end of the month for the professional crowd. AMD promised a late June launch for this GPU and it seems they will be keeping to that, with the card going up for pre-order on a few websites.
Originally, the Vega Frontier Edition was up on Scan here in the UK but the page has since been removed. At the time though, the Liquid Cooled version was priced at £1,656 while the air cooled version was priced at £1,139.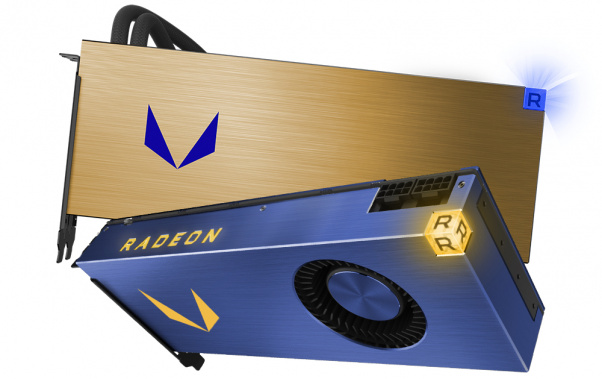 While the Scan page no longer exists, NewEgg does have its own pre-order listing up over in the US. Over there, the Liquid cooled version of the Vega Frontier Edition goes for $1,799.99, meanwhile the air cooled version goes $1,199.99. Both of these GPUs are expected to begin shipping by the 3rd of July.
Here are the Radeon Vega Frontier Edition specs:
16GB HBM2 memory.
4096 Stream Processors.
64 Compute Units.
13.1 TFLOPS FP32 performance.
26.2 TFLOPS FP16 performance.
3x DisplayPort 1.3, 1x HDMI 2.0.
300W TDP (Air-Cooled) 375W TDP (Liquid-Cooled).
Still no concrete news on the launch of the RX Vega but we are currently expected a launch at the end of July, with third-party cooled GPUs expected to begin shipping in early August.
KitGuru Says: The Radeon Vega Frontier Edition is going to be a very expensive, though that's not entirely unexpected given the aim at the professional market. I do wonder why there is such a huge price gap between the liquid-cooled and air-cooled version though.