After Nvidia first unveiled G-Sync to the world, work on an open standard was well under way. Today, we know that standard as 'FreeSync', which enables variable refresh rates through DisplayPort and HDMI. Over the years, Nvidia users have been locked down to G-Sync and have been unable to take advantage of cheaper FreeSync monitors, but this week, two work arounds have come to light for the first time.
Recently on Reddit, two users have come forward with different methods of tricking an Nvidia GPU to work with FreeSync. The key thing to remember is that in both cases, you will need some AMD hardware. The first method comes from Reddit user 'bryf50' and involves having two graphics cards in your system, an AMD one and an Nvidia one. The AMD card would need to be your display driver but in some games, you can switch between the rendering GPU. In these cases, you can load up a game on a FreeSync monitor with a Radeon GPU first and then switch to the Nvidia GPU in-game, which will leave FreeSync active. So for instance, you could pick up a cheap Radeon RX 500 series graphics card for your system and bypass Nvidia's roadblock.
Obviously, this method isn't particularly practical as it involves dual graphics cards from competing vendors, two sets of GPU driver installations, and you would be limited in the number of games FreeSync is available on. Still, it is an interesting work around that we've not seen before.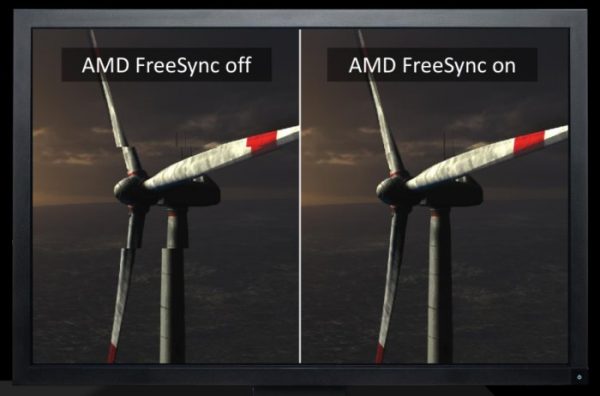 The second method comes from Reddit user 'survfate' and involves utilising an AMD APU and an Nvidia GPU instead. In this case, you can hook a FreeSync monitor up to a Ryzen 2200 APU via the motherboard's HDMI connection. You will then need to force enable integrated graphics within the motherboard BIOS. From there, you can boot into Windows and install AMD's drivers to enable FreeSync. After that, you can slot in an Nvidia GPU (a GTX 1060 in this case), and force enable applications/games to use the GTX 1060. This method was tested using AMD's FreeSync Windmill demo and in Batman Arkham Knight with positive results.
Both of these methods seem to work, although they aren't particularly practical solutions. Nvidia may also be able to patch these workarounds out in a future driver update, so these methods might be operating on borrowed time.
KitGuru Says: I've always suspected that we'd eventually see an Nvidia/FreeSync workaround. Now we have two in the same week. All of this does leave me wondering how Nvidia will respond though, I imagine future driver updates will attempt to lock these methods down.