Update: This competition is now CLOSED. Our winner this time around is… Justin McAvoy! You can find our full winner announcement post HERE. 
If you missed out this time around, then keep an eye out as we usually have another competition just around the corner. Currently, we are giving away a Gigabyte Aero 15 gaming laptop as part of our annual reader survey, if that interests you, then you can find all of the details HERE.
Original post: It is competition time once again! This month, we are giving away another Nvidia RTX 2080Ti graphics card. This time around, we are giving away MSI's Gaming X TRIO edition with a high performance triple-fan cooler, a sleek design and plenty of RGB. 
The MSI RTX 2080Ti Gaming X Trio normally sells for around £1,200, so it is an expensive beast of a GPU with boost speeds of 1,755MHz. We have praised the Gaming X Trio cooler in the past for its performance too, so we are confident that the winner will be very happy with this card.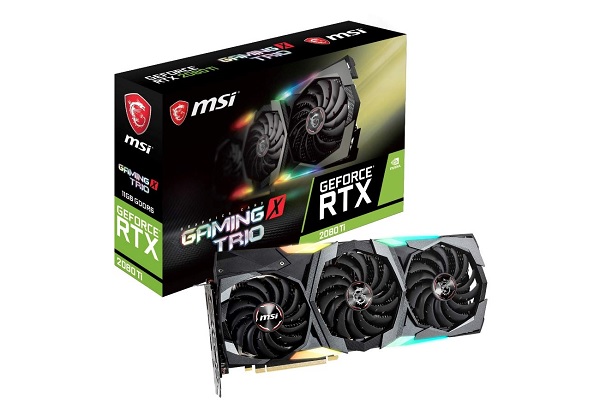 To enter this competition, all you need to do is send us an email over to '[email protected]' and put 'I want to win an MSI RTX 2080Ti!' in the subject line. In the email, you will need to answer the following question: 'how many DisplayPort 1.4 outputs does the MSI RTX 2080Ti Gaming X Trio have?', if you need to find the answer, then you will be able to find it HERE.
This competition is open to residents of Europe and runs from the 13th of September through to the 27th of September 2019. We will mark the box as 'competition prize' however some countries may still charge fees – this is outside our control and must be paid for by the winner. Entries must be by email to the specific competition address on this webpage. Entries over social media, private message or emails directly to KitGuru staff email addresses are disqualified. We comply with GDPR guidelines – all competition email entries are deleted from our server after the competition is over. Please do NOT send personal information, physical mailing addresses or contact numbers over email – one of our staff will only ask the winner for his or her shipping details after the winner is announced. We value your privacy – no email addresses or any personal details are given to third party companies at any time when the competition is running, or after it is over. Entering this competition by sending us an email means you accept all these terms of entry. KitGuru Staff and immediate family members are not allowed to enter this competition.
KitGuru Says: Good luck to everyone entering! We look forward to giving one lucky reader a huge GPU upgrade at the end of the month.