EVGA has recently released a new addition to its 2070 Super line of GPUs, and – impressively – the specs list is about as long as its name.
If you're in the market for a new GPU, you'll likely be spoiled for choice. In the RTX 2070 Super category, EVGA alone have released 8 variants for you to choose from – and now they've added a 9th. 
The EVGA GeForce RTX 2070 SUPER FTW3 ULTRA+ is powered by the Nvidia Turing architecture, like all RTX cards. It features "iCX2 technology", which is a safety feature allowing you to monitor your graphics card to ensure everything is operating as it should. 
The card also boasts "iCX2 cooling" which adds refinements to the baseplate, the heatsink and the fans, keeping your rig as cool as possible. EVGA are claiming a 14% improvement in temperature, and a 19% improvement in acoustics over the GTX 1080 Ti FTW3. While your PC is being kept cool, you too can look cool, as the card contains RGB lighting with a plethora of control options, making it look just how you want it to.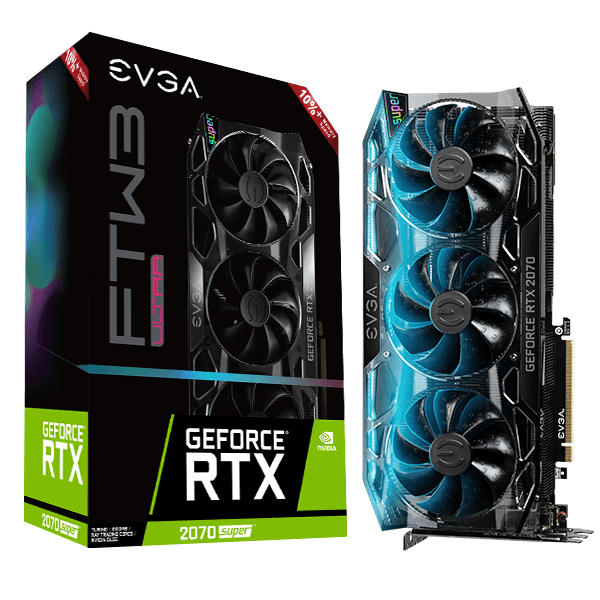 One of the cards biggest features is its 8GB memory, which is overclocked to 15500 MHz, instead of the 14000 MHz which is standard for 2070 Super offerings. This puts the card's memory on equal footing with that of the RTX 2080 Super line of GPUs, and should provide a noticeable improvement in performance. The EVGA GeForce RTX 2070 SUPER FTW3 ULTRA+ is currently selling for $599.99, which is almost $100 lower than their cheapest 2080 Super card. The complete list of specs and features can be seen on EVGA's website.
KitGuru says: What do you think of EVGA's latest offering? Is it enticing enough for you to bite the bullet? Or are you waiting for the next generation of cards to arrive – whenever that may be? Let us know down below.