For many years, AMD was criticised for its driver support. Back when the Radeon Technologies Group began rolling out Crimson series drivers, AMD had a clean break from the past and doubled down on stability. That hard work now seems to be paying off, with a recent independent audit showing that AMD's current graphics drivers have a 93% pass rate in tests.
Back in May, AMD commissioned QA Consultants to conduct an independent evaluation of stability for several of the latest graphics drivers from both AMD and Nvidia. All tests were conducted on a system running the Windows 10 April 2018 update, you can see the other system specs in the image below: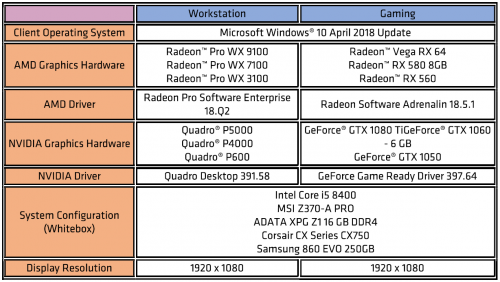 During the tests, QA Consultants found that AMD powered machines passed 401 out of 432 tests, which equates to a 93 percent pass rate. On the other end, Nvidia passed 356 out of 432 tests, which adds up to an 82 percent pass rate for Nvidia.
The tests included several Radeon Pro WX and Quadro P-series GPUs for workstation tests. On the gaming side, AMD's RX Vega 64, RX 580 and RX 560 went up against the GTX 1080Ti, GTX 1060 (6GB) and GTX 1050. The stability test involved a four-hour stress test six times a day for twelve days. A test completion counts as a pass, the final score is reached by dividing the number of test passes by the number of attempts.
KitGuru Says: It's interesting to see AMD finally put its driver issues to bed, though the company will need to do a bit more to win back market share from Nvidia. Anecdotally, which drivers seem more stable to you?