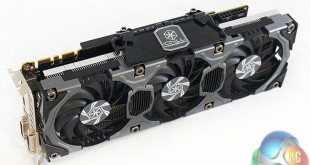 If you are shopping for a new high performance graphics card, then Nvidia's GTX780 Ti surely has a spot right at the top of the list. Today we look at a highly overclocked and customised model – the Inno3D GeForce GTX 780Ti iChill DHS. This card ships with one of the highest out of the box clocks and features a hefty three fan cooler. The talking point? – it ships with an Allen Key so you can take it apart. If you can afford the £600 asking price is this the card you need for the next upgrade?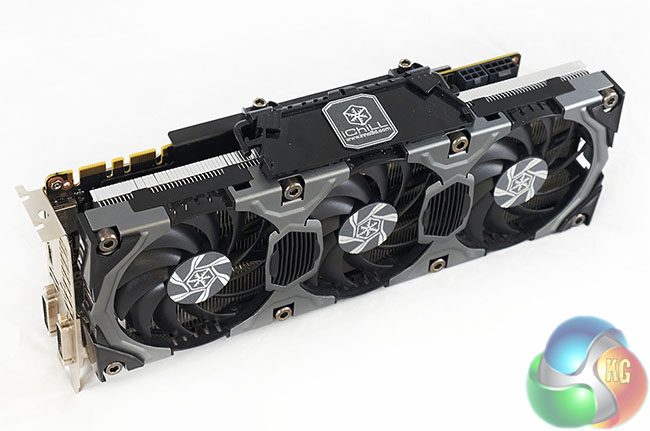 Make no mistake, the Inno3D GTX780 Ti Ti iChill DHS graphics card is a monster. The triple slot cooler looks stunning – almost like a futuristic weapon you would see in a Science Fiction movie. There are three 90mm fans which take centerstage and they force cool air over the thick heatpipes and heatsinks underneath. We will get a closer look at this later in the review, when we take it apart.
Ref Nvidia GTX780Ti
Inno3D GTX780Ti iChill DHS
Ref Nvidia GTX780

Ref Nvidia GTX Titan
GPU
GK110
GK110
GK110
Technology
28nm
28nm
28nm
Transistors
7.1Bn
7.1Bn
7.1Bn
ROP's
48
48
48
TMU's
240
192
224
CUDA Cores

2880
2304
2688
Pixel Filrate
42.0 GPixel/s
52.1 GPixel/s
41.4 GPixel/s
40.2 GPixel/s
Memory Size
3GB
3GB
6GB
Texture Filrate
210.2 GTexel/s
260.5 GTexel/s
165.7 GTexel/s
187.5 GTexel/s
Bus Width
384 bit
384 bit
384 bit
Bandwidth
336 GB/s
288.4 GB/s
288.4 GB/s
GPU clock speed
876mhz
1,085mhz
863mhz
837mhz
Boost clock speed
928mhz
1,150mhz
902mhz
876mhz
Memory clock speed
1,750mhz
1,820mhz
1,502mhz
1,502mhz
We have reviewed many GTX780 Ti's before, however the Inno3D GTX780 Ti iChill DHS receives a staggering clock increase from 876mhz to 1,085mhz. The Boost Clock is subsequently increased from 928mhz to 1,150mhz. The 3GB of GDDR5 memory is clocked to 1,820mhz (7.28Gbps effective).