TessMark, is small synthetic graphics benchmark focused on Tessellation performance of Direct3D 11 and OpenGL 4 capable cards.
Like Unigine Heaven, TessMark allows to select the level tessellation. The small difference is that TessMark proposes four differents levels: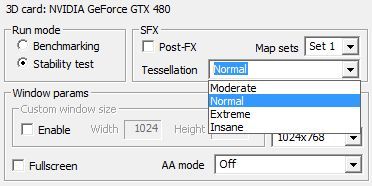 moderate
normal
extreme
insane
Moderate and normal levels are levels we'll find in real world applications like games. Extreme and insane levels are reserved for GPUs with high levels of tessellation processing power. We tested today with moderate, normal, and extreme settings to get an indication of the tessellation scaling with each card.
The GTX570 slots in beneath the GTX580 scoring between 8,000 and 2,000 points less, depending on the tessellation level. We already know that this benchmark doesn't really relate to real world gaming at this point in time, but it is interesting to note.