This new GPU tool, called TessMark, is small synthetic graphics benchmark focused on one of the main features of Direct3D 11 and OpenGL 4 capable cards, focusing on GPU tessellation.
Like Unigine Heaven, TessMark allows to select the level of tessellation. The small difference is that TessMark offers four different levels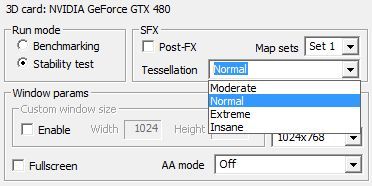 moderate = tessellation factor of 8
normal = tessellation factor of 16
extreme = tessellation factor of 32
insane = tessellation factor of 64
Moderate and normal levels are levels we'll find in real world applications like games. Extreme and insane levels are not really realistic 'real world' tests. We are using the normal and moderate settings today.
The extra 160 shaders really aid Tessmark's performance levels, especially with the moderate setting, seeing a huge 36.8 percent increase over the stock 13,675 result with 960 unified shaders onboard. When the tessellation factor is increased from 8 to 16, the percentage increase drops to 14.3 percent.