TessMark, is small synthetic graphics benchmark focused on Tessellation performance of Direct3D 11 and OpenGL 4 capable cards.
Like Unigine Heaven, TessMark allows to select the level tessellation. The small difference is that TessMark proposes four differents levels: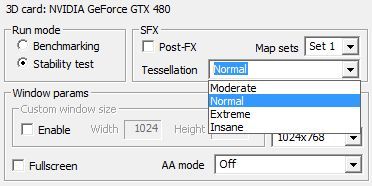 moderate
normal
extreme
insane
Moderate and normal levels are levels we'll find in real world applications like games. Extreme and insane levels are reserved for GPUs with much tessellation processing power. We tested today with moderate, normal, and extreme settings to get an indication of the tessellation scaling with each card.
According to the author TessMark is a pure tessellation benchmark and as such shows native performance for each card. We aren't sure what to think about these results and whether it could in any way translate into real world 'gaming performance. Nevertheless its interesting enough to merit an inclusion.