This year both Seagate Technology and Western Digital Corp. introduced hard disk drives with breakthrough capacities designed for near line storage applications. Since those hard drives are based on enterprise-class platforms, they are too expensive not only for consumers, but even for cold-storage applications. This week Seagate quietly added the Archive family of hard drives into its lineup, which will combine maximum capacity with affordable price-points.
Seagate Archive hard disk drives are based on 1.33TB shingled magnetic recording platters and are available in 5TB, 6TB and 8TB capacities. The drives feature 5900 revolutions per minute spindle speed, 128MB cache and Serial ATA-6Gb/s interface. The manufacturer declares up to 150MB/s average data rate and up to 190MB/s maximum sustained data rate. Typical power consumption in operating mode of 5TB HDDs is 5.5W, whereas 6TB and 8TB hard drives consume up to 7.5W.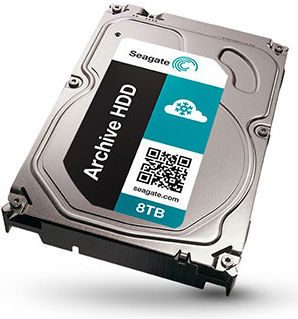 Seagate's Archive series of hard disk drives are designed for cold storage applications and feature "the best" cost per terabyte available today as well as moderate power consumption, according to the company. Since it is hard and expensive to store petabytes of information that is not accessed, used or updated, many datacentres these days build cost-optimized cold data storage infrastructure. Cold data storage solutions do not use RAID or any other sophisticated technologies utilised for "hot" data storage devices. The main goals of cold data storage applications is to store maximum amount of data per square meter of a datacentre while consuming the lowest amount of energy. Seagate's Archive and WD's Ae HDDs are designed to do just that: they do not offer truly high performance and are not tailored for maximum reliability. However, they can hold up to 8TB of data while consuming up to 7.5W.
"Public and private data centers are grappling with efficiently storing massive amounts of unstructured digital content. Seagate's new 8TB HDD provides IT managers with a new option for improving storage density in the data center, thus helping them to tackle one of the largest and fastest growing data categories within enterprise storage economically," said John Rydning, IDC's research vice president for hard disk drives.
At present official recommended prices of the Seagate Archive family are unknown, but Amazon.com offers 5TB, 6TB and 8TB models for $228, $243 and $267, respectively. Note that the prices are for 20-unit packages to be delivered early next year, therefore, actual retail prices are going to be higher. Nonetheless, even at $300 Seagate's 8TB HDD should be considerably more affordable than HGST's UltraStar He6 (helium-filled sealed hard disk drive), which costs starting from $722.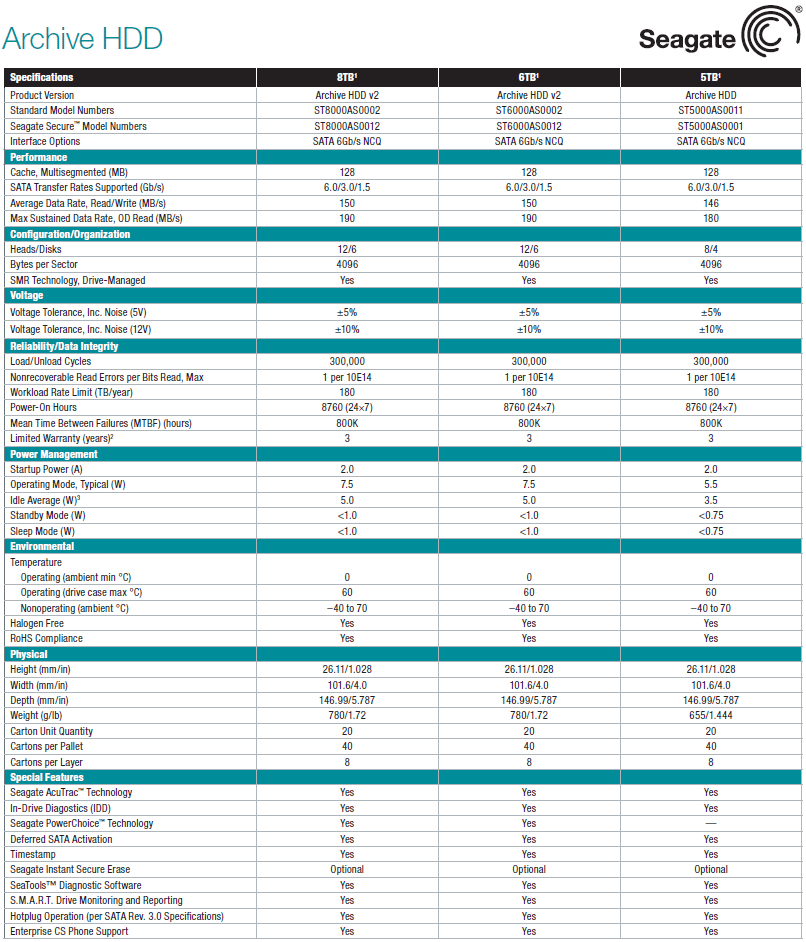 Discuss on our Facebook page, HERE.
KitGuru Says: It will be very interesting to see whether emergence of Seagate's Archive high-capacity hard drive have any effect on prices of other high-capacity drives. Keeping in mind that HGST's 8TB drive costs almost two times more than a rival of the same capacity designed for a similar market segment, Western Digital should clearly reconsider the price of the UltraStar He8 HDD…