With a rise in smart camera devices featuring higher resolutions driving the requirement for high speed, high capacity on-device storage in smart city environments, manufacturers are looking for solutions to optimise storage for video and AI analytics. Western Digital has addressed this by offering new WD Purple storage drives.
According to IHS Markit research, professional video surveillance is expected to grow from 140 million to 224 million worldwide between 2018 and 2023. Onboard storage requirements are due to follow this growth pattern by 17% per year. With 4k video becoming more common in these surveillance cameras, this illustrates a fast-growing demand for more high-performance storage.
Western Digital has launched the WD Purple SC QD101 Ultra Endurance microSD card that is specifically designed to meet the requirements of modern on-camera storage. The WD Purple SC QD101 features Western Digital's advanced 96-layer 3D NAND technology, delivering a combination of ultra-endurance and high-performance storage with capacities up to 512GB.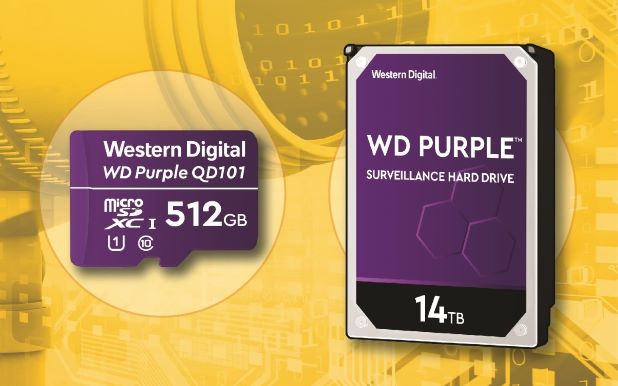 The WD Purple microSD is designed for security system integrators and installers and includes a card health monitor that provides the ability to gauge the remaining endurance and pre-emptively service the card if required. The WD Purple SC QD101 microSD card is available in 32GB, 64GB, 128GB, 256GB and 521GB capacities.
In addition, Western Digital has introduced the WD Purple 14TB HDD for a wide range of security systems. Like other devices in the Western Digital locker, WD Purple HDDs are designed for 24/7 always-on, high definition security surveillance systems and feature Western Digital's AllFrame technology, which improves video capture by reducing errors, pixilation and video interruptions.
The 14TB WD Purple HDD is available now. The WD Purple SC QD101 microSD card is expected to be available in the first quarter of 2020.
Discuss on our Facebook page HERE.
KitGuru says: Even though the Western Digital Purple microSD cards are designed for professional security system cameras, they could also be used by mainstream consumers for video recording, which should provide excellent performance.