On its last earnings call, Seagate showed its high-capacity HDD roadmap. On it, there are the company's hard drive plans for the foreseeable future, showing 18TB and 20TB hard drives to be released in 2020, and up to 50TB hard drives by 2026.
After the recently released Exos X16 16TB HDD (review here), Seagate plans to release 18TB and 20TB hard drives next year. The first HDDs coming are the 18TB using CMR (Conventional Magnetic Recording), the same as the Exos X16, in the first half of 2020. On the other hand, the 20TB HDD will be coming in the second half of the same year, but unlike the previously mentioned HDDs, it will be using HAMR (Heat-assisted magnetic recording).
From then on, the HAMR-based HDD's capacity is planned to reach 30+TB by 2023-2024, and 50+TB by 2026. During the same period, CMR-based and SMR-based (shingled magnetic recording) HDDs will continue to be shipped, but with no significant increase in capacity.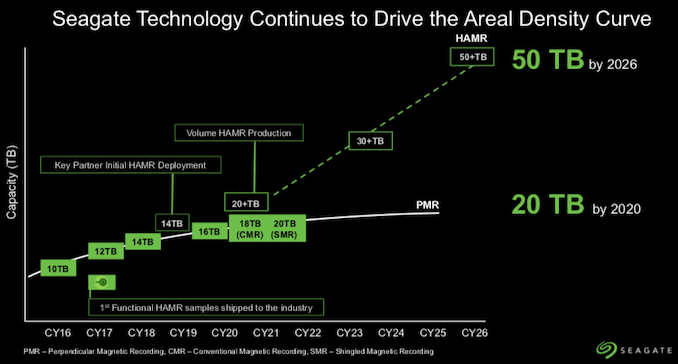 According to this roadmap, it seems that Seagate will dominate the HDD market in the first half of 2020. Western Digital will ship its HAMR+PMR-based HDDs with 18TB and HAMR+SMR-based 20TB HDDs only in the second half of the next year, while Toshiba hasn't even specified a date for its products to be released, besides that it will ship to selected customers until the end of 2019.
Discuss on our Facebook page HERE.
KitGuru says: In a time where most manufacturers and customers see SSDs as the new standard, there's still space for the HDD market to evolve. Low-cost storage it's still useful in various case-scenarios such as cloud, servers, and occasionally accessed data. Do you still use HDDs anywhere? Do you need a 50+TB drive?