Seagate's IronWolf Pro range of hard drives have been designed for use in commercial and enterprise NAS devices from 1-bay units all the way up to 16-bay systems. The latest 12TB model is the new flagship drive of a range that starts at 2TB.
The new 12TB drive uses Seagate's latest platter (disc) technology which together with a helium filled enclosure allows for 8 1.5TB platters together with 16 heads to be built in a 26.11 mm high drive.

As you might expect from a drive aimed at the NAS market, the IronWolf Pro has a couple of extra features up its sleeve to help it survive in a multi disk environment. AgileArray, Seagate's NAS optimisation technology which blends together drive balance, RAID error recovery and power optimisation. The drive also has Rotational Vibration (RV) sensors to protect the drive against any damage caused by the vibration that is set up in the larger multi-bay NAS enclosures. NAS-aware Error Recovery Control (ERC) is also used in the IronWolf Pro.
ERC ensures that hosts don't mistakenly see busy drives as dead ones needing maintenance but at the same time flagging up drives that do have errors, so saving time and indeed money caused by unnecessary drive changes and RAID rebuilds. The drives also feature multi-user technology that provides a 300TB/year user workload rate.
The quoted maximum sustained data rate for the 12TB IronWolf is 250MB/s and Seagate back the drive with a five-year warranty.
Physical Specifications:
Usable Capacities: 12TB
Spindle Speed: 7,200rpm
No. Of Heads: 16
No. Of Platters: 8
Cache: 256MB
Recording Method: Perpendicular Magnetic Recording (PMR)
Interface: Serial ATA (SATA) 6Gb/s (SATA III)
Form Factor: 3.5in
Dimensions: 26.11 x 101.85 x 146.99 mm
Drive Weight: 705g
Firmware Version: ENO1
Our review sample of the Seagate 12TB IronWolf Pro came without any retail packaging.
Built on a standard 3.5in format but with thickness of 26.11mm, the 12TB IronWolf has a spindle speed of 7,200rpm and 256MB of cache.
The drive uses helium technology and to get to its huge capacity it uses 8 PMR (Perpendicular Magnetic Recording) high capacity discs and has 16 reading heads.
A quick look at the flip side of the PCB reveals a Samsung K4B2G1646F BCKO DDR3-1600 cache IC, a Avago DS01 disk controller and a Smooth 78001 v5 motor controller. The two angled silver units at the ends of the PCB are the rotational Vibration (RV) sensors.
For testing, the drives are all wiped and reset to factory settings by HDDerase V4. We try to use free or easily available programs and some real world testing so you can compare our findings against your own system. This is a good way to measure potential upgrade benefits.
Main system:
Intel Core i7-7700K with 16GB of DDR4-3200 RAM, Sapphire R9 390 Nitro and an Asus Prime Z270-A motherboard.
Other drives
Seagate NAS 8TB
Seagate BarraCuda Pro 12TB
Seagate IronWolf 10TB
Toshiba N300 8TB
Toshiba P300 3TB
Toshiba X300 6TB
WD Black 6TB
WD Black 4TB
WD Red 4TB
WD Red 8TB
Software:
Atto Disk Benchmark.
CrystalMark 3.0.3.
IOMeter
All our results were achieved by running each test five times with every configuration this ensures that any glitches are removed from the results
Crystalmark is a useful benchmark to measure theoretical performance levels of hard drives and SSD's. We are using V3.0.3.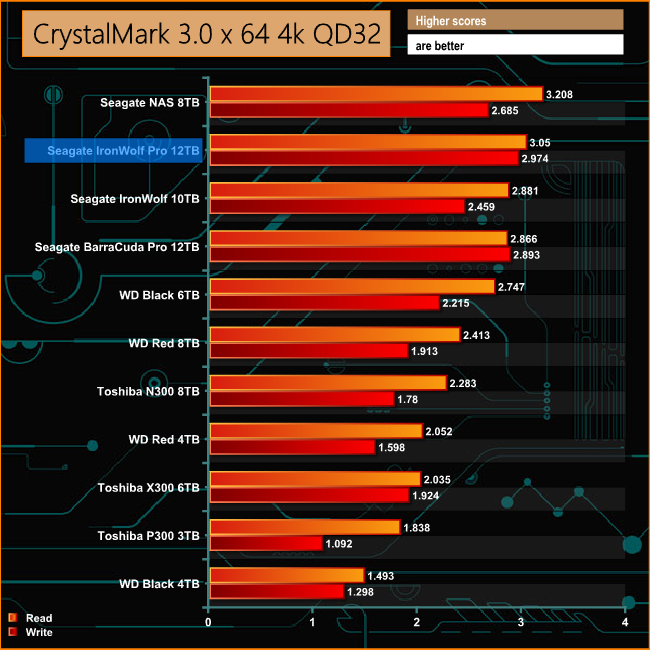 The 12TB IronWolf Pro deals with small files at deep queue depths well. It's the second fastest HDD we've looked at when it comes to read performance and the fastest when it comes to writes.
The ATTO Disk Benchmark performance measurement tool is compatible with Microsoft Windows. Measure your storage systems performance with various transfer sizes and test lengths for reads and writes. Several options are available to customize your performance measurement including queue depth, overlapped I/O and even a comparison mode with the option to run continuously.
Use ATTO Disk Benchmark to test any manufacturers RAID controllers, storage controllers, host adapters, hard drives and SSD drives and notice that ATTO products will consistently provide the highest level of performance to  your storage.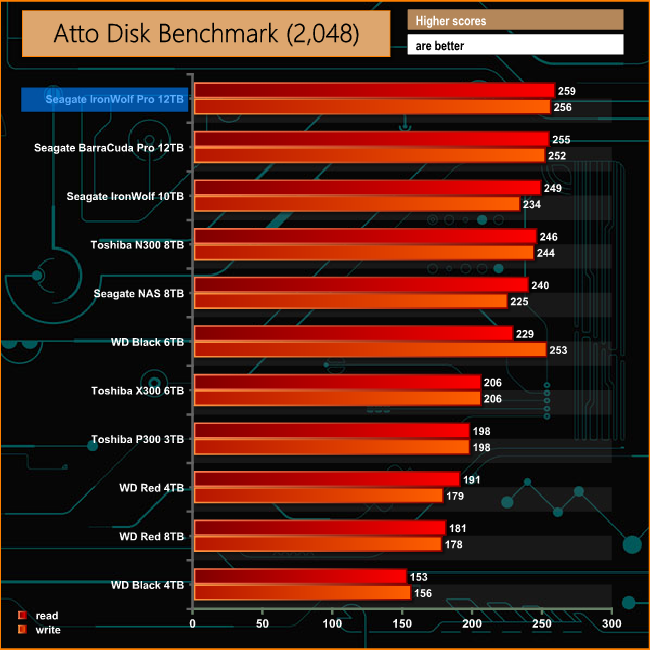 There's no doubting the fact that the 12TB IronWolf Pro is a quick drive. The official maximum sustained transfer rate is quoted as 250MB/s something we could confirm with the ATTO benchmark with reads/writes at 259MB/s and 256MB/s respectively.
IOMeter is another open source synthetic benchmarking tool which is able to simulate the various loads placed on hard drive and solid state drive technology.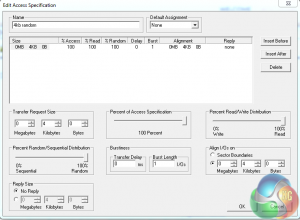 We test with both random read and write 4k tests, as shown above. There are many ways to measure the IOPS performance of a Hard Disk Drive, so our results will sometimes differ from manufacturer's quoted ratings. We do test all drives in exactly the same way, so the results are directly comparable.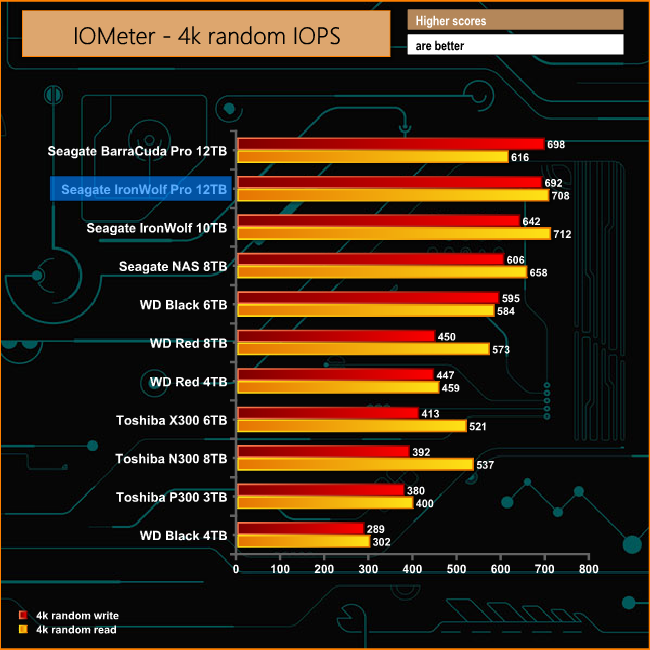 In our 4K random tests, the 12TB IronWolf Pro matches the new 12TB desktop drive from Seagate, the BarraCuda Pro, when it comes to writes but has the edge on the BarraCuda Pro when it comes to read performance.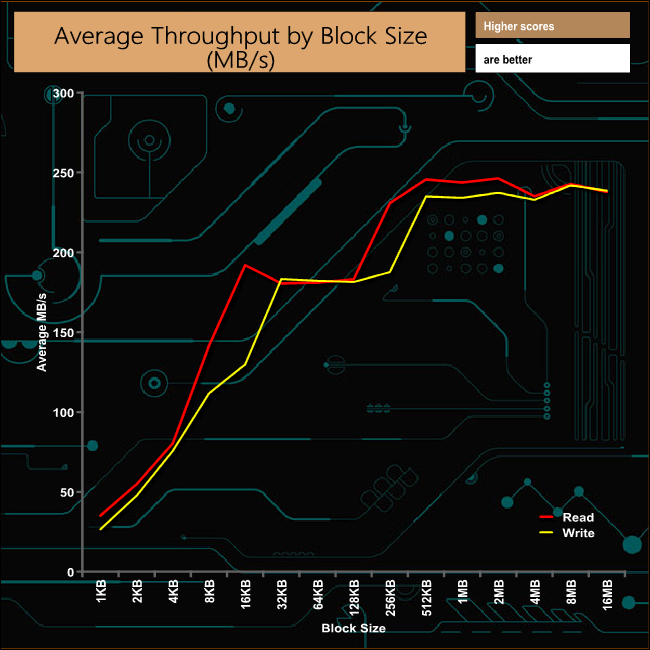 In our throughput test, the drive peaks at 246.32MB/s for reads at a 2MB block size and the peak 241.86MB/s write performance occurs at the 8MB block size.

To test real life performance of a drive we use a mix of folder/file types and by using the FastCopy utility (which gives a time as well as MB/s result) we record the performance of drive reading from & writing to a 256GB Samsung SSD850 PRO.
100GB file.
60GB iso image.
60GB Steam folder – 29,521 files.
50GB File folder – 28,523 files.
12GB Movie folder – 24 files (mix of Blu-ray and 4K files).
10GB Photo folder – 621 files (mix of .png, raw and .jpeg images).
10GB Audio folder – 1,483 files (mix of mp3 and .flac files).
5GB (1.5bn pixel) photo.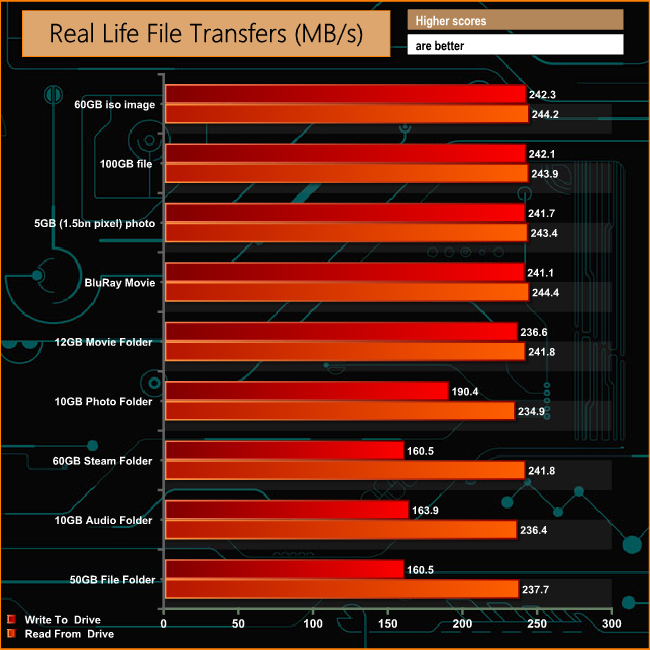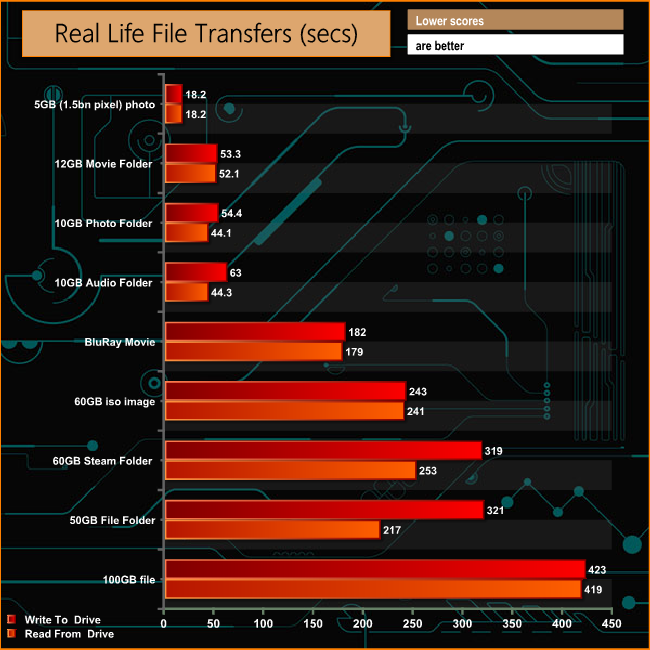 The drive performed reasonably well in our real life file transfer tests. The strongest performance came when reading and writing the 60GB iso image and the weakest was when dealing with the 50GB File Folder.
People have been sounding the death knell for the mechanical hard drive for many years. Contrary to popular belief the mechanical hard drive is alive and kicking especially in the market sectors that the IronWolf Pro is aimed at, as demand for cheap storage shows no sign of slowing down. While is true to say that the hard disk market is in decline, an estimated 300 million units were still shipped in Q1- Q3 2017.
We all know that SSD's rule the roost when it comes to performance but the one area they lose to mechanical drives is in cost/GB – particularly when it comes to very large capacity drives. Take the Seagate IronWolf Pro 12TB, at £450 that price tag pales into insignificance when you compare it to the £9,600 asking price to be the proud owner of a 15.36TB Samsung PM1633a SSD.
The IronWolf Pro incorporates a few extras to help it survive in 24×7 multi-disk environments including AgileArray which uses rotational vibration sensors (RV), RAID optimisation and advanced power management to keep the drive running smoothly. Another technology in the IronWolf Pro (and IronWolf) drives of 4TB and above to help them survive in multi-disk enclosures is IronWolf Health Management (IHM).
In compatible NAS drives supporting IHM (check on the Seagate website for NAS compatibility) the technology adds another layer of protection by interacting with the NAS OS to display actionable prevention, intervention or recovery options for whatever is affecting the drive's health.
If all else fails then then IronWolf Pro drives come with Seagate's Rescue Recovery Service in addition to the 5-year warranty. Usually the Rescue Recovery Service that comes with the drive lasts for two years, but for a limited period (until December 31st 2017) it runs for the same amount of time as the warranty – 5 years.

We found the 12TB Seagate IronWolf Pro available for pre-ordering at Overclockers UK for £449.99 HERE
Discuss on our Facebook page, over HERE
Pros
Performance.
5-year warranty.
NAS technologies.
Rescue Recovery Service included.
Cons
Kitguru says: Seagate's 12TB IronWolf Pro brings more storage capacity to NAS users with the added benefits of AgileArray technologies to help maintain the drive in a NAS environment and if all else fails there is the free addition of Seagate's Rescue Recovery Service.