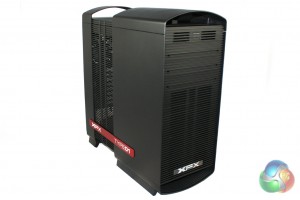 It is clear from a glance that XFX are trying to differentiate the Type01 Bravo from the competition. Unusually at this price point, the Type01 is finished almost entirely in plastic even though there is a sturdy steel chassis underneath. It would appear that XFX has done this to help them achieve a unique aesthetic design.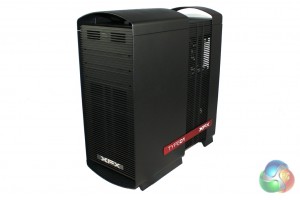 The front of the case features a slotted design which helps disguise large vented areas. There are three external 5.25" drive bays in total, although there is an adapter supplied to convert one of these to an external 3.5" bay if required. There is a 200mm fan pre-installed in the front of the case, although this can be replaced with dual 120mm fans if desired.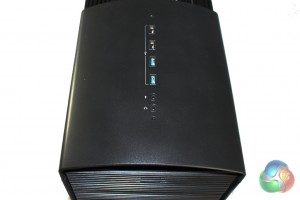 We find the front panel connections on the top of the case near the front. These consist of two USB 2.0 ports, two USB 3.0 ports and headphone and microphone jacks.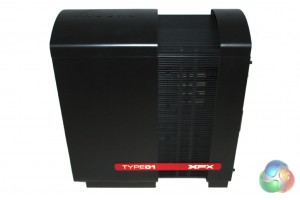 There is a large vent which spans the top of the case and both sides which should help to provide a decent level of ventilation to the components within.
This is accessorised with a large red XFX Type01 badge on either side which infuses some excitement into the design. One of the drawbacks of this vented design is that there isn't a side panel window in the case. This is likely to put off some enthusiasts and we hope that XFX will release a version of the case with a side panel window in due course.
These vents aren't dust filtered either, which is disappointing considering the price of the case. Another drawback of this design is that the relatively narrow width of the vent means that XFX's engineers haven't been able to find room for dual fan vents in the roof of the case. This is a key feature for cases at this price point due to the popularity of 240 mm water cooling units such as the Corsair H100i.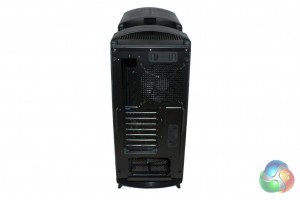 Moving round to the rear of the case, the layout is traditional in implementation. The power supply mounting points are at the bottom and there is a 140 mm exhaust fan vent alongside eight vented expansion slot covers.