Opening up the case is simple thanks to the use of thumbscrews, however the side panels are quite bulky and heavy due to the plastic skin covering the metal backbone of the chassis.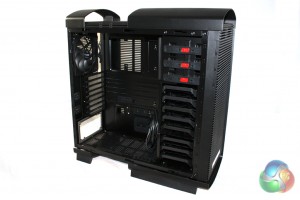 There is a decent amount of room to work with in the case and the interior is painted entirely in black which should complement most component choices nicely. It is a shame that you won't be able to see your components inside, though, as there is no side window.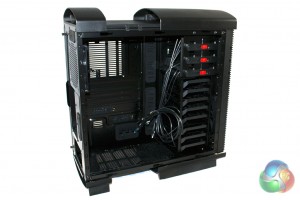 The internal layout of the case is clean with the drive bays located over on the right hand side of the interior. There are eight bays in total, although five of these can be adjusted to cater for longer graphics cards.
XFX give users the option to either remove the left panel of these five drive bays altogether or move it inwards, restricting these five bays to 2.5" drives only. We chose to move this in slightly, installing a 2.5" solid state drive into the case.
Unfortunately, the right hand panel of the drive cage isn't removable and will obstruct airflow significantly. It also means that installing a 240 mm radiator in the front of the case isn't possible.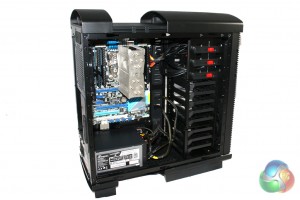 Installing a motherboard into the system is straightforward, although we were required to install the stand-offs prior to screwing down the motherboard. XFX supply a small socket to help tighten them with a screwdriver, simplifying this process a little.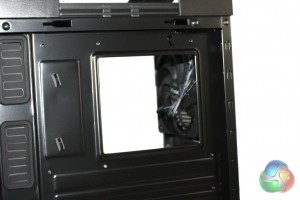 There is a reasonably large cutout in the motherboard tray to facilitate the installation of a CPU cooler. This will be especially useful for those users who are planning to upgrade their CPU cooler at a later date as it means that they won't have to remove the motherboard from the system before doing so.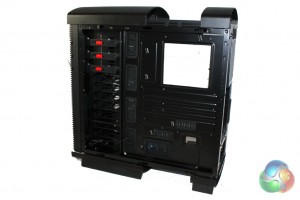 We find a reasonable amount of room behind the motherboard tray for cable routing although we would have liked a few extra millimetres. There also isn't enough room to install fans on the inside of the large fan vent in the side panel which makes us question whether it is useful at all. There are plenty of holes cut into the motherboard for cable routing, though, which should help you to achieve a tidy build. We particularly liked the addition of extra holes along the bottom edge of the motherboard which are ideal for the front panel header cables.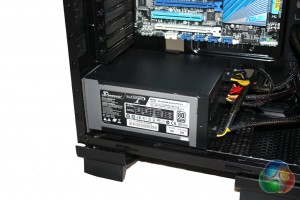 There is plenty of room for long power supplies in this case and there are more than enough holes cut into the motherboard tray to handle the cables.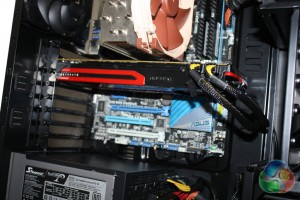 Finally we installed a AMD Radeon 7950 graphics card into the system which was very easy indeed. Expansion devices are secured with thumbscrews although we would recommend tightening these with a screwdriver if possible to ensure they are secured as tightly into place as possible.