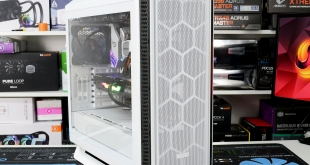 Silent Base 802 is a new PC case from be quiet! But calling it "brand new" could be a little deceptive as its more of a revised version of the Silent Base 801 featuring an interchangeable front panel for users to switch between silent and high airflow configurations. You could say it covers all bases, but only if both configurations work as intended, of course. This is something we will find out shortly after building a high-end gaming system inside.
Watch via our Vimeo channel (below) or over on YouTube at 2160p HERE
The be quiet! Silent Base 802 provides users with choice, not only of two interchangeable front panels (one for airflow and one for low operating noise) but also in colour and side panel options. The Silent Base 802 is available in black or white colour schemes and with either noise insulated steel side panels or with a tempered glass left-hand window panel.
Priced at around £150, the Silent Base 802 comes from the be quiet! High-End range which means it is one of their top tier products. There is a mixture of steel, plastic and glass materials used in the manufacturing process and the case lives up to the usual be quiet! high build quality, all panels fit together nicely and the structure of the case feels solid even though this is a modular case that can be disassembled entirely to invert the motherboard orientation.
Today we are focusing our review on the white window version of the Silent Base 802, I liked the initial look of the case so much that I have chosen it to build my own gaming rig upgrade into, so I hope it lives up to expectations. I plan to run the case in its open airflow configuration but will test the thermal performance and noise levels of the case in both the airflow and silent configuration later, to see how thermal performance and noise levels are affected.
Be quiet! Silent Base 802 Features:
Large mid-tower case featuring support for motherboards up to E-ATX form factor (ATX, MATX and Mini-ITX also supported) with multiple front panel options and motherboard orientation layouts.
Interchangeable front and top panels optimised for either high airflow with perforated metal mesh or low noise operating modes with heavily insulated (10mm) soundproofed panels.
Three be quiet! Pure Wings 2 140mm fans pre-installed, supports a total of up to eight 140mm fans (3 x front, 3 x top, 1 x rear, 1 x PSU shroud) or up to a 420mm front-mounted radiator, 360mm top radiator and up to a 140mm radiator in the rear panel.
Built-in four-step fan controller with front panel switch offering three speed settings plus an auto/PWM mode.
Semi-modular chassis structure with an invertible motherboard layout, detachable top fan bracket, removable power supply bracket for rear PSU installation as well as a removable power supply shroud.
Choice of two colours (black or white) and sound insulated all-steel side panels or an alternative left hand tempered glass window panel.
Supports high-end graphics cards up to 432mm long, CPU coolers up to 185mm tall, power supplies up to 288mm long. Additionally, the case supports up to seven 3.5-inch bays (3 included) and up to fifteen 2.5-inch drive bays (7 included)
Cable management cutouts with rubber grommets and multiple cable eyelets to tie cables down on the rear of the motherboard tray.
Support for motherboards up to E-ATX format factor including E-ATX, ATX, Micro-ATX and Mini-ITX.
Dust filtration includes a woven mesh filter behind the front panel, a pull-out floor filter and a magnetic perforated metal mesh filter that can replace the top solid sound dampening panel.
Front panel connectivity includes 2 x USB 3.2 Gen 1 Type-A ports, 1 x USB 3.2 Gen 2 Type-C port and 2 x 3.5mm audio jack for headphones and microphone.
Our system installation does not require inverting the motherboard tray so the case is configured in its default layout. Since the system will be mainly used for gaming, the high airflow front and top panel configuration is applied with the mesh front and top panels installed. However, to measure how both configurations affect thermal performance we switched to the silent configuration by installing the sound damped panels during testing.
The system installation process went very smoothly, there was loads of space inside the case for our new Zotac RTX 3080 Trinity OC card that measures almost 320mm long, you could easily squeeze in a front-mounted radiator or a pump/res combo in the space that is left at the front of the case too. The pull out top radiator bracket is a handy feature that is very useful when plugging in the top EPS power connections as you could slide the radiator out slightly to improve access.
There are plenty of cable management cutouts and eyelets to tie cables down so making a neat job of cable management is easy. The removable PSU shroud cover also allows access to the power supply, so adding or removing cables from modular power supplies is easy, this also allows the user to install a 3.5-inch HDD with cables facing inwards and access to connect the SATA power and data cables for a neat installation.
Technical Specifications:
Model: Silent Base 802 Window White
PSU form factor: ATX PS/2
Motherboard compatibility: E-ATX (30.5 x 27.5cm) / ATX / M-ATX / Mini-ITX
Case size excl. stands (L x W x H): 539 x 245 x 507 (mm)
Installation of motherboards with backplate: Yes
Case size incl. stands (L x W x H): 539 x 281 x 553 (mm)
Dimensions side panel window (L x W): 401 x 431 (mm)
Colour option: White or Black
Weight:15kg
USB 3.2 Gen. 1: 2
USB 3.2 Gen. 2 Type C: 1
HD Audio I/O: Mic + Audio
Expansion slots: 7 + 2
3.5″ slots (max.): 7
3.5″ slots (scope of delivery): 3
2.5″ slots (max.): 15
2.5″ slots (scope of delivery): 7
Fan mounting locations : Front / Rear / Top / PSU Shroud
Top cover: ABS
Side panel: Steel
Side panel window: 4mm tempered glass / Steel
Front panel: ABS
Stands: ABS
Thermal Performance Testing
As with every KitGuru case review, thermal performance is important, therefore we shall measure this by running a series of tests to record CPU and GPU temperatures under load.
To simulate thermal performance in gaming we will run 3Dmark Time Spy benchmark in a loop for 60 minutes with the case in various configurations. With this data, we can compare how each scenario affects thermal performance.
We will compare the system's thermal capabilities with a liquid-cooled solution for the CPU, using a be quiet! Pure Loop 360 AIO and the graphics card stock cooling solution.
During thermal performance testing, only stock case fans will be used unless otherwise specified. All fans and pumps (where applicable) will be set to their standard fan curve profile as controlled by the motherboard.
All temperature measurements are presented as Deltas – the ambient temperature has been deducted from the CPU/GPU temperature giving us a Delta.
Acoustic Testing
Our case testing involves comparing the acoustic performance of the case in several configurations with an all-in-one liquid CPU cooler installed.
These tests will include measuring sound levels with our sound meter from approximately 300mm from the front of the case, at idle and under 100% CPU and GPU load.
Load noise levels will be measured by running AIDA64 stressing CPU, FPU, cache and GPU for 15 minutes.
CPU and case fan profiles will be set to their standard operating profile in the Asus ROG Strix Z490-A Gaming motherboard BIOS and GPU fans set to their default fan curve. The CPU cooler used in acoustic testing will be a be quiet! Pure Loop 360. System fans are the three factory pre-installed Pure Wings 2 140mm units
The ambient noise level (noise floor) in our test room is measured at 33.1 dBA.
The following configurations will be used to test the effect they have on thermal and acoustic performance:
Silent configuration: insulated panels installed;
High airflow configuration: mesh panels installed.
Test System
CPU: Intel Core i9-10850K
Motherboard: Asus ROG Strix Z490-A Gaming
Memory:32GB (2x 16GB modules) White Corsair Dominator Platinum DDR4 3200 C16
Storage: 500GB Samsung 960 Pro NVME M.2 SSD, 2TB Crucial MX500 SATA SSD, 2TB Toshiba P300 SATA III 3.5-inch HDD
Power supply: be quiet! Straight Power 11 750W 80+ Platinum
CPU Cooler: be quiet! Pure Loop 360 AIO
Thermal compound: Arctic MX-4
Chassis: be quiet! Silent Base 802
System fans: 3 x stock be quiet! Pure Wings 2 140mm
Operating System: Windows 10 20H2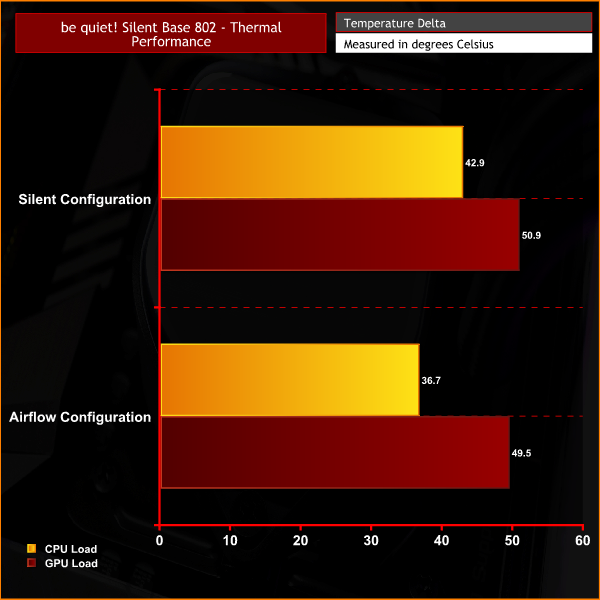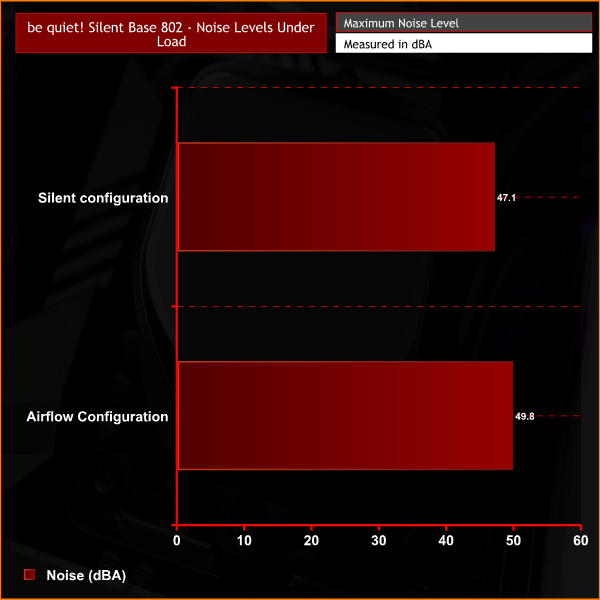 There are no surprises during our thermal performance and acoustic tests. As expected the system temperatures are at their lowest with the case in its high airflow configuration. GPU temperature is barely affected in either configuration, however, installing the silent panels has a detrimental effect on CPU temperature as airflow through the top-mounted radiator is being choked off.
Noise levels are a few decibels lower with the case in its silent configuration which will be noticeable in quiet environments or if the user is concentrating, but in louder environments or with a headset on the improvement in thermal performance may outweigh the higher noise levels with the case in the high airflow configuration.
Closing Thoughts
The be quiet! Silent Base 802 is aimed at offering the user options, with different airflow/panel configurations to choose from, a motherboard tray that can be inverted, semi-modular internal structure, two colours and window or solid side panels available. The case is also equipped with some very handy features such as the pull out top radiator/fan bracket, the removable PSU shroud covers as well as great cable management features.
Building a system inside the case was a very pleasing experience with plenty of space inside the case for high-end components, flexible cooling support including the potential for installing radiators up to 420mm (front) and 360mm in the roof.  If large amounts of storage are required the user can sacrifice some of the cooling space at the front of the case to install additional HDD bays, so all bases are covered.
This also applies to how be quiet! has equipped the case with a new high airflow configuration, instead of just offering the case with a mesh front and top panel, the Silent Base 802 provides the best of both worlds with high airflow and insulated silent panels bundled with the case. Users can quickly and easily swap between high airflow and silent panels to suit any situation without compromising thermal or noise levels to the extreme.
The only slight gripe with the case is the minor mismatch in the shade of white between the steel and plastic panels. It isn't hugely obvious, but when you get near the case, you can see the variation in white tone. This is common of white case and we have seen this before in cheaper alternatives on the market, but with a high-end case such as the Silent Base 802 we would hope for a better colour match.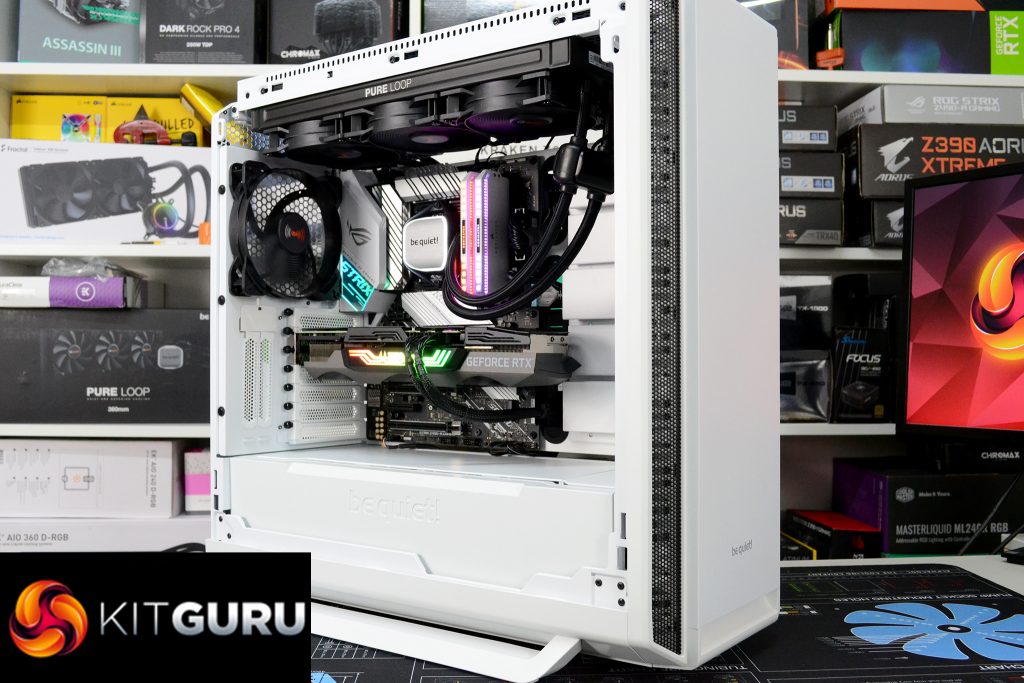 Nevertheless, the case feels well built and up to the usual be quiet! standard. All panels fit together well, there isn't a tremendous amount of flex in the chassis with the outer panels removed, and the painted panels of the case are evenly covered and have a smooth finish. The tempered glass panel doesn't have much of a tint to it so you can clearly see inside the system and the expensive hardware installed.
Something worth noting about the case is that the legs don't come installed to the case from the factory, the legs are a little hidden in the polystyrene packaging so make sure you remove them before discarding the packaging. Be quiet! are also planning on providing a kit for current Silent Base 801 users to upgrade their case with the 802 high airflow mesh front panel, the kit is expected to be available in Q1 2021 which is good news for Silent Base 801 owners.
The be quiet! Silent Base 802 is quite large by current ATX case standard, however, this allows it to be deployed in all types of scenarios, whether you want to build a high-end gaming system with custom liquid cooling or a rendering/editing system with lots of storage, this case is good for all of that. Plus, you have the choice of airflow or silent operation, as well as the inverted layout options and different colours to choose from which means that all tastes are catered for.

The be quiet! Silent Base 802 range is available to pre-order from Overlockers UK priced from £140.99 – £149.99 HERE.
Pros:
Choice of airflow or silent configurations.
Good Thermals and acoustic levels.
The motherboard can be inverted.
Available in two colours.
Space inside for lots of hardware.
Cons:
Slight mismatch of colour in materials
KitGuru says: The Silent Base 802 is an improvement over the 801 and gives users the choice of easily switching between high airflow and low noise which should please everyone. The only letdown in an otherwise impressive chassis is the slight mismatch in the shade of white between the steel and plastic panels, even so, its worth adding to your list if you are in the market for a case to house a new high-end system.
Be sure to check out our sponsors store EKWB here