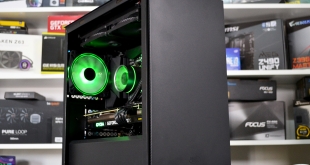 A new addition to the Deepcool Macube series brings a budget micro-ATX form factor chassis to the table. The new Deepcool Macube 110 retains some of the characteristics from previous Macube cases such as the closed, airflow restrictive front panel, tool-free tempered glass side panel removal and the ultra-handy and brilliant built-in VGA support bracket that helps reduce GPU sag. But can this new case live up to its predecessors? Let's find out.
Watch via our Vimeo channel (below) or over on YouTube at 2160p HERE
Deepcool Macube 110 is the latest addition to the Macube series, but unlike the other ATX form factor cases already in the range, this Macube 110 is a dinky micro-ATX case that supports mATX and mini-ITX motherboards only. To say it's dinky isn't completely accurate, there are many compact mid-Tower ATX cases on the market these days that are not much (if any) bigger than the Macube 110, and they also support a wider range of motherboard form factors.
So, is micro-ATX a dead form factor? Deepcool doesn't seem to think so and In a way, I kind of agree. The micro-ATX form factor could be the ideal platform for high spec gaming builds these days since the use of dual graphics cards isn't a thing for gamers any more, thus reducing the size that a motherboard needs to be, micro-ATX seems ideal. The main problem is that micro-ATX cases don't seem to save much real estate compared with these new compact mid-Tower cases, which is why micro-ATX seems to be falling out of favour recently.
However, motherboard manufacturers keep on making mATX motherboards so there is a market for these micro-ATX cases. The Deepcool Macube 110 could be a tempting proposition for anyone currently in the market for a micro-ATX case, as it is priced extremely competitive at just under £40. You can pick this case up now in either black or white colour schemes, it has a very sleek and clean looking front panel, one 120mm fan pre-installed, tempered glass and decent hardware support, sounds like a bargain then.
Deepcool Macube 110 Features:
Micro-ATX chassis that supports motherboards up to mATX and mini-ITX form factor using a traditional layout.
Sleek and clean looking appearance, closed front panel design with 15mm vents on either side for airflow to front-mounted fans or radiators.
Pre-installed with a single 120mm 3-pin (or Molex) powered fan. Supports up to 3 x 120mm/2 x 140mm fans or up to 280mm radiators (Front) and up to 2 x 120mm/2 x 140mm fans or up to a 280mm radiator in the roof.
Supports high-end graphics cards up to 320mm long, CPU coolers up to 165mm tall and ATX form factor power supplies up to 160mm long (with the 3.5-inch HDD cage installed)
A total of 2 x 2.5-inch SSD drives can be installed on the rear of the motherboard tray (screw-less, mounted on rubber grommets) and 2 x 3.5-inch drives in the HDD cage.
3.5 inch HDD cage position is adjustable and removable to create more space under the PSU shroud for AIO installation or longer power supplies.
Built-in VGA support bracket helps take up the unsightly sag that modern, heavy graphics cards often suffer with.
Dust filtration includes a magnetic perforated steel filter on the top panel and a perforated steel (not magnetic) dust filter covering the power supply fan vent.
Front panel connectivity consists of 2 x USB 3.0 Type-A ports and a single 3.5mm audio jack.
Available in black and white colour schemes with dimensions of (L × W × H) 400mm × 225mm × 431mm.
System Installation:
The process of Installing a system inside the Deepcool Macube 110 is ok, but it isn't perfect. There are just a few minor niggles that are a little annoying and slightly increase the time it takes to complete the build. We managed to squeeze in a 280mm AIO in the roof of the case, it is very tight but it does fit. However, with a top-mounted 280mm AIO fitted, it makes connecting or routing the EPS power cable impossible, so make sure you connect the EPS cable before screwing the top radiator in position.
Another slightly annoying thing about the Macube 110 are the front panel cable cutouts, they are in the wrong place, positioned on the front chassis panel rather than on the motherboard tray. For the shortest cable route, you have to use the front panel cut-outs which means routing fan cables cable over the front panel which looks a little messy. Deepcool could have easily solved this problem by putting the cutouts on the motherboard tray next to the front fans.
This type of inner front panel cut out is usually used for routing cables of fans that are mounted on the outside of the inner front panel (between the inner and outer front panel) this is impossible with the Macube 110 as the outer front panel isn't deep enough to allow this type of fan installation. However, once the front panel is clipped into place the cable isn't seen so it might not worry everyone, I'm quite fussy about cable management and neatness.
One other thing worth noting about this case is that when all the side panels are removed there are some very sharp corners protruding from the chassis, I almost got stabbed in the arm a couple of times, so beware. The folded parts of the mortarboard tray with cable tie eyelets are also quite sharp, so be careful not to run cables over them and trap the cables. This could potentially be a hazard if the metal digs into the cable and causes a short.
Other than these minor issues, the build went quite well, there is plenty of space inside the main motherboard compartment, being able to install a 280mm AIO in the front and roof of a micro-ATX case is a bonus and all mounting holes lined up very well with the components. Overall the final build looked very neat indeed, cable management around the right side finished off looking tidy too.
Technical Specifications:
Product Dimensions: 400mm×225mm×431mm(L×W×H)
Net Weight:2KG
Colours: Black/White
Materials: ABS, SPCC, Tempered Glass
5″ Drive Bays: 2
5″ Drive Bays: 2
25″ Drive Bays: N/A
Power Supply Type: ATX PS2 (maximum length: 160mm)
I/O Ports: USB 3.0 × 2, Audio × 1
Expansion Slots: 4 Slots
Cooling Fans Compatibility: (Pre-installed) Rear: 1 × 120mm DC fan, (Optional) Front 120mm × 3/140mm × 2 (Top) 120mm × 2/140mm × 2
Liquid Cooler Compatibility: Front: 120/140/240/280; Top: 120/140/240/280, Rear: 120
CPU Cooler Height Limit: 165mm
VGA Length Limit: 320mm
Cable Management: 20mm clearance
Thermal Performance Testing
As with every KitGuru case review, thermal performance is important, therefore we shall measure this by running a series of tests to record CPU and GPU temperatures under load.
To simulate thermal demand we run the Aida64 CPU, FPU, Cache and GPU stress test for 30 minutes with the case in various configurations. This should give the system enough time to reach its constant steady-state temperature. With this data, we can compare how each scenario affects thermal performance.
We will compare the system's thermal capabilities with a liquid-cooled solution for the CPU, using a Deepcool Castle 280EX and the graphics card stock cooling solution.
During thermal performance testing, only stock case fans will be used unless otherwise specified. All fans and pumps (where applicable) will be set to their standard fan curve profile as controlled by the motherboard.
All temperature measurements are presented as Deltas – the ambient temperature has been deducted from the CPU/GPU temperature giving us a Delta. Data shown in the charts represent the average CPU/GPU temperature over the length of the test.
Acoustic Testing
Our case testing involves comparing the acoustic performance of the case in several configurations with an all-in-one liquid CPU cooler installed.
These tests will include measuring sound levels with our sound meter from approximately 300mm from the front of the case, under 100% CPU and GPU load.
Load noise levels will be measured by running AIDA64 stressing CPU, FPU, cache and GPU for 30 minutes which give the system enough time to reach its constant steady-state temperature.
CPU and case fan profiles will be set to their standard operating profile in the motherboard BIOS and GPU fans are set to their default fan curve. The CPU cooler used in acoustic testing will be Deepcool Castle 280EX.
The ambient noise level (noise floor) in our test room is measured at 33.1 dBA.
The following configurations will be used to test the effect they have on thermal and acoustic performance:
Default configuration;
Front panel removed.
Glass side panel removed.
Test System
CPU: AMD Ryzen 5 3600X
Motherboard: Gigabyte B550M Aorus Pro
Memory: 16GB (2 x 8GB Modules) Corsair Dominator RGB DDR4-3200Mhz
Graphics card: EVGA GeForce RTX 3070 XC3 Ultra
Storage: 500GB Corsair MP600 PCIe Gen4 NVMe M.2 SSD
Case: Deepcool Macube 110
CPU cooler: Deepcool Castle 280EX 280mm AIO
System fans: 3 x Deepcool CF120 Plus 120mm RGB
Power Supply: Deepcool DQ850-M-V2L 850W 80+ Gold
Operating System: Windows 10 20H2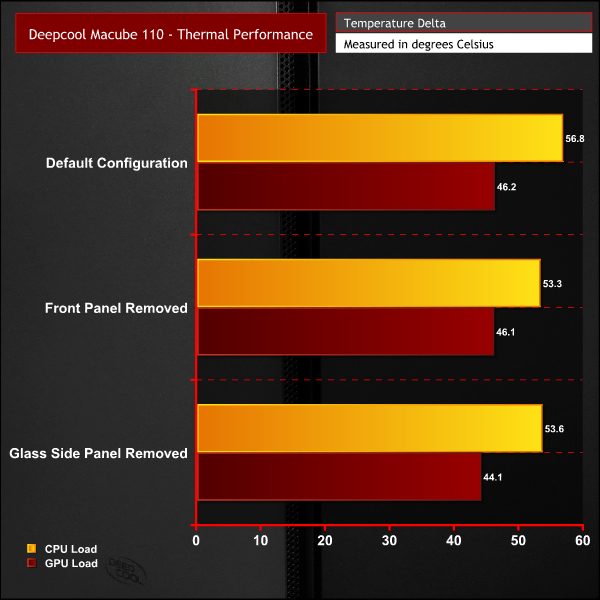 The thermal performance of the Deepcool Macube 110 isn't too bad considering the airflow restrictive nature of the closed front panel. The 15mm vents on either side of the front panel do offer some degree of airflow. However, removing the front panel does reduce the CPU temperature slightly, this is why I would like to see an airflow version of this case or an alternative high airflow front panel.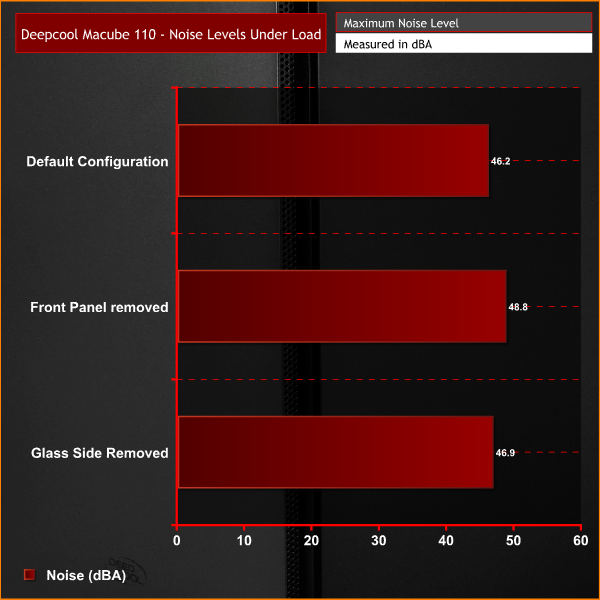 In terms of the noise levels, this is where the closed front panel design comes into its own. With the front panel installed, noise output is reduced compared with the front panel removed, so a high airflow open front panel would no doubt result in system noise being more noticeable. However, choosing the right fans and creating custom fan curves can keep noise to a minimum in any case.
Closing Thoughts
Taken as a whole, the Deepcool Macube 110 isn't a bad PC case, especially when you take the cost into account. Priced at just a touch under £40 with tempered glass, a 120mm fan pre-installed and reasonably solid build quality, it makes you wonder just how these manufacturers do it for the price. It is amazing to think that you can get all this for under £40, budget cases of the past used to be complete trash, that just isn't the case any more (no pun intended).
It's not all perfect though, the Macube 110 does have some annoying little issues when it comes to system installation, which adds a few more minutes to the build process. The sharp edges on the case need to be looked at as they could cause a minor injury if you are not careful and the folded parts of the motherboard tray could do with being protected by a rubber or something.
Other than these minor issues, Building a system inside the Macube 110 was an overall good experience, being able to install a 280mm AIO in the front and top of the case (albeit quite tight) is a bonus, even though it does interfere with the motherboard EPS cable a little, which isn't uncommon with micro-ATX. Space for three 120mm front fans should help a little with airflow through the restrictive front panel too.
The case has a very understated and sleek looking appearance which I like, however, the front panel is a trade-off between clean looks and airflow, with airflow losing out. Although I am fond of the appearance of this case, I would like to see maybe an airflow version or an alternative vented or mesh high airflow front panel for users who intend on installing high spec components that will produce a lot of heat. This would mean that everyone's taste is catered for.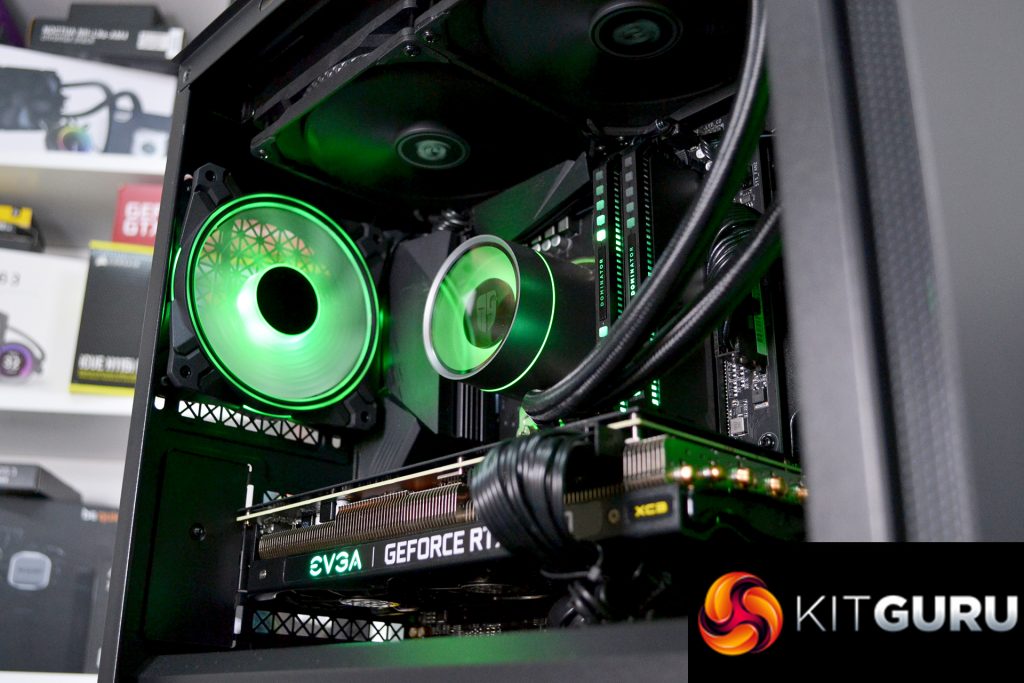 The main problem I have with this case is more to do with the micro-ATX form factor. To me, it seems a little pointless to have this smaller mATX motherboard form factor when compact mid-tower cases that support full-size ATX motherboards are available. I recently reviewed the Cougar MX410 Mesh-G RGB case which is only 20mm taller than the Macube 110, about the same width and depth but supports ATX motherboards.
A case like the MX410 Mesh-G RGB seems like a better option to me, as it gives the user even more choice in motherboards, it comes with four RGB fans and offers similar specifications in terms of CPU cooler, radiator and graphics card support as the micro-ATX Macube 110. I would like to see the dimensions of micro-ATX cases slimmed down a little more to make them more relevant and be a better fit in the gap between mid-tower ATX and mini-ITX chassis.
But if you are a fan of micro-ATX thinking of building a new system soon or you are looking for a new case to upgrade your current micro-ATX chassis, the Deepcool Macube 110 will be a good choice as it offers impressive component support, it looks great, build quality is fine and it is exceptional value for money.
The Deepcool Macube 110 is available to purchase in the UK for £39.98 HERE.
Discuss on our Facebook page HERE.
Pros:
Sleek looking, minimal appearance.
Build quality seems good for the price.
Nice features such as the GPU support and tool-free side panel removal.
Budget price tag.
Cons:
Airflow restricted front panel.
Only just smaller than some compact mid-Tower ATX cases.
Only one fan included.
KitGuru says: Deepcool's addition to the Macube series provides a new micro-ATX case to the market with stylish looks and decent build quality. What do you guys think of this case? Is the micro-ATX form factor still relevant these days since the introduction of compact ATX chassis?
Be sure to check out our sponsors store EKWB here