This review covers the launch of AMD Radeon RX 590 however the fact of the matter is that a die shrink from 14nm to 12nm is not an especially exciting story. It is far more important to focus on how the revised GPU is used by AIB partners such as Sapphire with their Nitro+ RX 590 SE graphics card.
The cooler used by Sapphire works well, the fans are very quiet and the control software reduces noise to an absolute minimum. In addition you can use Sapphire TriXX to control the Nitro+ to monitor clock speeds and performance, and also to adjust fan speeds and the LED lighting in the cooler shroud.
The one area of TriXX that won't yield much joy is the overclocking section as it seems that Radeon RX 590 has been delivered on the upper limit of its performance. You can indeed use TriXX to crank up the core voltage and power limit and then ease up the core and memory speeds – however we doubt you will find much benefit to be gained.
We ended up with a core speed of 1,600MHz which is marginally higher than the 1,560MHz you get out of the box. On the other hand that is a decent improvement on the 1,380MHz/1,400MHz you can expect to see from an RX 580 such as Sapphire Nitro+.
The Sapphire Nitro+ RX 580 could beat GTX 1060 FE by a narrow margin at stock clocks and would deliver results that were almost identical when you overclocked both cards to the limits. The point here is that Nvidia 10-series can run a core speed of 2,000MHz which is a solid 600MHz faster than RX 580. AMD clawed back the deficit with a larger number of Shaders than Nvidia and the overall result is that an overclocked Nitro+ RX 580 delivers almost identical performance to an overclocked GTX 1060 FE.
It is a similar story with Vega 56 and GTX 1070 FE as once again Nvidia has a hefty advantage in clock speed.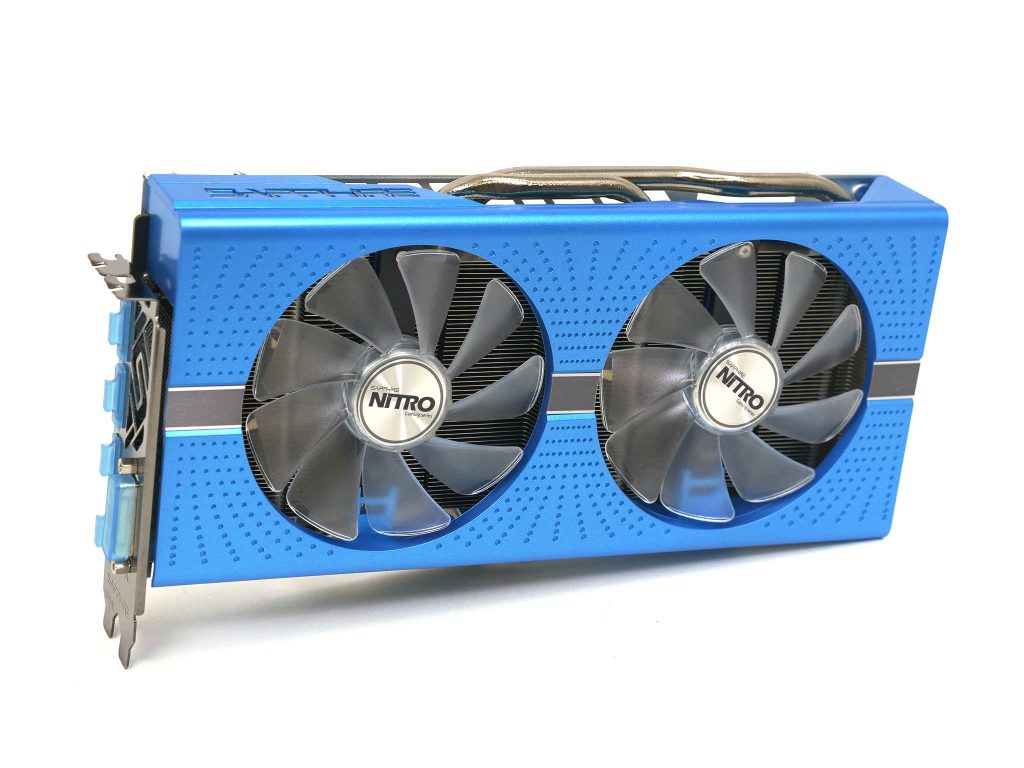 Sapphire Radeon RX 590 SE adds 200MHz to the clock speed of RX 580 which lifts it clear of GTX 1060 FE and that makes the £259.99 price perfectly acceptable. In an ideal world RX 590 would be priced at £249, however AMD and Sapphire are sweetening the deal with the inclusion of a triple game bundle of Resident Evil 2, Devil May Cry 5 and The Division 2 that adds a decent amount of value.
Our final thought is that the 12nm die shrink and 200MHz boost makes us wonder just how good Polaris might have been if it could have reached 1,800MHz or 2,000MHz as it might have given Nvidia Pascal a run for its money. As things stand the 200MHz increase over RX 580 closes the speed gap and delivers a handy increase in frame rates that are nice to see but which do not count as a game changer. That may sound like a lousy pun but is meant as a serious statement.
Pricing will make a big difference to the desirability of RX 590 graphics cards and the closer it lands to £250 the better. In addition we have expectations that RX 580 will see a modest price cut and that should mean these older AMD graphics card will attract renewed attention.
AMD Radeon RX 580 always was a decent graphics chip and it has improved over time as new drivers have been released. This latest version of Polaris bumps performance even higher, but we are still in the realms of 1080p gaming, rather than 1440p or even 4K. If you take this revised graphics chip on its own terms it delivers plenty of performance at a very fair price.

You can buy the Sapphire RX 590 Nitro+ SE from Overclockers UK for £259.99 inc vat HERE
Pros:
Excellent 1080p gaming experience.
Sapphire Nitro+ cooler is very good.
Very quiet operation at all times.
Cons:
RX 580 was already good enough so RX 590 needs to fight for a market position.
RX 590 seems to have no headroom for overclocking.
We are concerned that graphics prices may, once again, start to rise.
KitGuru says: AMD has tweaked Polaris with a 12nm die shrink and gained a useful ten percent extra performance.
Be sure to check out our sponsors store EKWB here