Testing
To put this case through its cooling paces we will be using a test system consisting of an Intel Core i9-7980XE, Asus ROG Strix RX Vega 64 OC 8GB and an SSD. This system allows us to produce a substantial amount of heat and effectively test the Antec Torque's cooling capabilities.
For stress testing we use AIDA64 to create the maximum amount of load our CPU and GPU are ever likely to see.
Test System:

Processor: 2.8GHz Intel Core i9-7980XE
Motherboard: Gigabyte X299 Aorus Master
Memory: 32GB G.Skill TridentZ DDR4-3200MHz
Graphics card: Asus ROG Strix RX Vega 64 OC 8GB
Power supply: Seasonic Prime Platinum 1300W
Storage drive: 1TB M.2 Intel SSD 7
OS: Windows 10
Custom Loop:
Radiators: 2x EK CoolStream SE360
Fans: 6x Antec Prizm 120 ARGB
Pump/Reservoir: EK-XRES 140 Revo D5 RGB PWM
CPU Block: EK Velocity RGB
Graphics Block: EK Radeon Vega Strix RGB and Backplate
Coolant: EK Cryofuel Solid Scarlet
Fittings: Alphacool 13/10mm Eiszapfen
Tubing: Alphacool 13/10mm Eisrohr Plexi Satin
Cooling Performance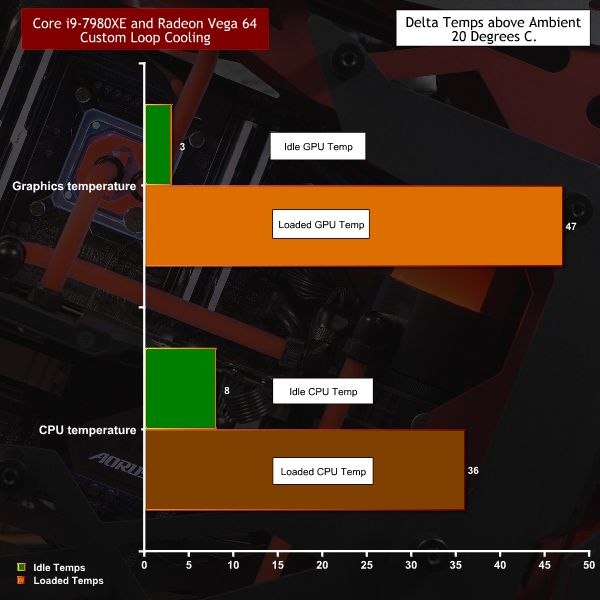 Cooling Performance Overview
Antec Torque performs impressively well, although we would expect nothing less from a pair of EK 360mm radiators, D5 pump/reservoir and EK CPU and graphics blocks. We know that Vega 64 is a power-hungry and hot GPU and Intel Core i9-7980XE is a monster CPU but despite that temperatures were pleasingly low.
Acoustics Performance Overview.
When we first started the PC the six Antec fans were running at Full Speed and the noise level was unpleasantly high. We set the fan profiles to Silent and the noise levels were reduced to an audible but tolerable level.