The Antec Torque is a unique PC chassis that demands serious attention to detail. We have seen at least one PC build in a Torque with a 240mm All In One cooler along with an air cooled graphics cards and to our eyes it just looked wrong. We considered it essential to use a full custom cooling loop and filled both radiator positions for purely aesthetic reasons. It took a considerable amount of time to build the PC as the effort involved in any form of cable management was quite severe.
In terms of eye candy we were using six Antec Prizm ARGB fans on the two radiators and that meant we had a huge amount of RGB lighting to work with as we also had RGB in the CPU block, pump/reservoir and graphics block. As we stated in our video the RGB control required some work but the finished look was very pleasing and the light show was like nothing we have ever seen before.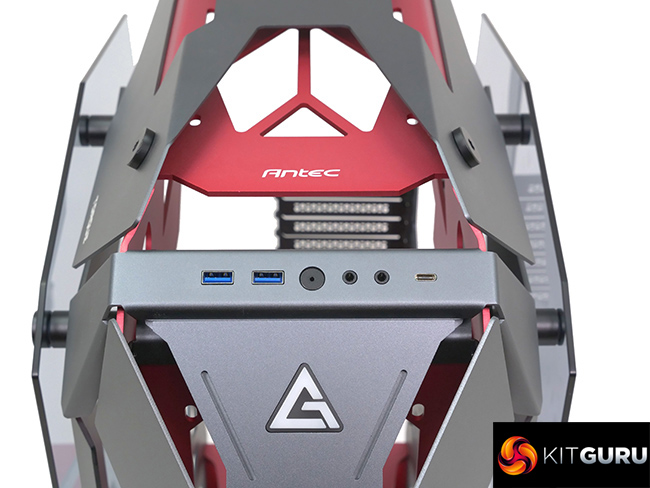 Antec Torque is certainly expensive, however we can understand the price as the cost of the components is likely to be rather high. In addition we have to assume that Antec will sell relatively few of these chassis which will raise the unit cost. Having said that, if you are building a high end PC like ours anyway, you are surely spending at least £150 on the case in the first place, so the step to £350 is relatively small.
We have a few gripes and moans about Torque such as the lack of support for 140mm fans and the trials and tribulations of cable management. We also have a list of positive points that mainly centre around the quality of the aluminium panels but also include the Type C USB port on the front I/O panel. The thing is, we are confident that Torque isn't one of those products that you weigh up with a list of pluses and minuses.
The problems you will face building an impressive PC in this chassis are immediately apparent and we are quite sure you will either want this chassis or will simply walk on by.
You can buy the Antec Torque from Scan for £349.99 HERE
Pros:
Aluminium panels look good and are nicely made.
Huge amount of space for your cooling system.
USB type C included on the front I/O panel.
No restrictions to cooling air flow.
Cons:
Cable space behind the motherboard tray is limited.
The second glass panel shows off the cables you are trying to hide!
No support for 140mm fans.
User guide is basic.
You don't get any spares of the special fasteners used in Torque.
KitGuru says: All eyes will be drawn to Antec Torque so you had better make sure your build looks superb.