Cooling Performance.
For our initial tests we used a 240mm All In One CPU cooler from Fractal Design and then switched to a Custom Loop cooler first on the CPU and then on both CPU and VRMs.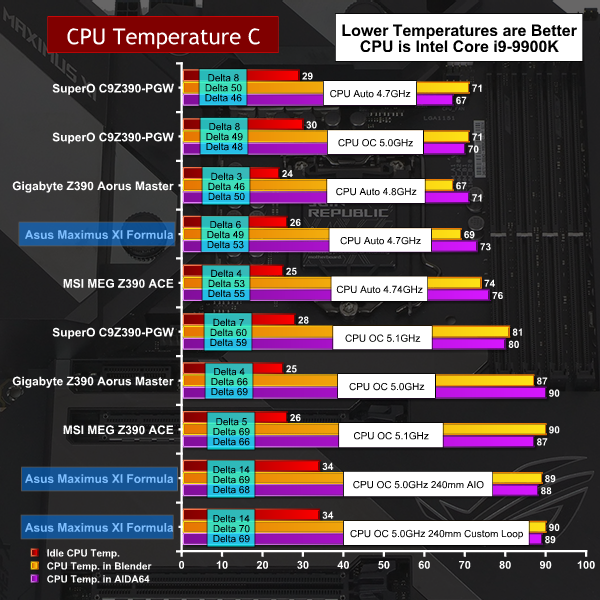 This chart tells the tale about our Core i9-9900K. On Auto settings at 4.7GHz it behaves superbly, but once we start overclocking the temperatures shoot up from a safe 70-75 degrees to a scary 90 degrees which is the threshold for throttling. This is nothing much to do with the cooling system and pretty much entirely dictated by the design of the CPU.
Our VRM temperature chart demonstrates that the CrossChill III VRM hybrid cooling block works superbly well.
Cooling Performance Overview.
On Auto settings our Core i9-9900K will happily run around 70 degrees C under extreme load, rising close to 90 degrees when overclocked. This is behaviour we have seen with other motherboards and it guides us to the view that overclocking our i9-9900K yields a marginal benefit while CPU temperatures are uncomfortably high.
By contrast VRM temperatures remained impressively low. Without any airflow around the CrossChill EK III VRM cooler we saw temperatures rise from the low 50s degrees to the high 60s when we overclocked the CPU. Adding a 120mm fan dropped temperatures back to the low 50s. Adding Custom loop cooling to the VRMs reduced the temperatures by five more degrees which is completely irrelevant as the VRMs were already nice and cool.
Power Draw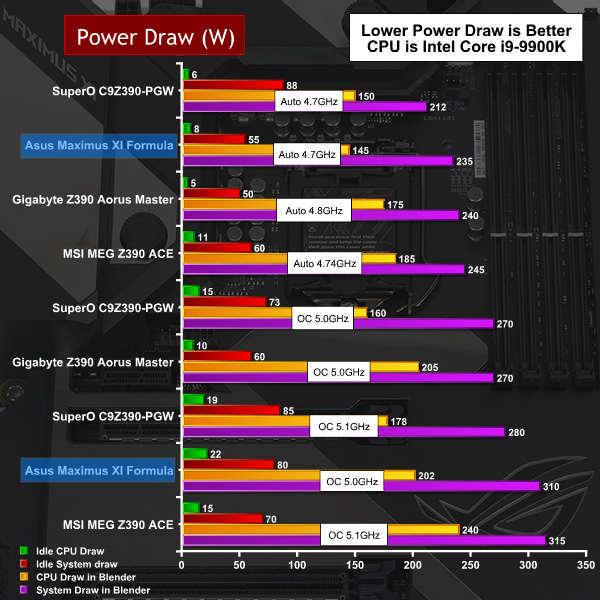 Power Draw Overview
When we used the Fractal Design AIO cooler we saw power draw that was slightly higher than we expected, however the numbers did not cause us any concern. Adding custom loop cooling to the CPU increased system power draw by 20W and then another 5W when we added active cooling to the VRMs.