Testing and overclocking
Test system
CPU Intel Core i7-7700K at 4.8GHz
RAM 16GB G.Skill DDR4-3200MHz TridentZ
Motherboard Asus ROG Maximus IX Extreme
SSD Samsung 960 EVO
Power supply Sea Sonic Prime Titanium 1000W

Out of the box the Poseidon operates in Gaming Mode with a base clock speed of 1,594MHz, Boost speed of 1,708MHz, and memory that operates at 11,010MHz. We installed GPU Tweak II and selected OC Mode which increases the base clock to 1,620MHz, Boost to 1,733MHz and memory speed to 11,100MHz, and that was the starting point for our testing.
After that we manually overclocked the Poseidon using GPU Tweak II by pushing the power limit to 120%, the temperature limit to 90 degrees and set Boost to 1800MHz. This worked well so the next step was to increase the power limit to 150% however this made the Poseidon prone to clock throttling so we settled for those modest changes.

Using stock air cooling the GPU temperature hits 75 degrees under heavy load and the GPU clock speed can be seen to fluctuate, Boost to around 2,000MHz most of the time and touching 2,050MHz on occasion. Overclocking the GPU has little or no effect on temperatures, which tells us the cooler is doing a fine job and the limiting factor is the GPU itself.
With the liquid cooling working the GPU idles at 36 degrees and runs at 44 degrees in Deus Ex and 53 degrees in the Fire Strike Ultra stress test. The cooler's fans are set to engage at 55 degrees and that means when using liquid cooling we did not see the fans on the graphics card rotating, even when the GPU Boosted to 2,062MHz.
For each of the three configurations the memory was left running at 11,100MHz.
3D Mark Time Spy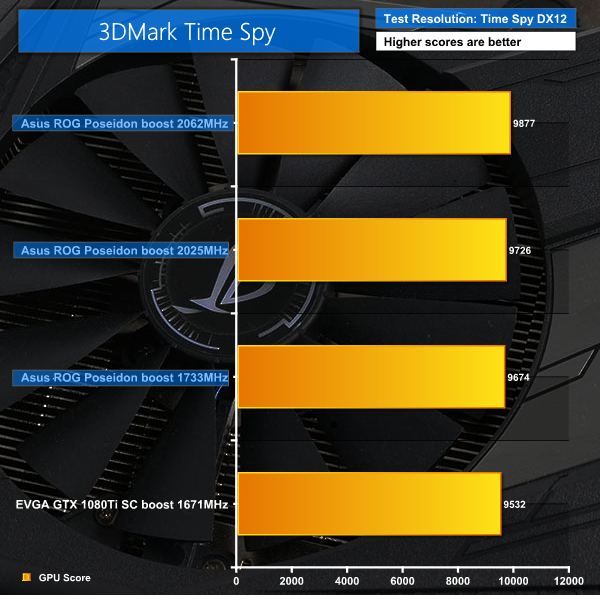 Ashes of the Singularity:Escalation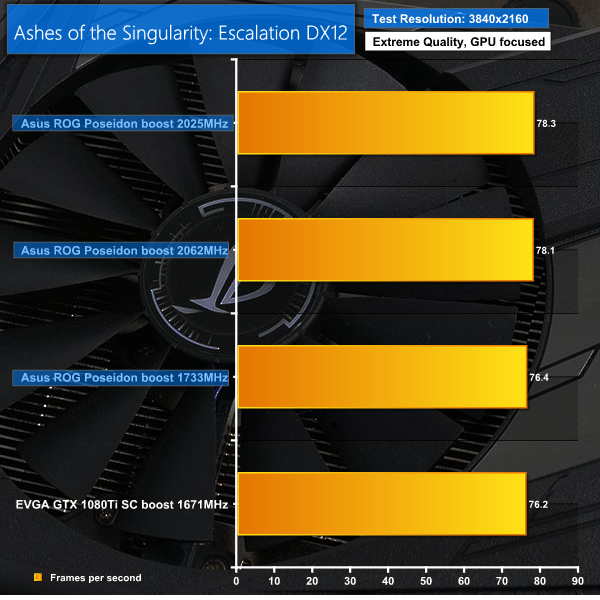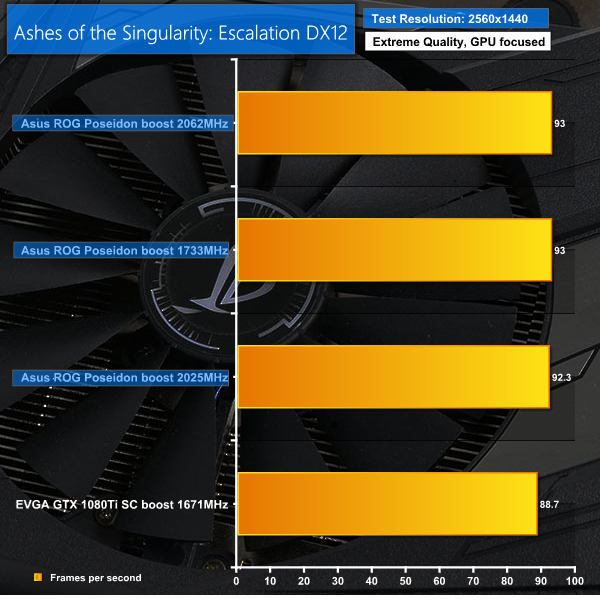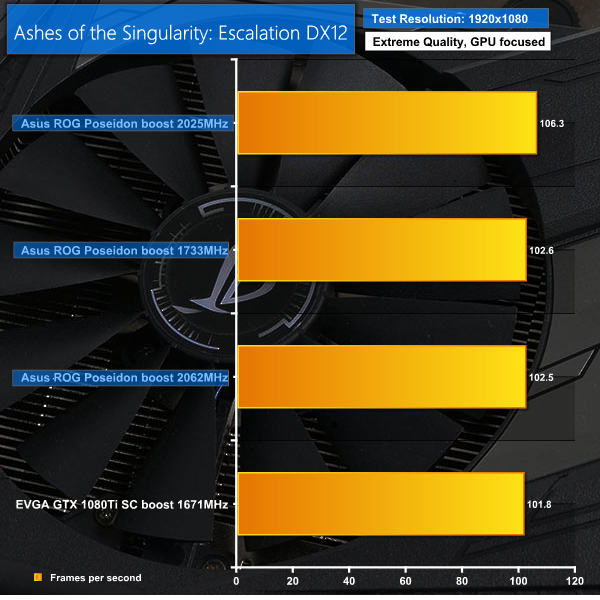 Rise of the Tomb Raider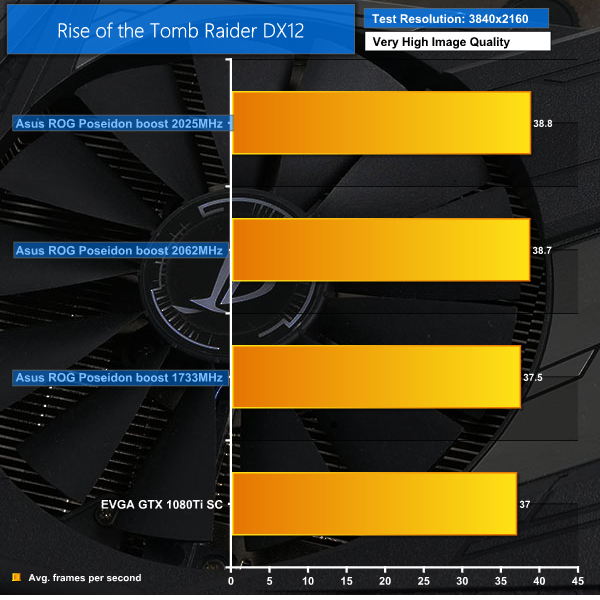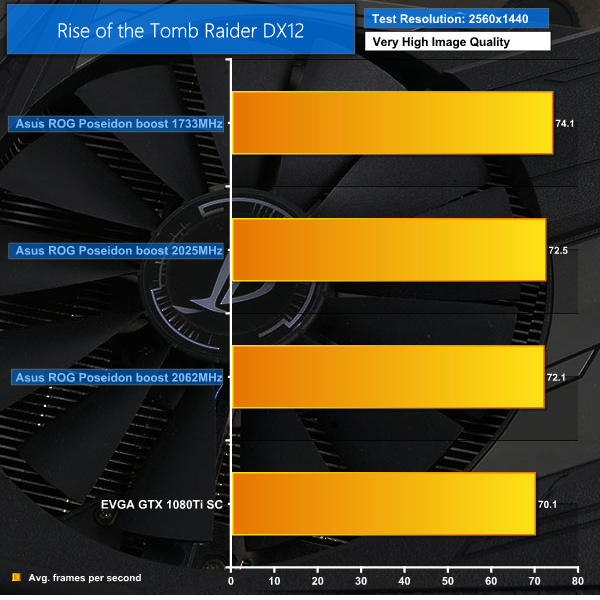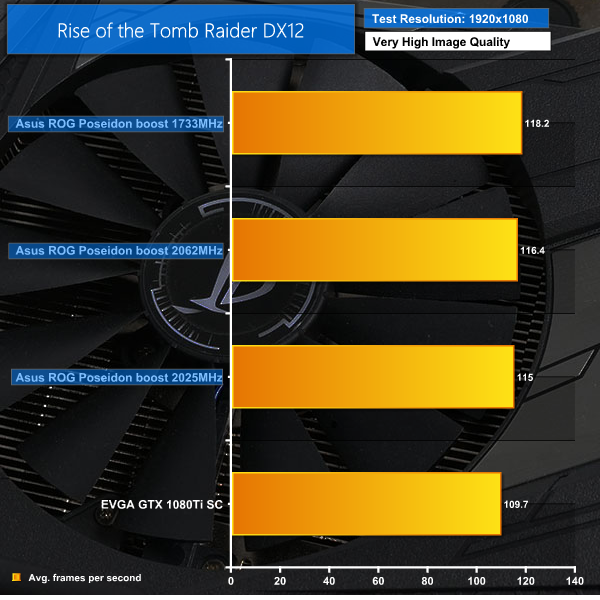 Testing overview
That's quite a few graphs however the summary is very brief as It was clear from our benchmarking the Poseidon was delivered with its GPU running close to its limits. While there is scope to push the power and clock speeds the benefits are negligible. Indeed, on occasion the higher clocks speeds delivered lower performance.