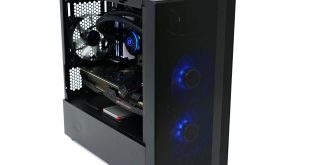 Cooler Master is back with another new chassis known as the MasterBox NR400, and the first thing you should know is that it is Micro-ATX. This smaller form factor is a relatively niche market that typically caters for the budget PC builder who only needs a single graphics slot.
The good news is that MasterBox NR400 is priced very much towards the lower end of the scale. The surprising thing is that Cooler Master has included some interesting features, as the NR400 is fully filtered and has the ability to pack in a surprising number of storage drives. Our Non-ODD model supports three full sized hard drives and four SSDs, and anyone who chooses the version with an optical drive will find an extra hard drive mount.
Watch the video via our VIMEO Channel (Below) or over on YouTube at 2160p HERE
Note: if the above images are not displaying properly, you may need to disable Ad Block as it is known to interfere with our display code
Main Features:
Fully ventilated front panel
Ample storage support
Precision-cut, magnetic dust filter
100% tool-less storage mounting system
Headset-friendly 4-pole combo jack
Lightweight, single-piece internal structure
Unobstructed internal layout
ODD version available
Liquid Cooling Ready
Specification:
Motherboard support: Micro-ATX, Mini-ITX.
Expansion slots: 4.
Included fans: 1x 120mm front intake, 1x 120mm rear exhaust.
Fan mounts: 3x 120mm/2x 140mm front, 2x 120/140mm roof, 1x 120mm rear.
120mm radiator mounts: 120mm/240mm front, 120mm/240mm roof, 120mm rear.
140mm radiator mounts: 140mm/280mm front.
5.25-inch optical drive bays: None.
Internal drive bays: 3x 3.5-inch, 4x 2.5-inch.
Dimensions: 411mm H x 411mm D x 210mm W.
The appearance of MasterBox NR400 is understated, however the combination of glass panel and novel front panel manage to look rather appealing. By contrast the front I/O panel on top of the case looks very Spartan and includes two Type A USB ports without a hint of Type C. During our initial assessment of the NR400 we thought the user guide referred to an adapter for the single 4-pole headset jack. In fact it says 'Leave the dongle in the box' as the jack can handle anything you throw at it.
Building our test system was a bit of a roller coaster, but that was pretty much our own fault. Our chosen Cooler Master MWE 750 Gold power supply is fully modular and that increases the length and encroaches on the area where you install the hard drive tower. We also made life difficult for ourselves by selecting an Asus ROG Strix Radeon RX Vega 64 OC 8GB that works well but is massive. Mind you, it fitted and worked very well.
One area where we were slightly frustrated was the installation of the Cooler Master MasterLiquid ML240R RGB Phantom Gaming Edition. There is plenty of space at the front of the chassis, exactly as Cooler Master promises and the radiator went in neatly. Cooler Master tells us they have used mounting slots for cooling hardware, rather than holes, however they still have further work to do here as our options for the 240mm cooler were sorely restricted. That was one aspect, and the other was the way we had to route the fan cables above and below the radiator to connect them to the motherboard.
Testing
To put this case through its cooling paces we will be using a test system consisting of an Intel Core i9-7920X, ROG Strix Vega 64 and an SSD. This system allows us to produce a substantial amount of heat and effectively test the Cooler Master MasterBox NR400's cooling capabilities. For stress testing we use AIDA64 to create the maximum amount of load our CPU and GPU are ever likely to see.
Test System:
Processor: Intel Core i9-7820X 8-core/16-threads, 3.5GHz all cores
Motherboard: ASRock X299M Extreme4
CPU cooler: Cooler Master MasterLiquid ML240R RGB Phantom Gaming Edition
Memory: 32GB Corsair Dominator Platinum SE DDR4-3466MHz
Graphics card: Asus ROG Strix Radeon RX Vega 64 OC 8GB
Power supply: Cooler Master MWE 750 Gold
SSD: WD 1TB Black M.2 NVMe
OS: Windows 10
Cooling Performance
We used the same CPU and GPU in this build as we did with the Corsair Carbide 678C, albeit with a different but still 240mm sized AIO, and the comparison makes for interesting reading.
Cooling Performance Overview
The mesh front panel on the MasterBox NR400 flows air so well that it effectively acts like an open structure. There are minimal obstructions inside the chassis and air is able to flow in the front and out of the top and the back. CPU temperatures are very good and surprisingly impressive for such a small case.
By contrast the graphics card gets rather hot, however this is almost certainly due to its size as it fills the length of the main compartment. This surely hurts air flow with the consequence that temperatures suffer. We are confident a smaller graphics card would be a different proposition.
Acoustics Performance Overview
We said the NR400 effectively works like open chassis and the same is true of noise levels. Cooler Master has included no noise deadening material and the air flow is neither baffled or convoluted. The best case scenario is that NR400 is clearly audible but if you crank up the fan speeds it has significant potential to get very noisy.
Closing Thoughts
We expected little from the MasterBox NR400 and it surprised us at every turn. You can install an astonishing amount of storage and as we demonstrated it is perfectly feasible to build a full gaming PC in this case.
We think it more likely the target customer will choose a cheaper desktop CPU, rather than our Skylake X, and they may well prefer a tower air cooler over a larger AIO. Apart from requiring less space, this approach will also save a good deal of money.
Cooler Master has made mention of a number of features in this new chassis that are all fairly minor. The power supply mounts are offset to help cable clearance and there is a cable management path beside the rear of the motherboard tray.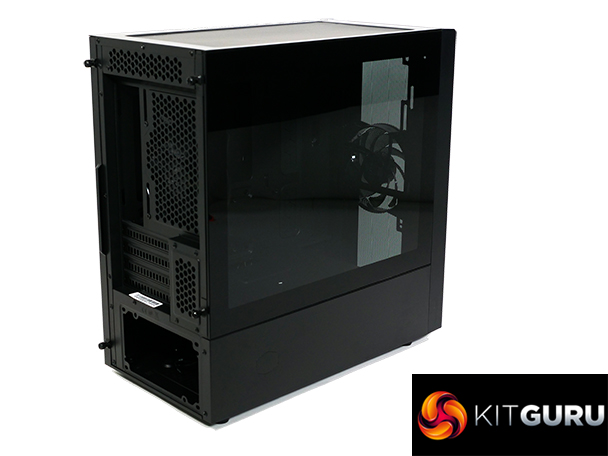 We were most impressed by the removable drive tower that can accommodate no less than three 3.5-inch hard drives. Two are tool-free and one requires screws but this is considerably more straightforward than installing screws from the front of the chassis. As we say, these are small changes that probably cost very little, however they help to make the case better.
All in all, for £60 we have to say Cooler Master has done a great job with the MasterBox NR400. The nature of the open front panel means it can get loud, but for a compact – and cheap – mATX chassis, this ticks a lot of boxes.
We don't yet have a buy link but the NR400 has an MSRP of £59.99. You can read more about it HERE.
Pros:
Front panel flows air like a champ.
Low price.
Loads of options for installing storage.
Main glass panel looks good.
Supplied with two 120mm fans.
Cons:
Minimal noise deadening means the NR400 can get raucous.
Build quality is fairly flimsy.
No USB Type C.
KitGuru says: Cooler Master's MasterBox NR400 is small, cheap and surprisingly effective.
Be sure to check out our sponsors store EKWB here