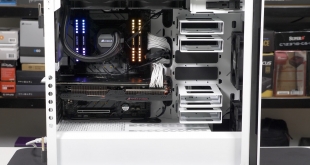 From the moment we first saw the Corsair Carbide 678C it was clear this case was intended to compete with the Fractal Design Define R6. Well hurrah to that. We admire the Define R6 and welcome competition, so a case from Corsair that adds drive bays with a clear nod to be quiet! sounds like a fine idea. There is more good news as the Carbide 678C is supplied with three 140mm PWM fans that are connected to a fan hub that can manage a total of six fans, which is a healthy number.
One other potential point of good news is that Corsair Carbide 678C includes a removable optical drive bay. Personally speaking your reviewer has not used optical media in a living age and could barely care less about this feature, however we know a vocal minority of KitGuru readers loves their Blu-rays, so that could also be a positive move.
Watch the video via our VIMEO Channel (Below) or over on YouTube at 2160p HERE
Note: if the above images are not displaying properly, you may need to disable Ad Block as it is known to interfere with our display code
Main features
Sophisticated Style, Endless Possibilities in Black or White. Defined by clean lines and smooth steel construction, with a crystal-clear tempered glass side panel to show off your system's components.
Extensive Sound Damping: Sound damping material on the side, front and roof panels ensure quiet operation – or swap in the included dust filter on the roof when performance is your top priority.
A Multitude of Cooling Options: Includes space for 360mm push/pull radiators in the front and roof, 280/240mm radiators on the floor, and 140/120mm radiators in the rear.
Massive Cooling Potential: Powerful and efficient airflow, with room to install up to 9x 120mm or 7x 140mm fans for massive cooling potential.
Take Command of Your Cooling: A PWM fan controller regulates three included SP140 PWM fans and up to three more. Reduce fan speed when you want keep your system quiet, or increase when you want to push its performance.
High-Speed USB 3.1 Gen-2 Type-C Port: Front panel connector puts future-proof connectivity within easy reach.
Six modular trays that can be moved to eight mounting locations to give you the exact layout you want.
Easy Accessibility: Both the front panel and tempered glass side panel are hinged for tool-free easy access.
Specification:
Motherboard support: ATX, Micro-ATX, Mini-ITX.
Expansion slots: 7 + 2 vertical
Included fans: 1x 140mm PWM front intake, 1x 140mm PWM roof, 1x 140mm PWM rear.
Fan mounts: 3x 120mm/2x 140mm front, 3x 120mm/140mm roof, 1x 120mm/140mm rear, 2x 120mm/140mm floor.
120mm radiator mounts: 120mm/240mm/360mm front, 120mm/240mm/360mm roof, 120mm rear.
140mm radiator mounts: 140mm/280mm front, 140mm/280mm/420mm roof, 140mm rear.
5.25-inch optical drive bays: One.
Internal drive bays: 6x 3.5-inch/2.5-inch, 3x 2.5-inch.
Dimensions: 497mm H x 549mm D x 239mm W.
On paper the Carbide 678C looks good. It supports a 280mm/360mm radiator at the front and up to 360mm/420mm in the roof after you have removed the ODD bay. In practice, we only just squeezed a 280mm Corsair H115i AIO in the roof with the ODD in place, which demonstrates that you have to treat the specification with some caution.
During our build we also struggled somewhat with cable management. There is a reasonable amount of space behind the rear panel but perhaps not quite as much as you would expect from a case that is 239mm wide. There are plenty of anchor points for cable ties but it came as something of a surprise to see Corsair has not employed hook and loop straps to make the job easier.
You might expect that cables could simply vanish behind the back panel and to an extent you would be correct, however the arrangement of the four drive caddies means you can can see clean through the mid plate of the case in a number of areas – so decent cable management is required. If you remove the Be quiet!-esque drive caddies you end up with four large holes in the mid-panel as Corsair does not supply extra blanking plugs. These holes are unseemly and also have the potential to reveal the cables in the rear compartment.
You will see in our video that Corsair has included two stealth drive caddies in the back section of the case along with three SSD mounts that clip into place. The SSD mounts are formed as a single unit so you cannot remove just one caddy to create space for cables; it is all or nothing. In other words, there is quite a large area behind the rear panel that is best kept clear of cables.
We mentioned the case looks good on paper but it also looks quite swish stood on the table. The panels are crisp and clean, the front door closes with a solid magnetic snick and the impressive glass door swings open and closed in a very controlled manner.
When we first pulled off the front panel (you have to wrestle with eight clips from the inside of the case) to reveal the frame of the chassis we wondered about the small electrical block connector. Might this be RGB or something clever? No, it is a simple blue LED that tells you the power is flowing which is in keeping with the stylish and understated aesthetic.
Testing
To put this case through its cooling paces we will be using a test system consisting of an Intel Core i9-7920X, RTX 2080 Founders Edition graphics card and an SSD. This system allows us to produce a substantial amount of heat and effectively test the Corsair Carbide 678C's cooling capabilities. For stress testing we use AIDA64 to create the maximum amount of load our CPU and GPU are ever likely to see.
Test System:
Processor: Intel Core i9-7820X 8-core/12-threads, 3.5GHz all cores
Motherboard: ASRock Fatal1ty X299 Professional Gaming i9 XE
CPU cooler: Corsair H115i
Memory: 32GB Corsair Dominator RGB 3200MHz
Graphics card: Asus ROG Strix Radeon RX Vega 64 OC 8GB
Power supply: Corsair RM1000i SE 1000W
SSD: WD 1TB Black M.2 NVMe
OS: Windows 10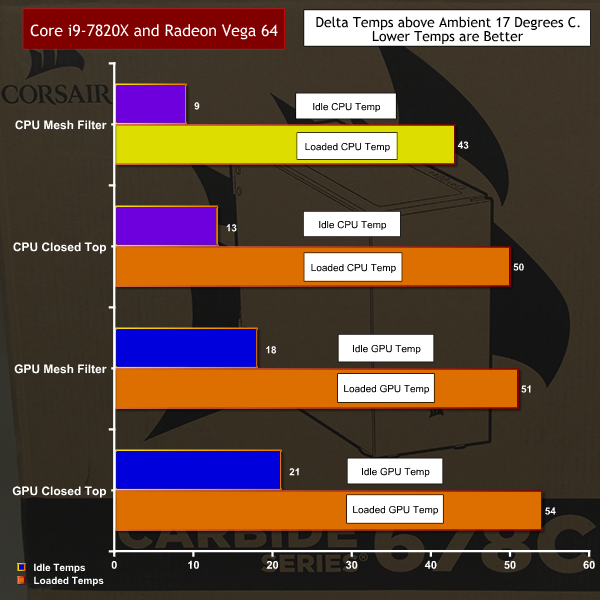 Cooling Performance Overview
Understanding the air flow in this case took a few minutes of examination. By default the front and top fans are set to intake with the rear fan set to exhaust. In the usual course of things the top fan would also exhaust but it quickly became apparent the front of the case is effectively sealed. If you retain the closed top panel and do not employ the alternate mesh filter, you get effectively zero air flow through the top and front. With the mesh panel in place the top of the case provides a reasonable amount of air flow.
But what happens when the front and top are both closed? Common sense says the case will choke and the components will cook but in practice this is not what happens. Temperatures do indeed rise, typically by three or four degrees with a maximum increase in our test system of seven degrees for the CPU. We shows our figures as deltas, but to put this in context the highest absolute figures we saw were 67 degrees for the CPU and 71 degrees for the GPU which is still well inside safe limits.
Our explanation is that the floor of the case is heavily ventilated and the rear of the case is also fairly open, and that explains the curious way the air flows inside the Carbide 678C.
Acoustics Performance Overview
We set the five 140mm fans to run in Balanced Mode and the result was that Corsair Carbide 678C was pleasantly quiet with the top mesh filter in place. When we switched to the solid top panel the PC was quiet under modest loads but it was a different story when it was stressed to extremes. Initially the PC remained quiet but as the internal temperatures hit 70 degrees the fans started to ramp up. The fans have to work in close proximity to the closed panels and as a result the noise level went up significantly while the air flow barely changed.
Closing Thoughts
Corsair Carbide 678C looks stylish and understated and would fit neatly in many homes and offices. The snag here is that the design choices that make the 678C understated also mean it is unlikely to appeal to hardcore enthusiasts. The main point is that the top and front panels are smooth and aesthetically pleasing instead of being heavily ventilated, however that restricts air flow to a minimum.
In addition, we like the way Corsair has engineered the swinging glass door with its impressive retaining magnets but wonder exactly what they expect you will see through that glass.
For example, if you use those drive caddies to populate the Carbide 678C with massive amounts of storage you will be looking at a bunch of mechanical drives that are hardly visually appealing. On the other hand, if you do not use the drive caddies you are instead looking at a bunch of empty metal containers, and if you remove the caddies you have a series of holes in the mid-plate.
The outside of this case is aesthetically pleasing while the interior does not look so great. If Corsair really wanted to place an emphasis on low noise they could have gone the whole hog and ditched the glass door in favour of a solid panel.
There are smaller changes that Corsair could make that would improve the Carbide 678C without too much difficulty. Adding hook and loop straps for cable management would be a good idea and it would help if the front door could be either reversed or removed. Also, could we please have a set of blanking plates for those four drive caddies?
The restricted air flow of this case makes it a no-no for enthusiasts and overclockers, however it is not the complete disaster it might first appear. Our combination of Core i9-7820X and Radeon Vega 64 were perfectly happy inside Carbide 678C with temperatures still in check even with the solid top panel.
Where things fall apart is on the pricing front. It is a major mistake to hang a review on the price as that might change at a moment's notice, however the price plays a large part here. There can be little argument that £179.99 or US$199.99 is far too high a price for Carbide 678C. If the price dropped to £129.99 it would be far more palatable, but would still be more expensive than its direct rival, the Fractal design Define R6. At £110 the Carbide 678C would look much more interesting but the price would need to drop to £99.99 to look truly appealing.
That would be a massive price drop but the fact of the matter is that Corsair is giving you very little with this case. Yes, you get the glass door and three SP140 PWM fans – however those features are hardly unique and certainly do not justify the launch price. As things stand we could not recommend the 678C, but if the price were to be reduced we would become much happier.

You can buy the 678C from Overclockers UK for £179.99 HERE
Pros:
Smart stylish with minimalist appearance.
Includes 3x 140mm PWM fans.
Front I/O panel sports USB 3.1 Gen 2 Type C.
Optical drive bay is included.
Cons:
The price is very high.
The front door almost completely blocks front air flow.
If you use the solid top panel it also kills air flow.
Awkward cable management.
KitGuru says: Cool aesthetic, warm interior, very high price.
Be sure to check out our sponsors store EKWB here