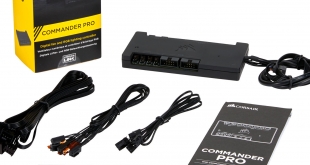 The idea behind the Corsair Commander Pro control unit is pretty straightforward. If you build a new PC with a bunch of Corsair peripherals that use the Corsair Link ecosystem you will find you are spoiled for choice. You could well use a Hydro All In One liquid cooler on your CPU (and perhaps another Hydro on your graphics card), a handful of HD120/HD140 RGB fans, a Link enabled power supply and a few Node lighting strips. Add that lot together and you may well run out of USB headers on your motherboard, and will also have a bunch of extra cables and control units to install and keep tidy.
This is where the Corsair Commander Pro comes into the equation. You simply connect the captive USB 2.0 cable on the Commander Pro to an internal header on your motherboard and power the device with the captive SATA cable. Both cables are long enough to give a good degree of flexibility when you install the Commander Pro inside your PC. Install the latest version of Corsair's Link software and you're ready to start connecting your accessories.
Watch the video via our VIMEO Channel (Below) or over on YouTube at 2160p HERE
Specification of Corsair Commander Pro:
Dimensions 133mm x 69mm x 15.5mm
RGB LED channels 2x three pin connector
Max. RGB LED Four strips per channel
Max. RGB fans Six fans on one RGB LED hub
Fan control Six 4-pin ports with voltage and PWM controller
Fan power Each fan header supports 1A, max 4.5A in total
USB 2.0 headers Two
USB cable 440mm
SATA power cable 465mm
Thermal sensors 610mm
Fan extension 300mm
You can connect up to six fans directly to the Commander Pro to control the fan speed profile. You still need to use the lighting control unit to manage the LEDs in those six fans, although the controller can be connected to one of the LED ports on the Commander Pro or to one of the ports on the Node. You can also daisy chain the Node to the Corsair Commander Pro and can connect two channels of LED lights with up to four strips of lights on each channel. If there is a case on the market that can accommodate four lighting strips let's just say it must be a very large case.
Commander Pro is supplied with four thermal probes which gives you extra options for monitoring temperatures inside the PC. This function effectively comes free of charge but was only of passing interest to your reviewer.
We used the two internal USB headers on the Commander Pro to connect the Corsair H100i liquid cooler and AX1500i power supply which sounds like a trivial matter but is actually a pretty big deal. Our chosen Asus Prime X299-A motherboard supports the latest LGA2066 Core i9 CPU with quad channel DDR4 but only has a single USB 2.0 header, which limits the number of accessories you can install. By installing Commander Pro we were able to connect LED lights, RGB fans, the H100i cooler and also monitor the AX1500i power supply though a single USB 2.0 header.
This was an impressive demonstration of the abilities of the Corsair Commander Pro but it also leads us to a minor confession. Corsair shows off the Commander Pro inside the glass Crystal 570X case that we have previously reviewed.
So we deliberately went in the opposite direction and installed as much Corsair hardware as possible inside a budget SPEC-04 case. This worked surprisingly well, apart from the fact the SPEC-04 has the bare minimum of cable management. So, basically, sorry about the cable mess in front of the power supply. That's our bad.
Test system hardware:
Fan and ligh controlting: Corsair Commander Pro
Lighting strips: Corsair Lighting Node Pro £49.99
Fans: Corsair HD140 RGB
Motherboard: Asus Prime X299-A
CPU: Intel Core i7-7800X
CPU cooler: Corsair Hydro H100i v2
Memory: Corsair Vengeance LPX DDR4
Graphics: Nvidia GTX 980
SSD: Corsair Neutron XT
Case: Corsair Carbide SPEC-04
Power supply: Corsair AX1500i
Closing Thoughts.
We were impressed by Corsair Commander Pro and the way the Link software lived up to its name and linked the accessories together with a common user interface. Once the hardware is in place and connected you can use Link to monitor every aspect of your PC but more importantly you can control the cooling performance, noise levels and lighting in a very satisfactory manner.
Our single largest criticism is that you are expected to stick the Corsair Commander Pro to a suitable flat surface using double sided tape, which just seems silly. It would be far better to have the option of installing the unit in an SSD drive bay. Clearly this is a minor criticism but nonetheless it is very peculiar.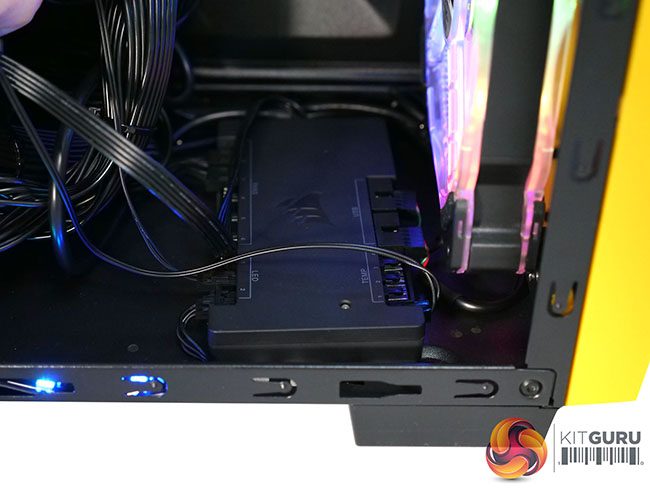 A larger question is the cost of the unit itself, along with the matching Corsair peripherals. The Commander Pro, HD140 RGB fans and Node lighting strips we used in this build totalled £176, and you could add £320 for the power supply and £100 for the CPU cooler.
If you choose to go crazy with your build and really pack in the RGB fans, LED lighting strips and Vengeance RGB RAM you could easily end up with £1000 of Corsair hardware connected to your Commander Pro. We have little doubt that Corsair would describe this as a feature rather than a problem, in the sense that you already have all those good Corsair products and now you can bring them together with a single device that is relatively cheap.
Balanced against that it is clear that Commander Pro pretty much obliges you to buy in to the Corsair way of life. Forget mixing and matching hardware, from now on you'll be selecting accessories based on whether or not they work with Corsair Link.
Pros:
Commander Pro has six 3-pin/4-pin fan connections that work with either PWM or voltage control.
Commander Pro has two USB 2.0 headers.
Two LED channels with Sequential, Marquee, Strobing and Visor lighting modes.
Eight preset fan curves.
Corsair Link software continues to improve over time.
Cons:
The total cost of the Corsair accessories used with Commander Pro is significant.
Once you buy into Corsair Link there's no going back.
You have to find a location to mount the Commander Pro unit.
KitGuru says: Corsair Commander Pro combines fan, lighting and temperature control in a single unit.
Be sure to check out our sponsors store EKWB here