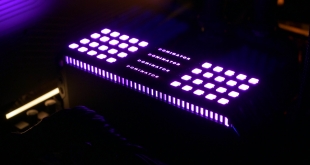 Corsair talked about Capellix LED technology at CES 2019 and while we saw a demonstration of the lighting in action we were unable to draw many conclusions in a Vegas ballroom where the lighting bears no relation to the typical home. And make no mistake, while this Corsair Dominator Platinum RGB 32GB DDR4-3200MHz kit packs Samsung B-die ICs and runs at impressive 14-14-14-34 timings, this review is pretty much all about the RGB.
You may recall from our CES coverage that Capellix is a packaging technology for LEDS that has been developed by a Taiwanese company called Primax. The LEDs themselves are conventional however Primax is able to mount LEDs directly on hardware without the usual square off-white surface mount which delivers a number of benefits. Corsair has signed up Primax to supply Capellix throughout 2019 and effectively has an exclusive supply, just as they once did with Cherry switches.
That's great news for Corsair, provided Capellix delivers the promised results.
Watch the video via our VIMEO Channel (Below) or over on YouTube at 2160p HERE
Note: if the above images are not displaying properly, you may need to disable your Ad Blocker as it is known to interfere with our display code
Dominator Platinum RGB features:
LED 12 individually addressable Corsair Capellix RGB LEDs
Control Type SMBus
Software Corsair iCUE v3.12 or later
Heat spreaders Aluminium
PCB Custom performance 10-layer PCB
Module Density 8GB and 16GB
Configurations 2x8GB, 4x8GB, 8x8GB, 2x16GB, 4x8GB, 8x16GB
Speeds 3000MHz to 4800MHz
Compatibility AMD and Intel
Be sure to check out our sponsors store EKWB here