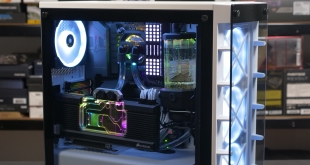 Corsair is well known for its premium pricing, so we were taken aback to learn the new iCUE 465X RGB case has an MSRP of £109.99. That seems relatively cheap when you consider the Crystal 460X sells for £160. To hammer the point home the iCUE 465X RGB comes with three LL120 fans that sell for around £75 so we're talking about a bare chassis priced about the £40 mark. Just how good can it be?
Note: if the above images are not displaying properly, you may need to disable Ad Block as it is known to interfere with our display code
Main features
4mm-Thick Tempered Glass Side and Front Panels: A strong, durable steel chassis equipped with two tempered glass panels showcase your components and RGB fans, with ventilation gaps for plentiful airflow.
Versatile Cooling Options: Room to install up to 6x 120mm cooling fans or multiple radiators in sizes up to 360mm.
Expansive Storage: Drive trays accommodate up to two 3.5in HDDs and two 2.5in SSDs, with two additional 2.5in mounts.
Three CORSAIR LL120 RGB Fans Included: Powerful airflow up to 1,500 RPM and 16 vivid RGB LEDs per fan, with seven mesmerizing preset iCUE lighting profiles.
Smart RGB Lighting Out-of-the-Box: Fully control and synchronize your RGB lighting with the included iCUE Lighting Node CORE and CORSAIR iCUE software.
Direct Airflow Path: An obstruction-free layout channels cool air to your PC's hottest components.
Easy Cable Routing: Intuitive routing channels and tie-downs make for simple and tidy  cabling that helps optimize airflow.
Removable Dust Filters: Three filters in the front, roof, and floor keep your system clean after the build is finished.
Specification:
Motherboard support: ATX, Micro-ATX, Mini-ITX.
Expansion slots: 7+2
Included fans: 3x 120mm Corsair LL120 RGB front intake.
Fan mounts: 3x 120mm/2x 140mm front, 2x 120/1x 140mm roof, 1x 120mm rear.
Radiator mounts: 360mm/280mm front, 240mm roof, 120mm rear.
5.25-inch optical drive bays: None.
Internal drive bays: 2x 3.5-inch/2.5-inch, 4x 2.5-inch.
Dimensions: 465mm H x 467mm D x 21mm W.
Corsair describes the iCUE 465X RGB as a 'Smart' case. The explanation is that the lighting in the LL120 fans is controlled by Corsair iCUE software (IQ, Geddit?) so it would be helpful if we could cook up a witty line about IQ, Smart and Bright LEDs.
As you will have seen in our video the core chassis is a conventional piece of work. The power supply is fixed in place, there are a good number of drive bays and there are reasonable provisions for cable management. Add in a decent main glass panel and a surprisingly sensible front panel that actually allows the case to breathe and you end up with a case that does a decent job.
That covers about one third of the cost of the iCUE 465X RGB so we have to take a hard look at the triple LL120 fans and the Lighting Node Core fan controller. The fans are decent pieces of work with very good LED lighting, however you cannot control the PWM through iCUE unless you invest in a Corsair Commander Pro unit.
As we also demonstrate you also cannot control lighting strips with the Lighting Node Core (or other accessories such as Corsair Hydro X cooling hardware) so the logical move is to build a basic PC inside this relatively cheap case and simply enjoy the glorious RGB lighting in the front of the chassis without adding extra complication.
We naturally ignored our own advice and built a full-on gaming PC in the iCUE 465X RGB with Hydro X custom cooling along with extra RGB lighting, and we also tried the case with six LL120 fans to see what effect that had on the cooling.
Testing
To put this case through its cooling paces we will be using a test system consisting of an Intel Core i9-9900K at 4.7GHz on all cores, RTX 2080 Founders Edition graphics and an SSD. This system allows us to produce a substantial amount of heat and effectively test the Corsair iCUE 465X RGB's cooling capabilities. For stress testing we use AIDA64 to create the maximum amount of load our CPU and GPU are ever likely to see.
Test System:
Processor: Intel Core i9-9900K (8 cores/16 threads, 4.7GHz all cores)
Motherboard: SuperO C9Z390-PGW
Memory: 32GB Corsair Dominator Platinum RGB DDR4-3200MHz
Graphics card: Nvidia RTX 2080 Founders Edition 8GB
Power supply: Corsair RM1000i Gold 1000W
SSD: 1TB WD Black M.2 NVMe
OS: Windows 10
Custom Loop Cooling
Pump/Reservoir: Corsair XD5 RGB
CPU Block: Corsair XC7 RGB
GPU Block: Corsair XG7 RGB
Radiator: Corsair XR5 360
Fittings: Corsair XF
Soft Tube: Corsair XT
Coolant: Corsair XL5
Cooling Performance.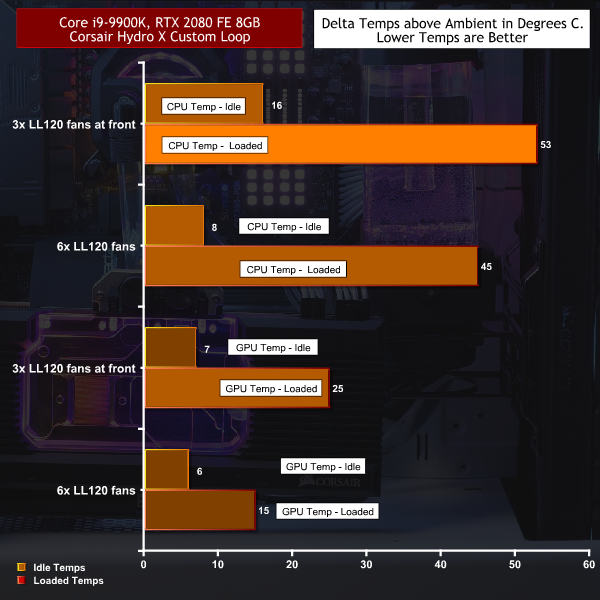 Cooling Performance Overview.
In stock form the iCUE 465X RGB performs perfectly well. The front panel allows air to flow and all is well in the garden. Increasing the fan count from three to six helped our build significantly and reduced temperatures by around ten degrees. The iCUE 465X RGB works well but having three intake fans without any exhausts is a move that was clearly guided by styling, rather than function.
Acoustics Performance Overview.
The LL120 fans require PWM control to keep noise levels down. When the fans run above 1,000rpm the case is distinctly noisy as it lacks any noise deadening material and is pretty much open to the outside air. Slow the fans down to, say, 750rpm and all is well.
Closing Thoughts
Corsair iCUE 465X RGB is a decent little case that has been dressed up with three expensive LL120 fans and a basic Lighting Node Core fan controller that is frustratingly limited in its abilities. In an ideal world this case would be supplied with a version of the excellent Commander Pro but quite frankly any PWM fan hub would have been a bonus.
It is clear that Corsair has placed an emphasis on the RGB fans in the front of the case, both in the way the model has been named and also to the extent you get three intake fans and no exhausts. This makes the buying decision really easy for the customer as they either want the triple LL120 fans with all their RGB goodness or they will pass by on the other side of the road.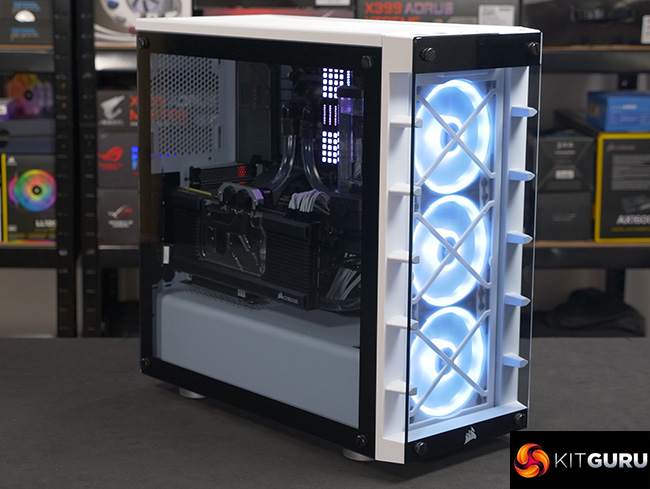 We need to emphasise the point that Corsair has done a good job with the way the front panel breathes. Many case manufacturers supply models with solid front panels that cannot breathe, or they replace the front panel with mesh that does a better job. It is unusual to see a case with a glass front panel that is spaced away from the front dust filter in such a manner that the case is able to work correctly. Good work Corsair and we are glad to see you have been listening to constructive criticism.
We went to town with the build of our test PC and threw an absurd level of hardware at this case and while the result was imperfect we enjoyed the RGB light show. Corsair continues to improve its iCUE software and the result these days looks rather impressive.

You can find the Corsair iCUE 465X RGB at Overclockers UK £114.95 HERE
Pros:
Front panel breathes and allows decent thermals.
Three LL120 fans are included.
A decent number of drive bays are included.
Main glass panel looks good.
Cons:
The 465X works better with an exhaust fan.
Lighting Node CORE is very basic.
You require three PWM connections to control the included LL120 fans, plus your CPU cooler.
Cable management space is limited.
KitGuru says: iCUE 465X RGB will give you a taste for Corsair iCUE; after that you may want to try a more substantial case such as Crystal 680X.
Be sure to check out our sponsors store EKWB here