Cooling Performance.
To put this case through its cooling paces we will be using a test system consisting of an Intel Core i9-7920X, RTX 2080 Founders Edition and an SSD. This system allows us to produce a substantial amount of heat and effectively test the Fractal Design Define S2's cooling capabilities.
For stress testing we use AIDA64 to create the maximum amount of load our CPU and GPU are ever likely to see.

Test System:
Processor: Intel Core i9-7920X 12 cores/24 threads 2.9GHz
Motherboard: ASRock X299 Fatal1ty Professional Gaming i9
CPU block: Alphacool Eisblock XPX
Radiator: Alphacool NexXxos ST30 280mm
Pump/reservoir: EKWB XRES 140 Revo D5 PWM
Fittings: Alphacool 16mm/10mm
Coolant: Mayhems Aurora Blue
Memory: 32GB G.Skill TridentZ DDR4-3200MHz
Graphics card: Nvidia RTX 2080 8GB
Power supply: Seasonic Prime Titanium 1000W
Storage drive: Intel 760P 1TB M.2 SSD
OS: Windows 10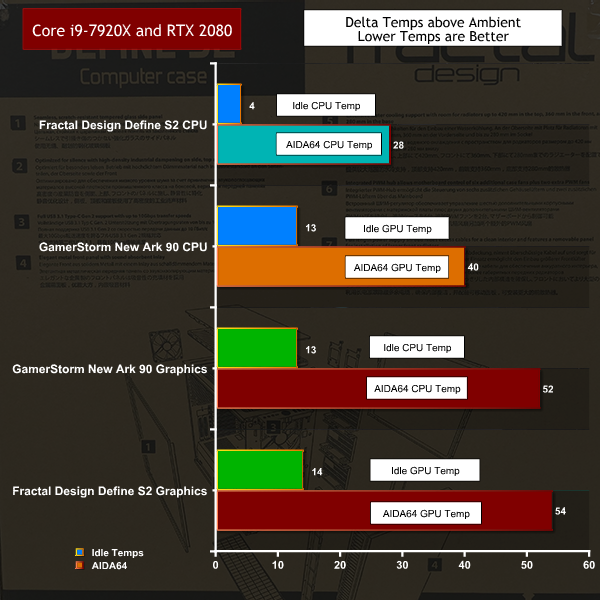 Cooling Performance Overview.
The 240mm custom loop had no trouble cooling our Skylake X CPU and the temperature of the air cooled RTX 2080 graphics card was also right where we expected it to be. We could have easily added another fan at the front of the case and either two or three fans in the roof so the options for cooling are extensive and would surely drive temperatures even lower.
Acoustics Performance.
The open nature of the Define S2 means this can be a fairly noisy case if you run the fans at speed. The Dynamic X2 GP-14 are only rated at 1,000rpm so they never get ear-shattering but nonetheless they are clearly audible.
Closing Thoughts.
Fractal Design has a clever strategy of delivering a particular case and then six months later following it up with a Micro-ATX variant, or by delivering some other feature such as tempered glass or USB Type C. This strategy has enabled Fractal Design to deliver a series of cases that work well, tick the various boxes for features and also to win them a shelf of awards.
The problem here is that it has taken nine months to deliver Define S2 which is a subtle variant of Define R6, and feels like it could have been produced in a fraction of that time. The list of new and innovative features is non-existent so while your reviewer is happy to recommend Define S2 to potential customers who want to build water cooled PCs, there is nothing here to get excited about.
There has been steady evolution in cases during 2018, in particular when it comes to RGB lighting and clever cable management, but these points play no part with Define S2. At one level you can live with that as new features generally bump up the price, and we all have to make allowances. Balanced against that it would cost a tiny amount to supply PWM fans in place of the three 140mm 3-pin units. That decision just looks mean.
Define S2 works well for a conventional water cooled build but goes slightly off the rails if you start to get adventurous with the location of your various components. We have little doubt you will want to add some lighting to give it some visual appeal and the end result will be very effective.
The Fractal Design Define S2 will set you back £136.99. We will update this review with a buy link when we have one.
Pros:
Good air flow and cooling.
USB 3.1 Gen. 2 Type C on the I/O panel.
Nexus+ PWM Smart Hub
Full length dust filters on all the intakes.
Cons:
Fractal Design Dynamic X2 GP-14 should be upgraded to the PWM model.
Some may be disappointed in lack of RGB.
With the Moduvent panel open the case can get noisy.
Cable management is uninspired.
Vertical GPU mount requires some work.
KitGuru says: Define S2 is loaded with features for water cooling but brings nothing new to the party.