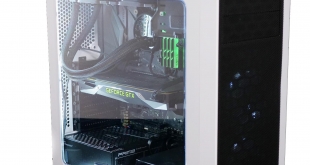 Fractal Design Focus G is a new family of budget cases from the Swedish hardware company. This Focus G model is an ATX design while Focus G Mini is Micro-ATX and unusually both cases are priced at US$50/GBP£48.
These are budget cases with an open interior design and a massive acrylic window that shows off your PC build to an amazing extent. To add to the visual bling you get two front 120mm case fans with white LEDs that give you a certain amount of illumination inside the case so if you're thinking about using Focus G in your next build you'd better make it a tidy one.
Specification:
Motherboard support: ATX, Micro-ATX, Mini-ITX.
Expansion slots: 7.
Included fans: 2x 120mm front intake Silent Series LL.
Fan mounts: 2x 120/140mm front, 2x 120/140mm roof, 1x 120mm rear, 1x 120mm bottom.
120mm radiator mounts:  120mm/240mm front, 120mm/240mm roof, 120mm rear.
140mm radiator mounts:  140mm/280mm front.
5.25″ drive bays: 2
Internal drive bays: 2x 3.5"/2.5″, 1x 2.5"
Dimensions: 443mm H x 464mm D x 205mm W.
When you stand a short distance away from Fractal Design Focus G it looks similar to a number of their existing case designs. The interior is open and the motherboard sits almost directly on top of the power supply. If you choose to install fans or a 240mm liquid cooler in the roof in the case you will very likely find it is tight for space.
Having said that, we found the build went smoothly without any major dramas. When you get up close to Focus G you can see the signs of cost cutting such as the way the drive tower and optical, drive housings are riveted in place. More significantly the cable management holes don't have grommets and the cables from the front fans trail across the interior of the case in plain view.
Balanced against that, Fractal Design has filtered the front intakes and the top exhausts and while these aren't the neatest solutions it shows they have given consideration to the fundamentals and haven't got carried away cutting costs to the absolute minimum.
We like the look of Focus G and will be keen to see whether the promised Petrol Blue, Mystic Red and Gunmetal Grey options add significant visual appeal. Those colours certainly sound more interesting than the traditional black and white offerings at launch.
Testing
To put this case through its cooling paces we will be using a test system consisting of an Intel Core i7-6700K, GTX 1080 and an SSD. This system allows us to produce a substantial amount of heat and effectively test the Fractal Design Focus G's cooling capabilities.
For stress testing we use AIDA64 to create the maximum amount of load our CPU and GPU is ever likely to see.
Test System:
Processor: Intel Core i7 6700K 4.0GHz/4.2GHz
CPU cooler: Fractal Design Celsius S24
Motherboard: Asus Strix Z270F Gaming
Memory:  32GB G.Skill TridentZ RGB DDR4-3200MHz RAM
Graphics card:  GeForce GTX 1080 8GB
Power supply: Sea Sonic Prime Titanium 850W
Storage drive: SanDisk Extreme II SSD
OS: Windows 10 Professional.
Cooling Performance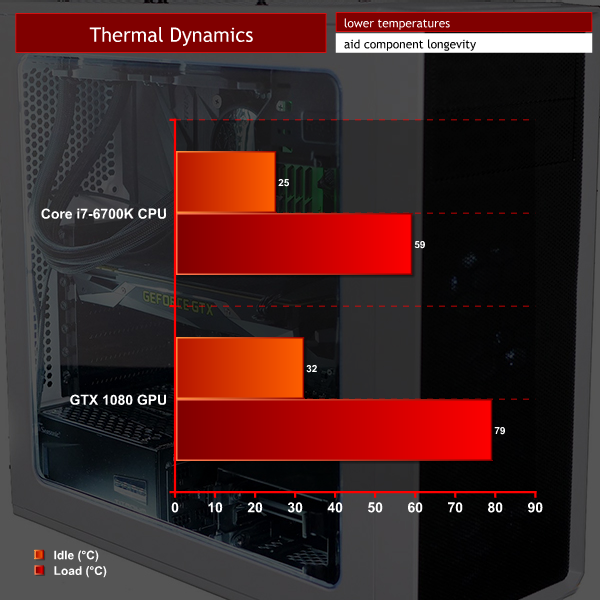 Temperatures were nice and low for a relatively small case. The combination of two front intake fans and the two exhaust fans on the Celsius S24 cooler clearly worked well in combination.
Acoustics performance.
Fractal Design Focus G has the bare minimum of noise deadening material in the front panel and absolutely none inside the main panels yet it was good and quiet. Clearly this was a function of our running the four cooling fans at low speed. We did nothing special here and simply left the settings on Auto so if you choose sensible hardware that remains cool there is no reason to expect that Focus G will be noisy.
Closing Thoughts.
As you will see in our video we feel Focus G is a decent budget case. Clearly there is room for improvement but, as ever, the question is which changes can be made without raising the price to an unacceptable level. Our biggest single issue with Focus G is cable management. Adding some grommets would surely cost pennies and a few clips to secure the cables from the front fans would be welcome.
The second area that deserves some attention is dust filters. A simple magnetic filter on the top of the case would make a good deal of sense. At the front of the case we would love to see a filter that slides out for easy cleaning. Failing that, a full length filter that unclips from the inside of the front panel would suffice but one way or another we would like to see some change.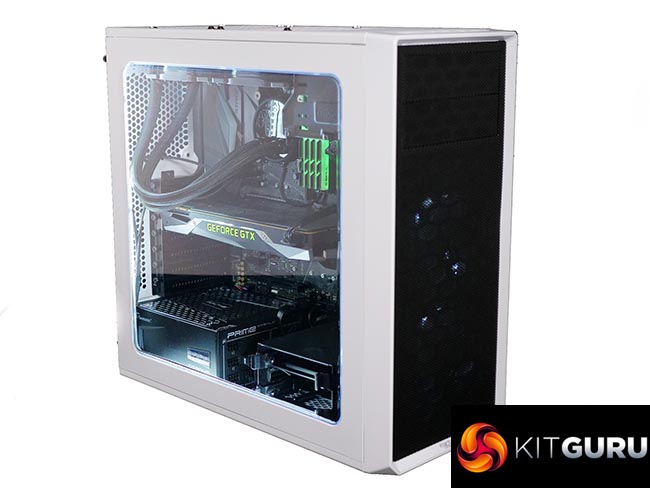 A bigger request would be to make the case taller as there is so little clearance between the motherboard and cooling mounted in the roof of the case. 5mm would be good and 10mm would be even better. We understand why manufacturers take this approach but it seems to us they consistently go too far and make the case too small.
Overall we like Focus G and provided you approach it as a budget – £47.99 – case and manage your expectations then we are confident you will like it too.
Discuss on our Facebook page HERE.
Pros:
Massive side window.
Two white LED 120mm fans are included.
Low price.
I/O panel remains on the core chassis when you remove the front panel.
The inclusion of optical drive bays will please the traditionalists.
Cons:
The case is tight for space above and below the motherboard.
Cable management is very basic.
Cleaning the front dust filter is tricky.
Optical drive cage is riveted in place.
KitGuru says: Fractal Design's new Focus G is a solid mainstream contender at a low price.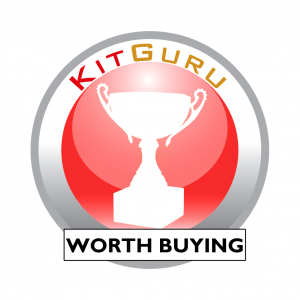 Be sure to check out our sponsors store EKWB here